More than 4,000 people throng Sentosa beaches over weekend amid new capacity limits, entry booking process
SINGAPORE — More than 4,000 people thronged the beaches at Sentosa over the weekend of Oct 17 and 18, when island authorities first implemented an online booking system and capacity limits to control the crowds during peak periods.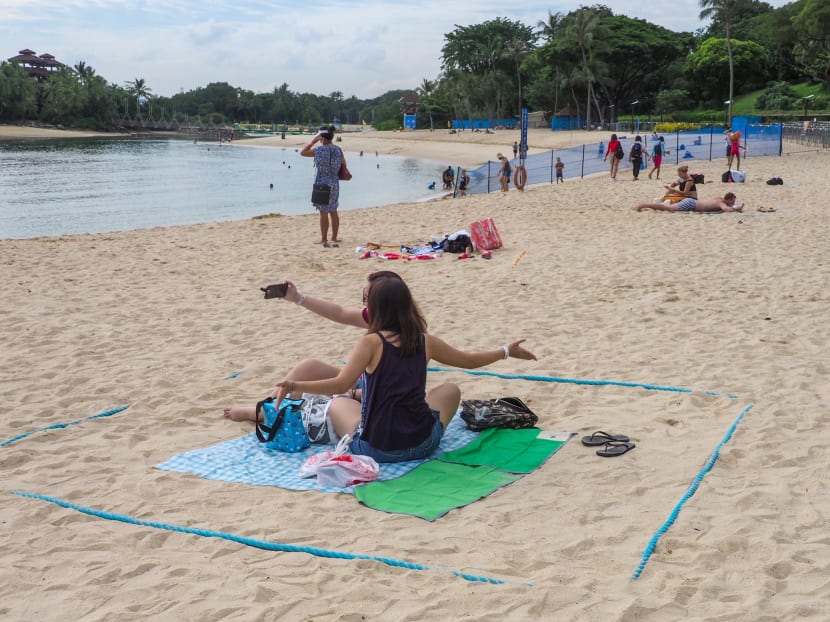 Sentosa Development Corporation rolled out a beach entry booking system for the first time from Oct 17 for weekends and public holidays
Several turned up on Sunday not knowing about the new system, and were guided to book on the spot
Beach areas appeared to be less packed than usual, said frequent beachgoers to Siloso, Palawan and Tanjong beaches
System on trial for three months and will be refined, said SDC
SINGAPORE — More than 4,000 people thronged the beaches at Sentosa over the weekend of Oct 17 and 18, when island authorities first implemented an online booking system and capacity limits to control the crowds during peak periods.
A Sentosa Development Corporation (SDC) spokesman told TODAY that it encountered "relatively smooth implementation" of the new system, adding that a "small" number of guests had arrived without reservations.
From Oct 17, beachgoers have to make an advance reservation for a morning or afternoon time slot at one of seven zones in Siloso, Palawan and Tanjong beaches before they can enter the Sentosa beaches on weekends and public holidays.
Each zone may only accommodate between 100 and 350 people. The beaches will also close between 7pm and 8am each day.
When TODAY visited the beaches on Sunday (Oct 18) afternoon, all seven zones had moderate and orderly crowds, with ample space for beachgoers to practise safe distancing.
However, many people had not realised that they needed to make reservations first and were initially worried that their day's plans at the beach were dashed. A few changed their minds and decided to go to other parts of Sentosa instead, they told TODAY.
Bus driver Mr Eric Tiong, 42, and his family of five had turned up at Palawan beach in full swimming gear to celebrate his eldest daughter's 13th birthday, only to be caught by surprise by the new entry system, as well as the long lines of fencing blocking off the beaches.
The fences meant that the only way to enter the beaches with a beach pass was through a handful of entrances manned by Sentosa staff and safe distancing ambassadors.
Commercial establishments along the beachfront, such as inflatable water park HydroDash, also had their own entry requirements and capacity limits for visitors.
Nevertheless, those without a reservation were not left stranded for long, as many were able to access the beach by booking on the spot, since most of the beaches were under capacity on Sunday.
Mr Tiong and his family were able to enter the beaches under half an hour after placing a reservation at around 3pm. A Sentosa staff member guided him through the booking process.
Said Mr Tiong: "I hadn't read the news about this (booking system), I thought we just needed to show up and scan (the SafeEntry). Luckily, we were able to enter the beach without much trouble."
Some beachgoers who arrived earlier in the day had to wait for more than an hour before a slot became available.
Ms Nada Batrisyia, 23, who works in the shipping industry, said she waited for two hours to enter Palawan beach as the queue booking system told her that was the only slot available.
She and her boyfriend had originally come to swim at Siloso beach on a whim, only to find out that swimming there was not permitted due to sightings of box jellyfish earlier last week.
"I think the wait was still okay, and we went for lunch instead. We understand why there is a need to have such a system because of the Covid-19 pandemic," she said.
SOME QUESTIONED NEED FOR BOOKINGS
However, not all were satisfied with the need for a booking system, with some pointing out that the emptier-than-usual beaches could be due to the fact that some people failed to turn up for their allotted time slot.
Bookings can be made up to seven days in advance, and TODAY understands that most of the available slots at the popular beach spots were snapped up within a day.
This could deprive others of a genuine chance to spend a day at the beach if there were many no-shows, some said.
When asked how many beachgoers failed to turn up in the allotted time slots, a Sentosa spokesman said: "We would like to take this opportunity to remind guests who change their plans after making a booking to cancel their reservations and give up their slots to other guests."
She did not say how many no-shows there were.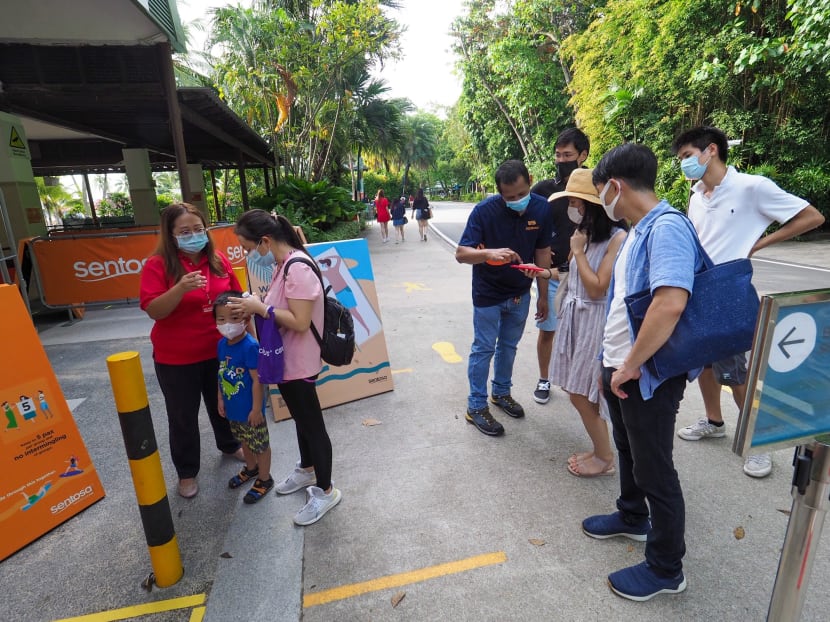 Frequent beachgoer Justin Tiew, 27, who worked in sales, said: "Generally, it is sensible to have a booking system because of safe distancing, but I think that when there isn't much of a crowd in the first place, all these moves seem a bit too dramatic.
"Even without (the booking system and capacity limits), I think people would have enough common sense to practise safe distancing on their own."
Besides the booking system, there was a heavy presence of safe distancing ambassadors and Sentosa rangers at the three beaches to enforce the rules.
Square markings made of rope were placed on the beaches to accommodate various groups, with safe distancing of more than 1m between them. Guests were also required to wear wristbands.
SDC said these measures had been progressively rolled out in recent weeks. "This weekend, we had also deployed additional service ambassadors to advise guests on the beach booking process," said its spokesman.
She added that groups of up to five people should stay within the demarcated "safety rings" and observe the 1m minimum safe distance from other groups and guests. Similar rules also apply to Sentosa's beach courts, and no inter-mingling is allowed between groups of players.
However, one family of six adults and four young children, who share the same home address, said that their day was spoilt after officers told them to keep apart in two groups of five — which is in line with national safe distancing guidelines.
Healthcare worker Habib Mohamed, 40, told TODAY about his disappointment with the rules while eating nasi biryani far apart from where the rest of his family was.
He said: "It's quite ridiculous, and I think there should be some allowance for large families like ours to stay together at the beach."
On the other hand, others praised the strict enforcement and smaller crowds, as it gave them a peace of mind.
Interior design director Wynn Neo and her husband David Tan, a pilot, said that they would not have decided to come to Palawan beach if there were no such crowd control rules.
"We were worried at first that the beach would be too packed with people. This system is a good practice to have, and we feel safer taking our two young children to the beach," said Madam Neo.
The beach entry booking system will be on trial for three months, during which SDC will monitor guest behaviour and feedback, review its reservation and redemption process, and make necessary adjustments, said the SDC spokesman.