More than 800kg of e-waste collected by electronic retailers under expanded StarHub programme
SINGAPORE — Four electronics retailers that joined an electronic waste (e-waste) recycling programme by telecommunications firm StarHub have collected more than 840kg of e-waste in the first three months.
SINGAPORE — Four electronics retailers that joined an electronic waste (e-waste) recycling programme by telecommunications firm StarHub have collected more than 840kg of e-waste in the first three months.
Laptops and cables are among the most common items found in the 20 recycling bins that have been placed in the outlets of electronic goods stores Harvey Norman, Gain City, Courts and Best Denki since June. Other items are modems, mobile phones and computers.
StarHub's REcycling the Nation's Electronic Waste (Renew) programme started in 2012 and there are now more than 460 Renew bins across the island.
More than 82 tonnes of e-waste have been collected islandwide since the beginning of the year and Ms Wendy Lai, StarHub's senior manager in corporate sustainability, expects the total amount collected for the year to hit 100 tonnes.
All four retailers told TODAY that the visibility of the bins has increased awareness of e-waste recycling among customers.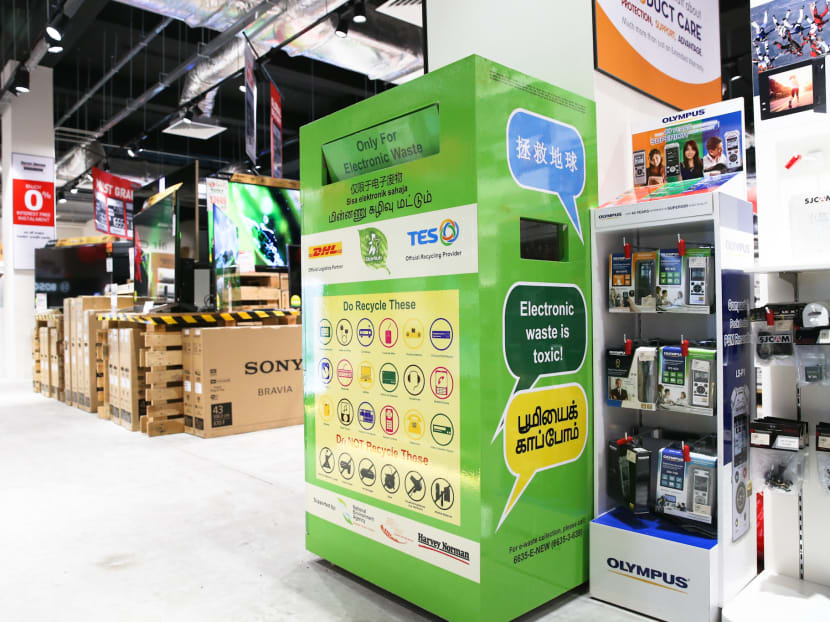 Store managers have had curious customers asking about the green bins that have been placed prominently on their premises.
Mr Ben Tan, chief executive officer of Courts Singapore, said: "We are encouraged to see customers and members of the public utilising these bins to properly dispose of their e-waste, with higher usage seen at our larger stores — including Courts Megastore at Tampines, as well as our Ang Mo Kio and Toa Payoh stores." 
Harvey Norman's chief operating officer Bernice Kwok said that some customers took their printers to the store to recycle, only to find out that the bins' slots were meant for smaller electronic items. However, store managers were able to unlock the bins to allow bigger items to be deposited.
Gain City's senior marketing manager Alex Wong reported that usage of the bins was "not that high", although Gain City has been promoting e-waste awareness through its roadshows.
The good news is that customers have not been discarding non-electronic items in the bins. This could be due to their design and the various messages plastered on the bins, as well as their prominent positions in the stores, the retailers said.
E-WASTE RECYCLING IN SINGAPORE
StarHub's Renew programme is one of several company-led e-waste recycling efforts for individuals and households in Singapore. Others include the Singtel X SingPost Recycle programme, M1 Drop-off Point campaign and Panasonic's Heartland E-waste Recycling Programme.
Since 2015, the National Voluntary Partnership programme of the National Environment Agency (NEA) has provided support in co-organising events, administrative help and extra publicity for these efforts. The NEA also provides funding of up to 80 per cent for project qualifying costs, to encourage partners to implement or expand their programmes, an agency spokesperson told TODAY.
NEA said that more than 130 tonnes of e-waste was collected last year through these four programmes. StarHub's Renew programme was the biggest, collecting about 70 per cent of the amount, or more than 92 tonnes of e-waste last year.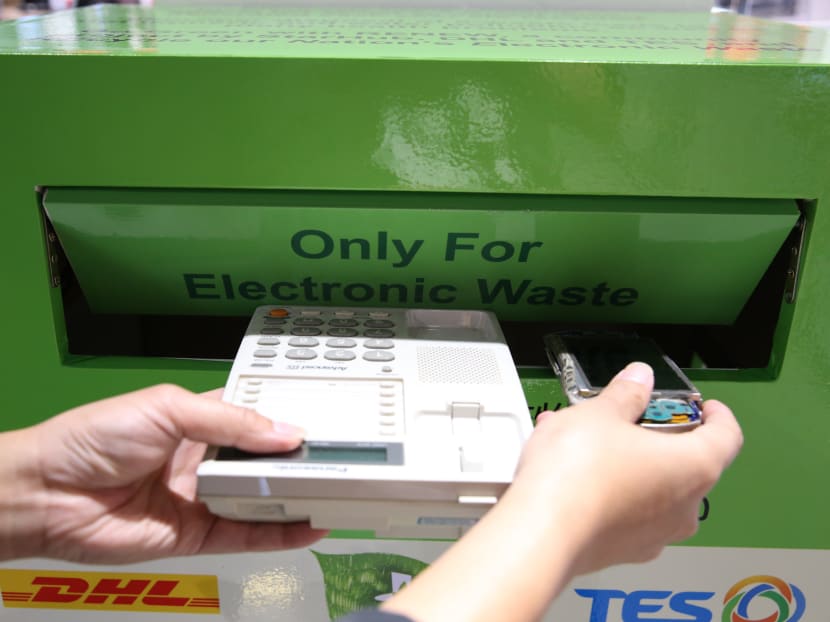 The amount, however, is a fraction of more than 60,000 tonnes of e-waste being generated by Singaporeans every year — half of it coming from households — figures from NEA showed.
Part of the reason is because existing voluntary programmes mostly accept smaller e-waste items, the NEA spokesperson said.
TODAY previously reported that bulkier electrical products make up more than 80 per cent of the e-waste generated here.
The NEA announced in March that it is developing a regulated e-waste management system that will cover bulkier e-waste such as refrigerators, washing machines and televisions, and it will be implemented by 2021.
Consumers will find it easier to recycle their electrical and electronic waste under the new system. They may drop items off at collection points located within retail stores or have them picked up via the retailers' services.
Manufacturers of electrical and electronic products will be responsible for the collection and proper treatment of e-waste through the Extended Producer Responsibility approach. They will have to fulfil collection targets set by the NEA and ensure that the unwanted electronic equipment collected are sent for proper recycling and disposal.
They will also have to engage Producer Responsibility Organisations, which can be commercial companies or the manufacturers themselves, to collect discarded e-waste, regardless of the brand or purchase date.
CONSUMERS WANT E-WASTE BINS AT VOID DECKS
Consumers interviewed by TODAY said that the Renew bins by StarHub are still not widely available enough.
Media professional Rachelle Lee, 28, said that she and her husband had to drive from their home in Chua Chua Kang to Jurong "just for the bin". Once, she had to leave a box of LED lights on top of a bin.
E-waste recycling bins should be placed at void decks of housing estates, like the blue recycling bins for plastic, paper, metal and glass, she added.
Calling the lack of awareness of the bins "failed marketing", civil servant Koh Hong Wei, 30, agreed with Ms Lee. "(Because) most e-waste will be thrown out from home...(if) you have them at malls, also not much (of a) point," he said.
Ms Lim Wensu, 30, who is unemployed, would like the Renew programme to accept alkaline batteries.
Professor Seeram Ramakrishna, who heads the circular economy taskforce at the National University of Singapore, proposed that one way to improve accessibility of the bins is to create Internet or mobile applications that allow people to call e-waste collectors and handlers when necessary.
Apathy among consumers as well as business costs also pose challenges.
Singapore Environment Council's executive director Jen Teo said that there could be more incentives for recycling companies to collect e-waste from small- and medium-sized enterprises (SMEs).
"Unlike SMEs, multinational corporations typically have existing contracts with recycling companies to dispose of large amounts of e-waste," Ms Teo said.
As e-waste management is "labour-intensive", Prof Ramakrishna said that "companies without economies of scale will find it a challenge to sustain".
"E-waste is a new challenge for all countries including Singapore, and optimum and customised technologies are to be further developed. Current treatment plants are limited by the capacities and range of technology solutions," he added. 
Sign up for TODAY's WhatsApp service. Click here: