More field trips and learning programmes for PCF Sparkletots pre-schoolers
SINGAPORE — All children should be able to have the richest and broadest learning experience regardless of their background, Manpower Minister Josephine Teo said.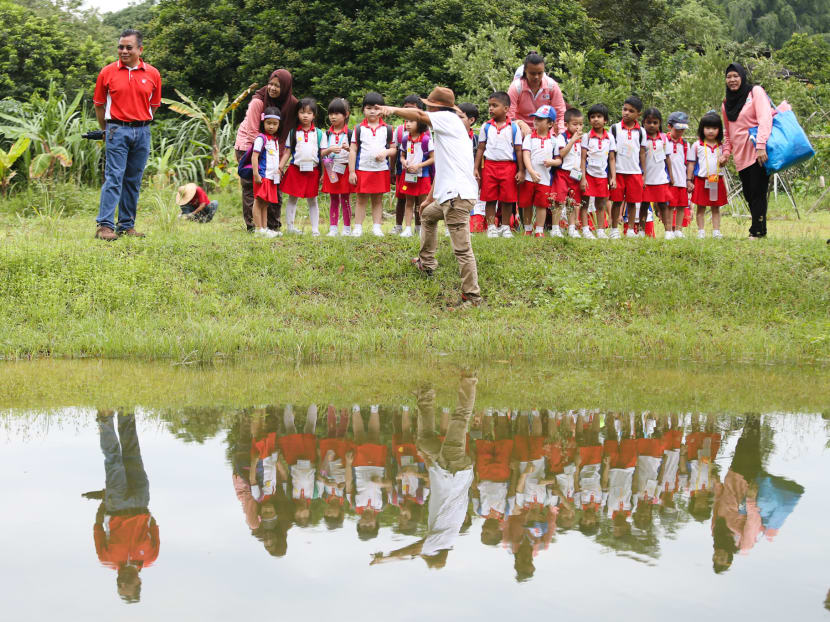 SINGAPORE — All children should be able to have the richest and broadest learning experience regardless of their background, Manpower Minister Josephine Teo said.
"Broadening the availability of affordable and quality childcare is one part of it, but it's not the only thing that's happening. You need intervention on all fronts," she said on Monday (Nov 5) while announcing new and ongoing efforts taken by the PAP Community Foundation (PCF) to make out-of-classroom learning a key focus of its curriculum.
Mrs Teo is also the executive committee chairperson of PCF, which oversees PCF Sparkletots, the largest pre-school operator with about 43,000 children enrolled in more than 360 centres island-wide. She was officiating an event at Bee Amazed Garden in Yishun, where 60 pre-school children from PCF Sparkletots Sengkang were on a field trip to learn about honey bees.
Since late last month, PCF Sparkletots has been arranging more of such outdoor field trips for its students.
From next year onwards, the operator will have more structured learning programmes in areas such as speech and drama, sports, IT literacy and social etiquette for pre-schoolers at heavily subsidised prices.
When asked if these initiatives are meant to level the playing field for pre-schoolers, Mrs Teo said: "I think we've said so before — starting early is very valuable. We want to give children the best start in life, and by that, we mean all children. There are multiple objectives, but this effort has been ongoing for some time.
"In this particular instance... you're talking about children from very diverse backgrounds, but all having the opportunity to get to a good starting point."
At the end of last month, the Government announced that an inter-agency task force was set up to identify gaps in areas such as the motivation of students from disadvantaged families. Second Minister for Education Indranee Rajah, who is leading the task force, said then that it was part of the Government's ongoing work to reduce inequality and boost social mobility.
Over the school holiday period and up until end of next month, about 6,000 children from 73 centres under PCF Sparkletots will get to visit one of three places for their excursions.
They may learn about bees at Bee Amazed; or visit the SEA Aquarium on Sentosa Island to study marine life; or head to the KidZania indoor theme park, also on Sentosa Island, to explore the concept of managing money and the different careers available in a city setting.
PCF's chief executive officer Victor Bay said that parents pay around S$3 to S$6 to cover costs for the field trips such as for transport.
The operator is planning to expand the list of such out-of-classroom learning venues, as well as getting more pre-schools and more children to take part in such trips.
"This programme is very important and we want to ensure that we make it available to as many children who need this as possible, therefore we're keeping the cost low," Mr Bay said.
He declined to reveal the cost of running these programmes, but said that it will be separate from the S$20 million that PCF has set aside to develop its teachers over the next three years.
Mrs Teo said that while most pre-schoolers at PCF Sparkletot can experience outdoor learning in playgrounds or community gardens, there is scope for them to go beyond these places.
"The world is a big place and I think, as early as we can, (we should) expose our children to the wider world, develop their sense of curiosity and get them to ask questions, encourage them to read, have diverse interests. I think this is all part of enriching their experiences. The earlier we do it, the more we open up their minds," she added.