Couple who abused two maids to serve two jail terms consecutively
SINGAPORE — A couple who subjected two domestic helpers to repeated violent physical and emotional abuse will have to serve longer jail terms than they had hoped for, as a result of a High Court ruling on Friday (Sept 20).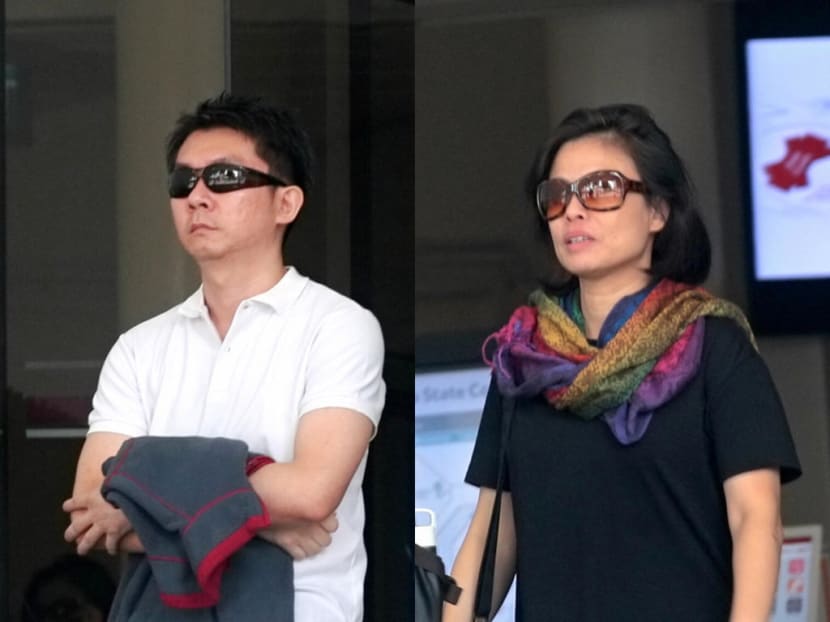 SINGAPORE — A couple who subjected two domestic helpers to repeated violent physical and emotional abuse will have to serve longer jail terms than they had hoped for, as a result of a High Court ruling on Friday (Sept 20).
The court ruled that they will serve their sentences for abusing the second maid after completing the sentence they are currently serving for abusing the first maid, which began in March this year. The couple had faced two separate trials, one for each maid.
As such, the total jail term for former information technology manager Tay Wee Kiat, 41, will be six years and one month, while his wife Chia Yun Ling, 43, will be behind bars for four years and one month.
In addition, the High Court ruled that the couple will have to serve about another six weeks in jail, as they had opted not to pay the maids a total of close to S$18,000 in compensation which they were ordered to pay.
The ruling on how the duo will serve their two sentences had to wait until the two trials the pair faced for the abuse of Myanmar national Moe Moe Than, 32, and Indonesia national Fitriyah, 34, had concluded.
Delivering the judgement on behalf of the three judges who heard the case, Justice See Kee Oon said: "We do not see any valid reason for the sentences to commence on an earlier date as that would virtually enable the accused persons to evade punishment entirely for one set of offences."
Justice See added that the panel did not see the couple's overall sentences as "crushing" or "disproportionate". Rather, they "properly reflect the overall criminality of the offences", he said.
The couple are currently serving their sentences in relation to Ms Than's case. If the court had chosen to start running their sentences in relation to Ms Fitriyah's case starting from Friday, Tay would be serving only an additional five months and 24 days, while Chia would have served no additional time.
A RECAP OF THE COUPLE'S ABUSE
Tay and Chia abused Ms Fitriyah for more than a year from February 2011 before their second maid, Ms Than, joined the household on Jan 8, 2012.
They then abused both maids in the 11 months that followed until Ms Than was repatriated against her will and the offences were discovered.
Examples of Tay's abuse of the maids:
Instructed the two maids to slap each other 10 times, and bow before the Buddhist altar 100 times, despite the fact that Ms Than was a Christian and Ms Fitriyah a Muslim

Instructed Ms Fitriyah to stand on a stool while holding another stool above her head and forcing a plastic bottle into her mouth. She held this position for about half an hour

Caned Ms Fitriyah on the head using a bundle of three canes, then instructed her and Ms Than to get into a push-up position and kicked them on the body

Grabbed Ms Fitriyah's chin and pushed her head against a wooden cupboard, causing her to hit her head against the cupboard's edge

Pulled Ms Than out of the bedroom and threw her against a wall

Attempted to bribe Ms Fitriyah into lying to the police
Tay's sentences:
Two years and six months in jail for abusing Ms Than

Three years and seven months in jail for abusing Ms Fitriyah
Examples of Chia's abuse of the maids:
Provided Ms Than with only rice and cabbage to eat, then reducing it to only plain rice and water, causing the maid to be so hungry that she ate leftover banana skin from the dustbins

Force-fed Ms Than a mixture of rice and sugar through a funnel shoved into her mouth by gripping her mouth and chin, causing her to choke and run to the toilet to vomit. She then scolded and slapped her, and instructed her to vomit into a plastic bag instead, so she can eat her own vomit

Instructed Ms Than to remove her blouse and clean the house while wearing only her bra and pants for about half a day

Pulled Ms Than's hair and dragged her into the master bedroom, before pushing her to the floor and used her right foot to step on her chest, causing the maid to have difficulty breathing

Punched Ms Fitriyah thrice on the forehead

Threatened Ms Than that she would send assassins to kill her family in Myanmar should she disclose their acts of abuse
Chia's sentences:
Three years and 11 months in jail, and a fine of S$4,000 for abusing Ms Than

Two months in jail for abusing Ms Fitriyah
Tay and Chia started serving their sentences for abusing Ms Than on March 27 this year.
They were convicted and sentenced over their abuse of Ms Fitriyah in March 2017, however those sentences were put on hold until after the second trial.
When making submissions to the High Court on how their two sentences should proceed, Deputy Public Prosecutor (DPP) Tan Wen Hsien argued that the multitude of charges faced by Tay and Chia reflect the "flagrant and frequent abuse" they exacted on both maids.
To let the sentences overlap would be "akin to giving employers the licence to repeatedly abuse their domestic helpers, as long as the assaults all take place within a short span of time", she said.
"Such repeated abuse should be regarded as a cumulative aggravating feature that justifies the imposition of more consecutive sentences. The same reasoning applies with greater force here, where two victims are involved," the DPP added.
DPP Tan also said that the court must be "careful to avoid any impression that a multiple offender may benefit from a 'bulk discount' in sentencing merely because his offences have been addressed together".