More parents enrolling children in pre-school enrichment classes
SINGAPORE — Every Saturday, Ms Carol Kow's five-year-old son spends his day in phonics and mathematics enrichment classes, followed by a Chinese class — a full day of lessons that add to kindergarten classes he attends on the weekdays.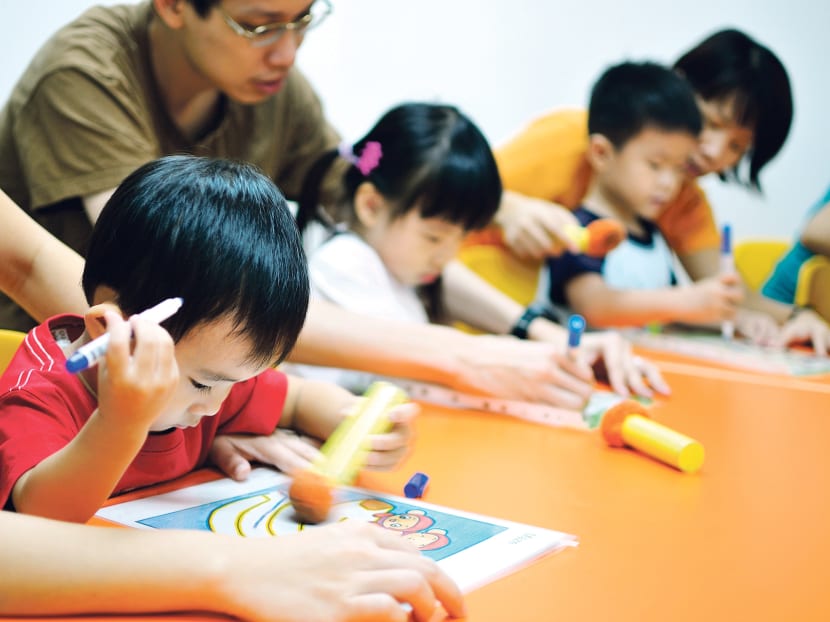 SINGAPORE — Every Saturday, Ms Carol Kow's five-year-old son spends his day in phonics and mathematics enrichment classes, followed by a Chinese class — a full day of lessons that add to kindergarten classes he attends on the weekdays.
With limited time to spend with her children as a working parent, Ms Kow has turned to spending about S$3,000 for a term of 14 weeks on enrichment programmes for her children, including her younger three-year-old son.
As more parents are anxious to give their children a leg up in school, pre-school enrichment centres that TODAY spoke to said they had seen a substantial growth in their enrolment figures. At My Little Genius, enrolment figures for its pre-school programmes have jumped from 100 in 2008 to about 500 this year. Another centre, LEAP SchoolHouse, said it had seen an average 30 per cent growth every year over a five-year period, while Stamford Education said there were waiting lists for many of its pre-school courses.
Parents such as Ms Kow have a range of courses to choose from: English, basic maths, phonics, Chinese, reading, writing and even "leadership" and brain training programmes, which cater for children as young as 18 months.
The issue of whether parents are sending their children for tuition and enrichment classes at too young an age was raised last month by a participant at a youth dialogue with Prime Minister Lee Hsien Loong. Mr Lee had responded by saying the education system in Singapore is competitive and that parents are anxious for their children. He added that there was too much tuition in Singapore and stressed that such classes should be an option only for struggling students.
Enrichment centres, however, said scientific research proved that early exposure to learning gives children a head start. My Little Genius runs a programme aimed at four-year-olds called Genius Leadership, where children take part in activities such as eye training, IQ games, music appreciation and maths games. BrainFit Studio focuses on training five core skill areas — visual, auditory, attention, EQ and sensory-motor — to help children focus, process and remember information easily.
"A love of learning from young will help a child grasp and understand new concepts as he grows, because he is consistently eager to acquire more content and knowledge," said My Little Genius co-founder Lim Wee Ming.
"If a programme can expose children to new things through fun and innovative activities that also capture their attention and encourage them to find out even more, then it is perfect," he added.
Enrichment centres said parents were also concerned about higher academic standards at the Primary One level. "If you look into the syllabus for Pri 1, children are expected to come to school with literacy skills and not as a blank slate," said a LEAP SchoolHouse spokesperson.
Ms Cynthia Goh, 37, whose six-year-old son is enrolled at BrainFit Studio, said: "Teachers in schools nowadays teach very fast. Most of the time, they rely on tuition teachers to teach the children and reinforce their learning. So, without the skills, it's very difficult for a child to absorb."
Ms Kow added: "I want to prepare (my son) for Pri 1, so he will not be shocked at how to cope with the work that is given to him."
Dr Christina Lim-Ratnam, a senior lecturer at the National Institute of Education's Curriculum, Teaching and Learning group, said research had shown that while the early years of a child's life are highly formative, the best environment in which to stimulate a child is at home with his parents.
"This is because the best stimulus to learning and early childhood development is socio-emotional — when the infant experiences feelings of joy, love and security," she explained. "Parents and family members must be responsible for the growth — including development and learning — of their child."
Dr Theresa Lu, head of early childhood education at SIM University, also stressed the importance of quality family time. "Opportunities to play and spend quality time with parents in doing fun things together such as enjoying stories, games and outdoor play activities provide valuable contributions to the development of young children," she said.
However, parents can enrol their children in enrichment classes to fulfil other aspirations they may have for their children, Dr Lu said. The stimuli offered by enrichment classes would be beneficial to children whose home environments are not rich in stimuli, added Dr Lim-Ratnam. For families who can afford them, such programmes provide additional stimuli over and above those given by a child's home environment.
Ms Betty Ho, 36, whose four-year-old daughter attends three enrichment programmes at three different centres, felt the classes would encourage a love for learning. "It's more about letting her learn from young and take learning as part and parcel of her school life," she said.