More women opting to 'rejuvenate' their vaginas for better sex lives
SINGAPORE — Like many women, business owner Nan Eliana incorporates anti-ageing laser treatments as part of her skincare regimen. These days, however, she no longer limits such cosmetic procedures to her face.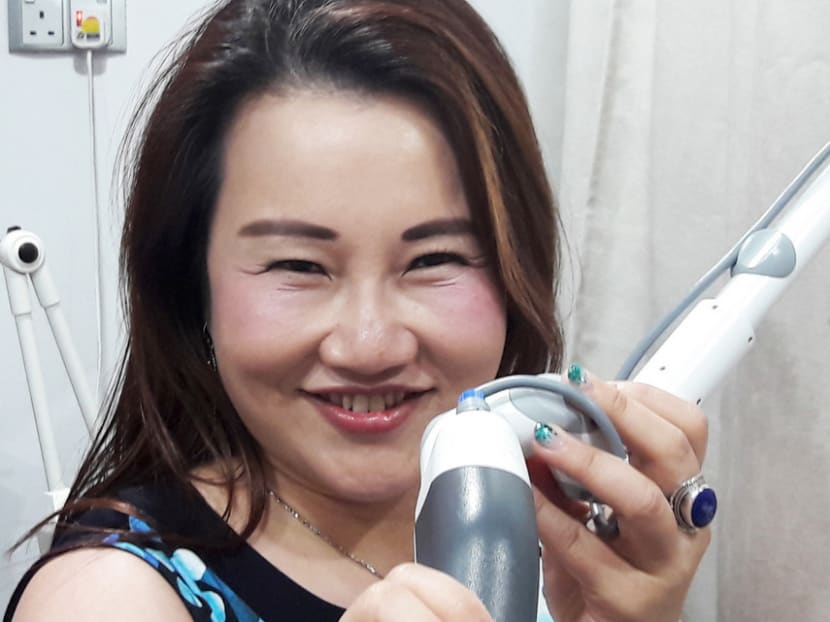 SINGAPORE — Like many women, business owner Nan Eliana incorporates anti-ageing laser treatments as part of her skincare regimen. These days, however, she no longer limits such cosmetic procedures to her face.
Last month, Ms Eliana, who is in her late 30s, underwent a novel laser procedure to "rejuvenate" her vaginal health.
"My husband and I are hoping to have a fulfilling and healthy sex life for as long as possible.
"Going for a vaginal rejuvenation laser procedure is me doing my bit to ensure it stays good. I certainly do not want to wait till I get menopausal," said Ms Eliana, whose treatment session took approximately 30 minutes and cost about S$1,200.
Ms Eliana is among a growing number of pre-menopausal women in Singapore opting for such vaginal laser procedures to enhance their sex lives.
Her treatment was carried out using a non-invasive, non-ablative Erbium YAG laser that produces thermal effects in vaginal tissue.
The day procedure works by stimulating collagen (the protein responsible for keeping the skin elastic), which in turn restores elasticity and tightens the vaginal canal, said Dr Ang Huai Yan, an obstetrician and gynaecologist from International Women's Clinic, which offers these procedures.
TIGHTENING UP AFTER CHILDBIRTH
Last year, a United States Food and Drug Administration (FDA)-approved laser treatment, targeting women suffering from vaginal atrophy, was made available in Singapore's clinics and hospitals. The condition is characterised by thinning, drying and inflammation of the vaginal walls, and typically occurs after menopause.
Although these treatments were initially targeted at post-menopausal women, doctors said they are seeing an increasing number of younger patients, many of whom are postpartum mothers eager to turn back the clock to achieve pre-pregnancy vaginal health.
About three in five patients seeing Dr Wendy Teo, a consultant obstetrician and gynaecologist at Wendy Women's Clinic, for vaginal laxity issues are under the age of 50. She has noted a 30 per cent increase in women seeking treatment for female sexual dysfunction in recent years.
Urogynaecologist Christopher Chong, of Chris Chong Women and Urogynae Centre, has seen a five-fold rise in patient numbers seeking medical attention for female sexual dysfunction issues, among them vaginal laxity and atrophy, over the past five years.
"Some of my patients have relationship problems with their husbands while others are bothered by the decrease in sexual pleasure. Some patients tell me they've always had this laxity issue since childbirth and were bothered by it, but never found the time to sort it out.
"Now that they are in their 40s and their kids are older, they are finally finding some time to 'care' for themselves," said Dr Teo.
Such vaginal rejuvenation procedures are also gaining traction in Taiwan and certain cities in China, said gynaecologist Jennifer Lee, vice-president of the Asia-Pacific Association of Anti-aging and Health Management, who has noted a similar trend in her clinics based in those areas.
In town last month to give a lecture on the topic, Dr Lee is seeing a growing number of postpartum women seeking vaginal-tightening procedures, although the majority of her patients are in their late 40s and 50s. She has performed approximately 700 vaginal laser procedures since 2012.
For Ms Eliana, the laser treatment has enhanced "sensation all around, which makes sexual contact more pleasurable than before".
Most importantly, she said, her husband approves of its positive effects.
But not all women are suitable to undergo these treatments. For example, those with severe damage to the vaginal walls and/or pelvic floor may require a reconstructive surgical procedure known as vaginoplasty, said Dr Ang.
Vaginal laser procedures are not suitable for pregnant women, as well as those with a history of wound healing disorders, diabetes and autoimmune diseases, said Dr Teo. Similarly, women with lesions in the vagina such as cancer, growths and ulcers, as well as those experiencing vaginal bleeding or infections, should not undergo these laser treatments, said Dr Chong.
Kegels (pelvic floor exercises), yoga and Pilates may help strengthen the vaginal wall and pelvic floor muscles but these exercises must be maintained over a period of time for one to reap benefits, said Dr Ang.
CHILDBIRTH, AGE, EXTREME DIETING AMONG FACTORS FOR VAGINAL LAXITY
Common causes of vaginal laxity are childbirth and ageing. Multiple births and trauma to the vaginal canal during childbirth increase the risk, while age can hamper recovery to pre-pregnancy tightness, said Dr Ang.
"In my practice, I notice that some forms of sexual dysfunction reported by mothers one year after childbirth include laxity, insufficient lubrication, abnormal sensation and even incontinence during intercourse," she said.
Poor lifestyle habits may worsen vaginal health. Said Dr Lee: "I am seeing an increasing number of women in China, some of them only in their 20s or 30s, with severe vaginal loosening that is likely caused by unhealthy lifestyle habits. Over-dieting, chronic lack of sleep and exercise as well as excessive weight can prematurely age one's vagina."
While vaginal laxity "is not a disease, it can severely impact one's quality of sex life", and she urged affected women to seek medical help.
A diminished sense of sexual satisfaction can lead to a lower self-esteem and a drop in sexual intimacy, said Dr Ang.
Dr Teo said sensory input is an important factor in sexual arousal and pleasure.
"During sex, the contact between the male and female genitalia activates nerve-endings, which then fire off pleasure signals to the brain. The more lax the vagina, the less contact between the two, leading to decreased sexual pleasure," said Dr Teo.
Besides sexual intimacy issues, women who suffer from vaginal laxity also tend to have a weak pelvic floor, which can lead to medical problems like pelvic organ prolapse and urinary incontinence, said Dr Chong.
According to Dr Lee, about 70 per cent of all women experience some form of stress urinary incontinence (a form of incontinence where urine leakage occurs upon straining such as coughing, sneezing and brisk walking) after childbirth, which may be countered with vaginal laser therapy.
But Dr Chong said the benefits of certain types of vaginal laser treatments that are marketed for urinary incontinence remain a "controversial and internationally debated" topic.
He added that patients should also be aware that treatment alone may not address faltering sexual relationships if there are other underlying issues such as family problems and stress.
"It is important to understand the psychological and emotional aspects of the couple. Ultimately, sex is a couple thing; you can't just always depend on the woman," he said.