Most PCF centres hit by gastroenteritis outbreak scrap food catering arrangement
SINGAPORE — All but one of the 16 PAP Community Foundation (PCF) Sparkletots centres using the services of a caterer linked to over 200 cases of gastroenteritis have switched to in-house cooks, the childcare centre and preschool operator said on Friday (April 5).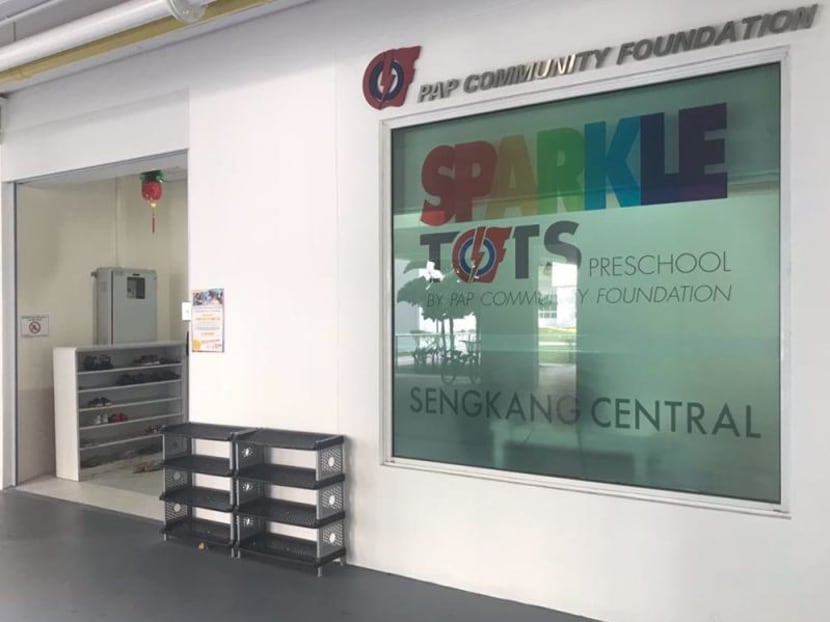 SINGAPORE — All but one of the 16 PAP Community Foundation (PCF) Sparkletots centres using the services of a caterer linked to over 200 cases of gastroenteritis have switched to in-house cooks, the childcare centre and preschool operator said on Friday (April 5).
The only affected preschool that has not switched to in-house cooks is PCF Sparkletots @ Punggol North, which is a large early-years centre that can accommodate 1,000 children at full capacity.
It currently does not have the kitchen facilities required to prepare food for such a large number of children. However, Ms Marini Khamis, senior director of PCF's preschool management division, said that they are exploring plans to build the facilities for in-house cooks to prepare food, and the centre will eventually stop using catering services.
PCF said at a media briefing that it had, as of Thursday, reported cases of 239 children and 12 staff from 13 preschools affected by the gastroenteritis outbreak.
All 31 children who were hospitalised have been discharged and 90 per cent of the reported cases have returned to school.
Forty children were diagnosed with food poisoning.
The first batch of gastroenteritis cases among PCF Sparkletots preschoolers was announced by the Ministry of Health (MOH), the National Environment Agency (NEA) and the Agri-Food and Veterinary Authority of Singapore late last month.
The cases were traced to Kate's Catering, whose operations were suspended on March 26.
PCF Sparkletots began using catering services at a number of its centres from August last year after a pilot scheme was tested, it said previously.
Currently, 17 of its 356 centres still serve catered food.
PCF is planning to have these centres revert to in-house cooks as soon as possible, added Ms Marini at the media briefing.
While these 17 centres are currently being serviced by a single catering company, plans to reduce reliance on a sole company are being considered, but Ms Marini stressed that PCF's priority is to move to an in-house cooking model.
When asked if the in-house cooks at PCF obtain ingredients from a central supplier, Ms Marini said the firm provides an advisory of food vendors for procurement, but individual branches have the flexibility to buy ingredients from nearby licensed outlets.
The preschool centres have reached out to all parents whose children were affected by the incident to offer financial aid, she added. To date, seven families have come forward with medical claims.
PCF's chief executive Victor Bay said: "My team and I are saddened by what had happened. I'm sorry for the stress that affected parents had to endure and the discomfort the affected children had to bear.
"Our first priority is, and will always be, the wellbeing of our Sparkletots children and staff."
WHY USE CATERERS IN THE FIRST PLACE?
The childcare centre and preschool operator trialed catering services in January last year as part of a six-month pilot programme.
At the time, PCF faced challenges recruiting competent cooks due to high turnover rates.
Principals and teachers of the 24 preschools that took part in the pilot found "better quality and variety of food" which was also in accordance with the Health Promotion Board's guidelines.
"The pilot also addressed the challenge of recruiting and retaining competent cooks," Ms Marini said.
In August 2018, a panel of caterers, including Kate's Catering, was appointed to provide their services to PCF.
When the food poisoning cases were first reported, 35 centres were using catering services.
PCF conducts performance reviews of appointed caterers every six months on quality, taste, visual presentation, nutritional value, portions and punctuality of delivery.
Any changes to the caterers' NEA certification and food grading must be reported to PCF. Thereafter, their contracts will be terminated if their catering licences are found to be suspended or revoked by the regulatory agencies.
Mr Bay added that although the pilot was successful, engaging catering services was never a long-term solution for PCF and the goal was always to return to in-house cooking.
MANPOWER SHORTAGES
Cooking staff shortages meant that administrative employees from a branch would need to step in and cook whenever an in-house cook went on leave, said Ms Marini.
The contingency plan in place at all preschool branches was to have more than one administrative staff who has gone for Basic Food Hygiene courses conducted by NEA-accredited training providers.
In fact, one of the reasons for using catering services was to minimise the involvement of administrative staff so that they could focus on their core duties.
The number of cooking staff in each branch ranges from one to three, depending on the size of the centre.
For some of the preschool centres that have switched back to in-house cooking, the cooking staff are administrative workers, some of whom have been redeployed from other branches, Ms Marini said.
Mr Bay said that PCF is accelerating its recruitment efforts for kitchen staff and is open to reviewing its benefits package for cooks.
The food poisoning outbreak is still under investigation by the MOH, Singapore Food Agency and Early Childhood Development Agency.