Late NSF Dave Lee's mother calls for changes to training systems, end to 'outdated punishments'
SINGAPORE – The mother of the late full-time national serviceman Dave Lee Han Xuan has called for an immediate halt to "tekan", or punishment, sessions in the military, adding that she hoped her son's death would send a message and bring about changes.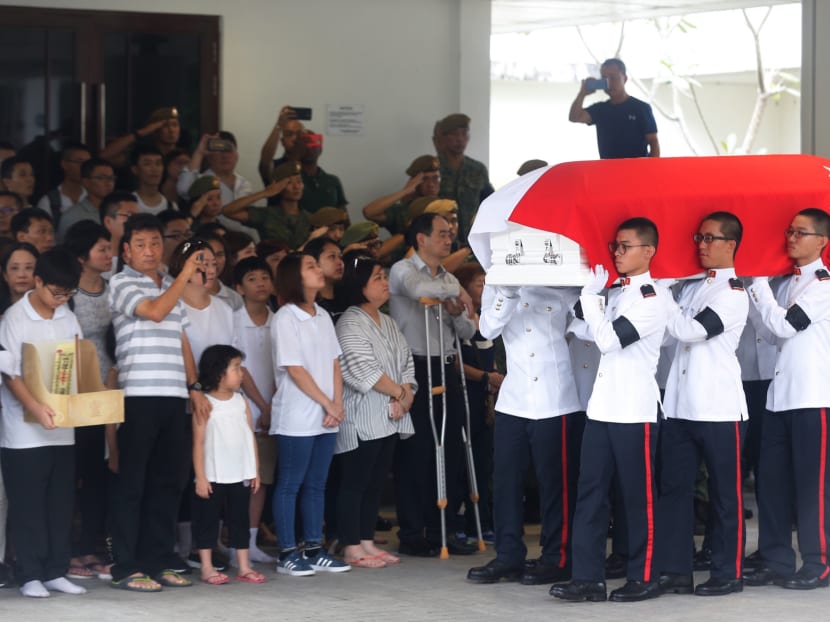 SINGAPORE – The mother of the late full-time national serviceman Dave Lee Han Xuan has called for an immediate halt to "tekan", or punishment, sessions in the military, adding that she hoped her son's death would send a message and bring about changes.
Delivering a eulogy at Corporal First Class (CFC) Lee's funeral service on Saturday (May 5), Madam Jasmine Yeo said: "The definition of turnouts should be duly defined. Outdated traditional 'tekan' or punishment sessions should be put to an immediate stop. Heatstroke kills, so put all possible measures to counter it. It is not to be taken lightly."
She added: "If I have to sacrifice my only son to bring this message across, make sure it is one that brings forth solid changes to the seemingly perfect training systems."
She also reminded military officers that "at all times... your mission is to train soldiers against enemies and most importantly, for them to return home safe and sound to their loved ones". "If it has to be a punishment served upon any wrongdoings, it's a lifetime painful lesson learned through a son not being able to return home anymore," she added. 
CFC Lee died on April 30 after spending more than a week in intensive care at the Changi General Hospital.
The 19-year-old Guardsman from the 1st Battalion Singapore Guards had shown signs of heat injury after an 8km fast march in Bedok Camp at 8.35am on April 18.
On Saturday, Mdm Yeo was the first to give a eulogy at the packed service hall in Mandai Crematorium. The service was attended by about 150 family members and friends, and 700 military personnel.
Among the others who spoke was Commanding Officer of the 1st Battalion Singapore Guards Danny Poh.
Major Poh revealed that the day before the funeral service, Mdm Yeo had requested to speak to her son's platoon mates.
She told them that she may have lost a son but now has "many sons". "They have to now protect her because Dave would not protect her anymore. She further encouraged the platoon to focus on training hard after this period of grief and go back to normal as Dave would not want to see this," he added.
MAJ Poh said that CFC Lee was the definition of a "good soldier" who did not back down when faced with challenges and always had his friends' backs.
The battalion was deeply saddened but the spirit he had shown will continue to uplift the battalion and inspire countless lives, he added.
"Your dignity and perseverance commands our respect. You have done us proud. You can stand down now soldier, your duty is done," said MAJ Poh.
The police are investigating CFC Lee's death and a Coroner's Inquiry may be held, depending on the outcome of the investigations. The Ministry of Defence said previously that a separate investigation will be conducted by a Committee of Inquiry chaired by a senior official from the Ministry of Education.
CFC Lee's aunts had called for a "full explanation" from the Singapore Armed Forces (SAF), after an unnamed soldier's account of events that took place before and after the fast march went viral online.
The soldier, who said he was also from the 1st Battalion Singapore Guards, claimed that CFC Lee's commanders had shown "reckless behaviour", forcing him to complete the fast march "even though he was showing signs of extreme physical exhaustion". According to him, they had not allowed the soldiers adequate rest the night before the march.
In her eulogy, Mdm Yeo also said parents are now worried, as she urged her son's comrades to ensure their own safety during training and to contact their parents regularly to assure them that they are doing fine.
Apart from Mdm Yeo and MAJ Poh, CFC Lee's secondary school classmate Andrez Lee, his junior college classmate Lim Le Ming, and his Basic Military Training platoon mate Ronald Tan also gave eulogies.
Ronald recalled that while their peers gave CFC Lee the nickname "complain king", he always got things done and constantly encouraged others during trainings.
Le Ming, who struggled to hold back tears, said his friend displayed admirable spirit with his constant encouragement to others while they prepared for their A Level examinations.
Adding that his death came as a shock to those around him, Le Ming said to the commanders and SAF personnel: "I urge that you take care of those around you, it doesn't matter if you are a man, a commander, a specialist, (let's) support one another. Losing a brother like this is something I do not want anyone to go through ever again."
After the eulogies, three rounds were fired by the soldiers as a salute, before The Last Post bugle call sounded. A minute of silence was observed, followed by the sounding of the rouse — a bugle call commonly used in conjunction with the Last Post at military funerals and services of dedication and remembrance — to mark the end of the military funeral.
In a Facebook post on Saturday, Defence Minister Ng Eng Heng said Mindef and the SAF honoured CFC Lee's memory as a mark of respect to the passing of a "loyal and committed Guardsman".
"We grieve together with his family and give our deepest condolences. We pray for their comfort and healing," he added.