#trending: Fans of Singapore horror book series Mr Midnight lament lack of promotion for its Netflix adaptation
A viral Twitter thread expressed disappointment at the lack of promotion for Netflix series "Mr Midnight", which is based off local horror books.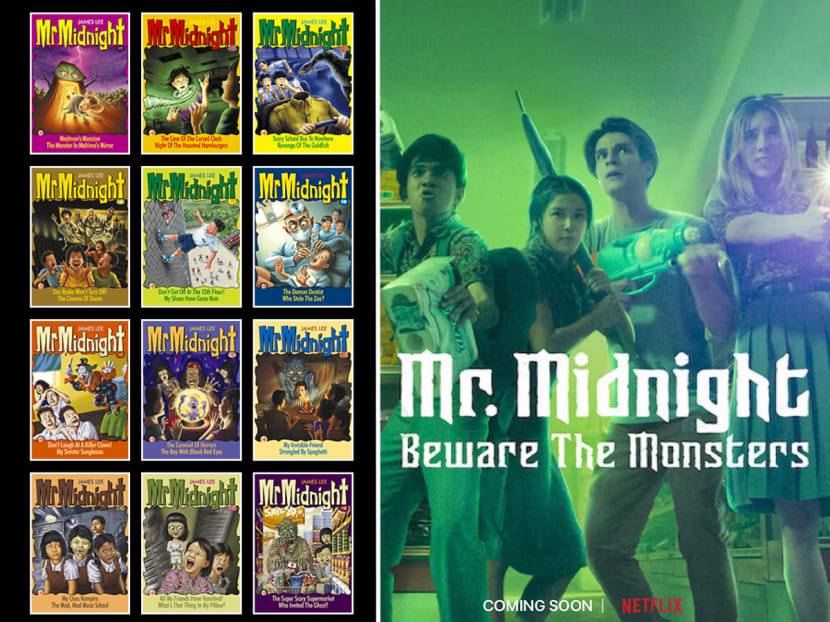 A new Netflix series adapted from popular Singapore children's horror book Mr Midnight will be streaming from Oct 24
Among the cast are Singaporean up-and-coming actress Chen Yixin and veteran Singaporean actor Lim Yu-Beng
On Twitter, some fans bemoaned the lack of promotion for the series, while others expressed excitement over their childhood book series adapted into a drama
SINGAPORE — Calling all 90s and 00s kids: Your favourite Singapore horror book series is coming to life on screens from Oct 24. 
Mr Midnight, a popular children's horror book series in Singapore and Malaysia, tells tales of evil green burgers, a vengeful goldfish, a pretty ghost and a demon dentist, all set against an Asian backdrop.
While this is exciting news for Mr Midnight fans, some lamented the lack of promotion for the Netflix series.
A Twitter thread posted last Friday (Oct 14) by Twitter user "wenyilee_" revealed that although the Netflix series titled "Mr Midnight: Beware The Monsters" was set to be released in a week's time, she did not see any promotion of the show. 
Several Twitter users chimed in that they were unaware of the upcoming Mr Midnight adaptation and expressed their wishes for more promotion of the show.
"Come on, @netflix! It's (the) spooky season! Promote all these kinds of things better," one user tweeted.
Others expressed enthusiasm for their childhood book series: "Oh my god! My favourite novel series as a kid is being adapted into a show(?)!! Yes plss."
"My entire childhood. The chokehold this series had on me," exclaimed another user.
"wenyilee_" also lamented that there was no trailer on YouTube or Twitter posted by official sources so that she could share to spread the news. 
A quick check shows that the earliest form of any promotion on social media dates back to an Instagram post on Sept 29 from the official Mr Midnight series account. 
NANCY DREW GHOST-HUNTING INFLUENCERS?
The 13-episode horror-mystery series centres around four teens in the town of Tanah Merah who become paranormal detectives and write about their weird, wild and spooky adventures on a blog named Mr Midnight. The Netflix trailer suggests that the teens also vlog about the experience. 
So, like Nancy Drew, but ghost-hunting influencers? 
The main character in the series is played by Malaysian actor Idan Aedan, while the remaining three teens are played by Singaporean actress Chen Yixin, Australian actors Caleb Monk and Nikki Dekker.
Veteran Singaporean actor Lim Yu-Beng plays Ling's (Chen Yixin) father in the show, as a mentor to teens on all things supernatural. 
The series was produced by local production company Beach House Pictures, behind hits like MasterChef Singapore and Asia's Next Top Model Cycle 3. 
Filming took place in Batam, Indonesia during the Covid-19 pandemic, according to reports.
The horror-suspense book series has 129 titles to date and is authored by Australian writer Jim Aitchison under his pen name James Lee. The Australian writer was based in Singapore from 1983 to 2010.
The Mr Midnight book series has been deemed as "Asia's answer to Harry Potter" as sales of the series were comparable to the Harry Potter series in Singapore and Malaysia, according to a marketing manager for bookstore chain Popular during an interview with Mail & Guardian.
The books have also been translated into several languages including Burmese, Malay, Indonesian and Mandarin.