Muslims should refrain from Hari Raya visits this year, Haj pilgrimage deferred to 2021: Muis
SINGAPORE — For the upcoming Hari Raya Puasa on May 24, Muslims should still abide by circuit breaker measures and refrain from visiting each other across households, the Islamic Religious Council (Muis) said in a statement on Friday (May 15).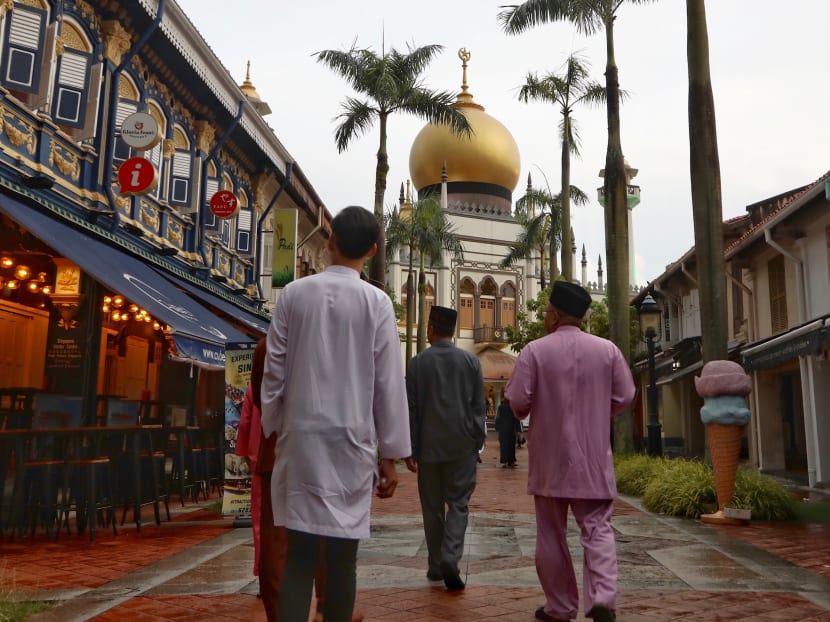 SINGAPORE — For the upcoming Hari Raya Puasa on May 24, Muslims should still abide by circuit breaker measures and refrain from visiting each other across households, the Islamic Religious Council (Muis) said in a statement on Friday (May 15).
And given the ongoing Covid-19 pandemic, the annual Haj pilgrimage will also be deferred this year.
The 900 Muslims who have registered to perform their Haj this year will be automatically rescheduled to perform their pilgrimage in 2021 instead.
In its statement, Muis said that the safe distancing measures implemented in Singapore during this period can only bring about the intended results when everybody works together to adhere to them.
"As such, Muslims should abide by the national restrictions on gatherings in public and private spaces, and therefore refrain from traditional Hari Raya visits and gatherings across households.
"Persons going out to purchase festive items should do so individually and keep their trips as short as possible. Visits to loved ones in different households, especially elderly family members, should be deferred until restrictions on visits are lifted, except where important care-giving is required."
Traditional communal prayers that are typically conducted on the eve and the morning of Hari Raya will also not be possible this year, the government agency added, as mosques are still closed and gatherings across households are disallowed.
During a media briefing on Friday, the Ministry of Health's director of medical services Kenneth Mak noted that 95 per cent of all Covid-19 deaths involved seniors, and nearly one in six of seniors diagnosed with Covid-19 have developed severe symptoms and required intensive care in the hospital.
"Therefore it's important for all of us to do our part to stay home as much as possible to protect our community, and in particular to protect our seniors," he said.
Asked if restrictions on visiting friends and family would remain in place even after the circuit breaker is lifted, Minister-in-charge of Muslim Affairs Masagos Zulkifli said the multi-ministry taskforce will deliberate on the situation and issue a guidance then.
Mr Masagos, who is also the Minister for Environment and Water Resources, stressed that the population at large must be prepared to continue with stringent rules even after the circuit breaker is lifted, and that this applies to Muslims celebrating Hari Raya too. 
When TODAY asked if the authorities will be ramping up checks on the ground on Hari Raya to ensure people are abiding by social distancing rules, he said: "We have to leave it to our conscience to make sure visiting is not rampant.
"You would be spreading the virus to your loved ones and the elderly, who are vulnerable and can succumb to the disease. This must be foremost in our minds, when we decide if we want to go out and visit one another."
However, he warned that the authorities will take action if there are complaints from neighbours about crowds in homes.
This year, the traditional Hari Raya prayer call, known as the "takbir", will be streamed live via YouTube Live on SalamSG TV as well as the Facebook pages of Muis and local mosques on Hari Raya eve, May 23.
Following the live online takbir, the Mufti, the highest religious leader for the Muslim community in Singapore, will make an address on SalamSG TV on how the community can fulfil its religious duties during Hari Raya amidst the Covid-19 situation. 
The Mufti will be joined by former Mufti Dr Fatris Bakaram and the President of Singapore, Madam Halimah Yacob, as a special guest.
Similarly, on the morning of Hari Raya, Muslims will be able to tune in to a live takbir from their homes via Warna 94.2 FM, or online through the Facebook pages of local mosques. 
After the traditional Hari Raya prayers at home, the Mufti will give a live Hari Raya sermon that will be broadcast over radio and various online channels such as SalamSG TV.
Asked about the provisions that will be made for migrant workers in community care and recovery facilities, Mr Masagos said guidance will be issued to the imams whom the workers have chosen for their Hari Raya rituals.
"At the same time, we are also working with the joint task force with MOM to provide special Hari Raya meals for 200,000 of these migrant workers, regardless of religion...to mark the coming of Hari Raya," he added.
DEFERMENT OF HAJ
As for the Haj pilgrimage, Muis noted that there remain many uncertainties regarding the spread and impact of Covid-19 on infected patients. 
The Government's advisory against travel abroad also remains in force, it added.
"The annual Haj pilgrimage involves the gathering of about 2.5 million people from all over the world, in the city of Makkah. This is a large scale gathering, involving pilgrims from across the world. As with the case of overseas travel, there are inherent risks for Singaporean pilgrims to participate in the Haj and contract the virus."
In March, the Ministry of Haj and Umrah of Saudi Arabia issued an advisory to Haj agencies around the world to stop taking on new reservations or payments with respect to Haj pilgrimage in 2020. 
Saudia Airlines also announced the suspension of all international flights until further notice.
As of Friday, Saudi Arabia has not made an official announcement on the status of Haj pilgrimage for 2020, Muis said.
"Muis, in consultation with the Ministry of Health, has decided that, as a responsible stakeholder, it is only prudent for Singapore to defer its Haj 2020 plans for all our 900 pilgrims to the following year (2021)."
This is especially the case as more than 80 per cent of Singaporeans who are scheduled to perform Haj this year are above the age of 50, Muis added.
Younger pilgrims who are working have also expressed challenges in obtaining leave to perform the Haj and concerns over their job security, given the challenging economic situation, it said.
This is compounded by the fact that Singaporean travellers must serve a 14-day stay home notice upon their return to Singapore.
There are other challenges as well, Muis noted.
In past years, pilgrims would usually have made payment and secured their travel arrangements and accommodation before the month of Ramadan. However, with the uncertainty of the pandemic, it has become increasingly challenging to adequately prepare logistical and administrative requirements for the pilgrimage, it said.
"Moreover, with Singapore's healthcare resources fully committed to managing Covid-19 and other pressing hospital requirements, we are unable to assemble a team of doctors and nurses to support this year's Haj delegation," Muis added.
"The absence of such a medical team will compromise the health and well-being of our pilgrims."