'My family is terrified': Authorities work to address bat problems faced by some Upper Boon Keng residents
SINGAPORE — One of the first municipal issues that has faced Mrs Josephine Teo in the two months since she was elected as a Member of Parliament for Jalan Besar Group Representation Constituency (GRC) is that some residents are in a flap over bats flying into their homes.
Some residents said that bats have been flying into their homes since 2000
An NParks director said that such entries are "usually accidental" and not common 
NParks suggested hanging shiny objects such as CDs to deter bats
Jalan Besar Town Council will work to continue pruning fruit trees to try to keep bats away from the area
SINGAPORE — One of the first municipal issues that has faced Mrs Josephine Teo in the two months since she was elected as a Member of Parliament (MP) for Jalan Besar Group Representation Constituency (GRC) is that some residents are in a flap over bats flying into their homes.
In a Facebook post on Thursday (Sept 10), Mrs Teo, who is also Manpower Minister, said that bats living in fruit trees near Block 14 Upper Boon Keng Road have been flying into nearby homes. Before the July General Election, Mrs Teo represented Bishan-Toa Payoh GRC.
She said that the residents were concerned about the bats being possible disease carriers and were unsure how they could get them out of their homes.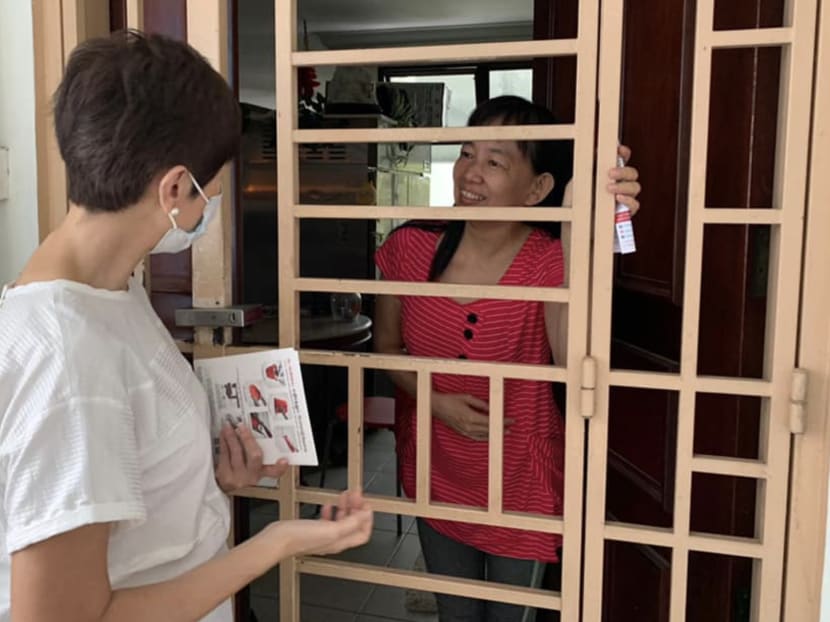 The National Parks Board (NParks) was contacted and its staff members told the residents that the bats flying into their homes do not possess any coronavirus strains.
Instead, they were important to the ecological environment as pollinators and they help to control insect populations, Mrs Teo wrote.
NParks also suggested practical strategies to deter bats from flying into their homes, including hanging shiny objects at entrance points or installing a magnetic fly mesh or insect netting at the windows.
In response to TODAY's queries, Dr Benjamin Lee, director of wildlife management research at NParks, said that the agency was alerted to bats in the Upper Boon Keng area in February this year. 
It worked with the Jalan Besar Town Council and the People's Association to engage the residents.
"Entry of bats into residences is usually accidental and not a common occurrence," Dr Lee said. 
He also said that bats are generally shy and do not attack or show aggression unless a person tries to handle them. 
"Members of the public who encounter bats in their living environment should not attempt to feed or get close to the bats. If they do come into contact with the bats, they should practise good hygiene by thoroughly washing their hands with soap," he added.
Mrs Teo said that the Jalan Besar Town Council helped to prune the fruit trees nearby to encourage the bats to create their homes away from the block.
In response to media queries, a town council spokesperson said that it had earlier received feedback from residents living in the block about bats flying into their homes.
The town council could not find any bats roosting in the vicinity and there were also no signs indicating the presence of bats, such as bat droppings.
"It is thus likely the bats' presence was transient. Nevertheless, we will continue to monitor the situation." 
The town council will continue pruning trees in the estate to discourage bats from roosting.
Out of at least 15 residents approached by TODAY, two households seemed to have more frequent encounters with the bats, while others reported one-off encounters with bats over the years, or none at all.
Mr Anfred Cheong, 45, said that he has been facing this issue since he moved to the area in 2003, with bats flying into his home two to three times every year.
Despite the infrequent inconvenience, Mr Cheong, who works in procurement, said that it is still a nuisance though not a major one. Just last week, a bat flew into his home again.
"My family is not fine (with it). They are terrified of bats… People are just concerned that bats can carry diseases, especially with Covid-19 nowadays." 
The vast majority of scientists who have studied the coronavirus strain responsible for the Covid-19 disease agree that the virus evolved naturally and crossed into humans from an animal species, most likely a bat.
Mrs Irene Loh, 49, said that the problem has always been around since she moved into the neighbourhood in 2000.
The operations manager does not really keep track of how often bats fly into her home but has learned to "deal with it" over the years.
However, she noticed that the frequency has dropped recently though she cannot tell when that started.
Ms Kelly Lau, 47, said that she notified the town council a few years ago when two bats flew into her home in the span of a month. She cannot remember which year these two incidents happened.
"We were screaming, then we hid in the room. We didn't know what to do," the homemaker said.
After these two incidents, the last time she encountered a bat was sometime last year.
The housing block faces the Kallang River, with an industrial estate on the opposite side. Both Ms Lau and Mr Cheong believe that the trees in the industrial estate could be where the bats are roosting since there are many fruit trees there.
When asked if the recent efforts by Mrs Teo have paid off, Ms Lau said that the town council started trimming trees around her block and those across the Kallang River a few years ago before Mrs Teo was MP, which made the situation "much better".
On the use of shiny objects as a deterrent, Mr Cheong said: "Hanging reflective CDs is, like, huh? You expect me to hang them at every single window. First, it's not nice. Second, does it really work?... But anyway, it's not a major problem that I will hang CDs." 
Besides installing a mesh or netting, Dr Lee of NParks said that residents can install lighting at areas where bats may roost to minimise the chances of it occurring since these animals prefer dark areas. 
He also said that residents should leave the bats alone if they encounter any in their property on fruit trees. They will fly away after they are done feeding. 
If a bat is trapped in a flat, residents should open their windows to allow it to find its way out. If the animal is still trapped, Dr Lee said that residents should avoid feeding or getting close to it. They should call the NParks Animal Response Centre at 1800 476 1700 instead.
Residents may also contact the Jalan Besar Town Council at 6298 9222 for any assistance required or feedback matters.