N-Level candidate shone despite family breakdown, working part-time to support ill mother
SINGAPORE — Judging from the earnest smiles she gave to her teachers and classmates during the release of the N-Level results on Thursday (Dec 19), it is hard to believe how much life has thrown at Nurain Sanusi, a student from Spectra Secondary School.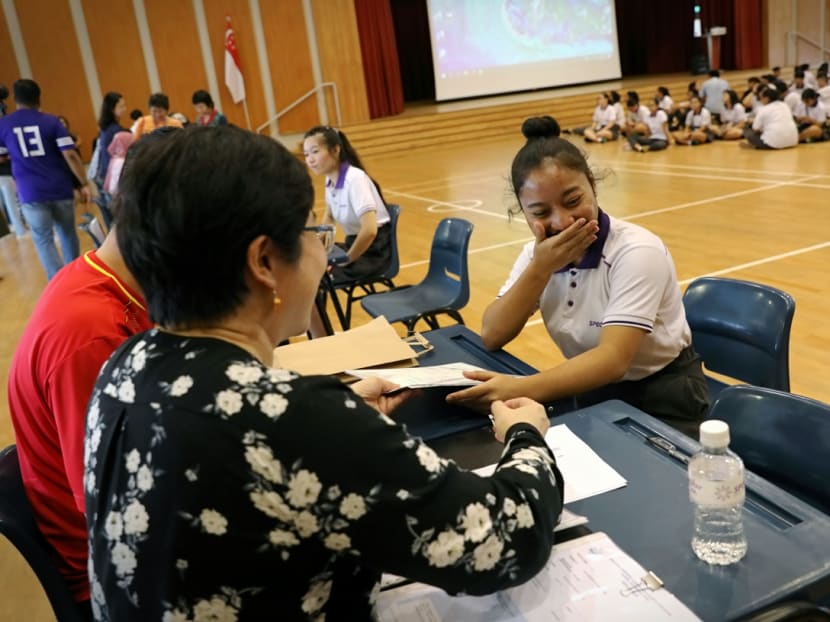 SINGAPORE — Judging from the earnest smiles she gave to her teachers and classmates during the release of the N-Level results on Thursday (Dec 19), it is hard to believe how much life has thrown at Nurain Sanusi, a student from Spectra Secondary School.
The 17-year-old has had to grapple with her parents' divorce and face financial hardship due to her mother's health problems, and could not do well in her studies as early as in Primary 2 or 3.
She has tried to make herself feel better by cutting and hurting herself, and skipping three to four days of school a week in Secondary 2 when the blows were the most severe.
Then, she eventually picked herself up when she was in upper secondary, thanks to a wheelchair-bound friend who became close to her and gave her a reason to go to school.
If she failed to show up to wheel 16-year-old Ivan Sombrado Chiang to and fro school from Admiralty MRT Station — a 10-minute walking distance — he would have a hard time reaching the school by himself. Ivan suffers from spina bifida, a birth defect where there is incomplete development of the spinal cord.
On Thursday, Nurain was recognised for acts of service to her schoolmate: She was given the Edusave Character Award for her demonstration of exemplary character and outstanding personal qualities through her daily behaviour.
She was also among 98.1 per cent of the 4,034 Normal (Technical) students who passed this year's N-Level examinations. 
Speaking to TODAY, she said that she remains in a difficult place and even sees herself as a failure for being in the Normal (Technical) stream, but she soldiers on, trooper-style, as she has been doing for the past two years.
When Nurain was in Sec 2, her mother — who was in her early 40s then — had to stop work as a postwoman because her high blood pressure and diabetes conditions flared up. Nurain's stepfather, who worked as a sales promoter, divorced her mother shortly after.
Her mother was so sickly and distraught, she could no longer give Nurain her pocket money of S$2 a day. So the girl started working to support her mother and two younger siblings, aged 11 and 13.
LOW PAID PART-TIME JOB
In Nurain's first job, which lasted four months, she worked part-time at an ice-cream parlour that paid her a daily wage of only S$20. She did it on Fridays after school, from about 2pm to 10pm, and over the weekends.
After her school teachers found out about the low pay, she was told to discontinue the job, so she started working ad-hoc as a service attendant at banquets and got a wage of S$70 to S$80 a day.
She also worked as a stall assistant at a coffee shop, where she washed dishes, prepared the ingredients, took orders and served customers their food.
"There was too much (going on). I was having a lot of weight (on my shoulders) because my parents divorced and I needed to work. Everything pressured me so much," she said.
"I felt like giving up... When I got home, I needed to sit with my sisters and teach them their homework. At the same time, I also had my homework to do, so I barely had time of my own," she said. "On holidays, I didn't really get to rest. I helped my mum with household chores."
Later on, she found a source of motivation: She became known as a disciplined member of the school's athletics team, taking training seriously and representing the school at the Inter-school Cross Country Competition last year and this year.
Besides getting herself fitter through the sport, she was driven by her goal of being a better example to her siblings. "They are young. Maybe I can be the light. Maybe I can help improve their future," she said. "I don't want them to live (like I did)."
At times, the teenager looks at her schoolmates, whose lifestyles may be different from hers. Most of them are able to afford branded shoes, such as the Nike Air Max that every one of her friends is donning now. They also hang out in restaurants after school, which she cannot afford to do.
"I am just 17 and I am already this tired, and other people are enjoying their lives. But I feel there is good in it, because I learn much more than they do." 
Students react as the results of the N-Level examinations are released at Spectra Secondary School on Dec 19, 2019. Photo: Nuria Ling/TODAY
Nurain gave an unexpected answer when TODAY asked if she was proud of how far she has come: "To be honest, I see myself as a failure. I expected more from myself," she said, her voice slightly trembling. "I am still trying my best to do what I can in order to 'put things back together'. I tried my best to help my mum whenever she needed me."
She was a little upset that she did not perform as well in English in the N-Levels and got a C grade, she said, adding that she managed to get a B earlier during the school exams.
Still, Spectra Secondary School — a specialised school for Normal (Technical) students who take one of four ITE Skills Certificate subjects — recognised her as one of the best-performing students in the ITE Skills Certificate selection for retail services.
She has been offered a conditional place in the Nitec Retail Services course at ITE College Central.
In the two-year course, she will learn how to promote goods and services by assisting customers in their queries while delivering a good customer experience.
ITE is "not the end", Nurain stressed, seeing it as a step that could bring her closer towards her goal of becoming a tour guide. "I love retail because I like to interact with people," she said, hoping that the skills she would pick up would also be useful in tourism.
What makes her proud is that she has heard of how some Normal (Technical) students managed to emerge as the boss of a company, or do better than those who had taken the Express or Normal (Academic) streams.
What could the educational system have done better? Some teachers could have been more encouraging, she said, divulging that she had an unpleasant time at a primary school in Serangoon that left her crying every day once she was home.
She also felt "bullied" by a teacher who used to call her "black" in front of her class due to her darker skin tone.
"It haunts me till today," she said. "The teacher hated me, always discouraged me. Whenever I asked a question on something I didn't really know, he would just ignore me and say stuff like, 'You will never make it'... I never went home with a smile on my face."