National Day Special: Love, marriage and a new family made her stay in Singapore and call it home
SINGAPORE — Settling down in Singapore for the long-term was not on the cards for 34-year-old Jessica Santos, a graphic designer who uprooted her life in the Philippines and came to the city-state on an employment pass.
For many, "home" is about more than just a roof over our heads, yet it can mean different things to different people. The events of recent years, including the rise of identity politics around the world, the pushback against globalisation and the Covid-19 pandemic, have also forced some to rethink what "home" means. As part of TODAY's National Day Special this year exploring the sense of belonging, senior journalist Low Youjin speaks to a Filipina, who married a Singaporean, about calling the Lion City her home.
Ms Jessica Santos, a Filipina, arrived in Singapore for work in 2015
A holiday trip over a decade ago convinced her that Singapore was the place she wanted to work in
However, she did not consider Singapore as a place to call home at the time because she was not with her family
All that changed after she fell in love and married a Singaporean
SINGAPORE — Settling down in Singapore for the long-term was not on the cards for 34-year-old Jessica Santos, a graphic designer who uprooted her life in the Philippines and came to the city-state on an employment pass.
After all, the Filipina saw her birth country, where her family lived, as her home.
But it was a fateful meeting with her future husband at her workplace, as well as surviving through the coronavirus pandemic in the Lion City, that redefined where she felt she belonged, Ms Santos said.
"Home means being really comfortable in the presence of family and friends."
Ms Santos would make regular flights back to Manila to be with her family — two sisters aged 37 and 38, and her parents who are in their late 60s.
She recalled her first visit to Singapore when she arrived for a holiday with her family close to a decade ago.
Having grown up in the Philippines capital of Manila, she said she was immediately bowled over by how modern Singapore was relative to her birth country.
"I come from a third-world country, and the difference in the efficiency and the convenience of living was really the number one draw for me," she said. 
Ms Santos married a Singaporean husband and is applying to become a permanent resident.
Beyond that, she had also taken a liking for the food here and found the people in Singapore friendly. Compared with the crime situation back in the Philippines at the time, the relative safety that Singapore afforded was also a big draw.
"I told myself that I would move here… and when the opportunity came, I grabbed it."
She found employment in Singapore in 2015 as a graphics designer.
There were, of course, some initial culture shocks that took some getting used to for her. Everything moved quickly, including the way people spoke and the deadline for assignments. And unlike herself and her compatriots, she also found that her Singaporean colleagues were not much for small talk.
"We (Filipinos) like chit-chatting. In an office setting, before we start work, we'll ask about your day, your weekend, your mum, your pets... anything to get the conversation going," she said. "Here, not so much. You just get one-liners, and you get the idea they (Singaporeans) don't want to talk."
But turn the conversation to food, and Singaporeans will give you a list of places to go, Ms Santos noted. "To get chatting with locals, you just need to start talking about food. That's the way to their hearts." 
Even though she got used to the quirks of Singapore living, Ms Santos did not originally expect herself to stay here for the long-term. After all, as a self-professed art lover, she had dreams to move to New York in the United States — a city she felt catered to artists, musicians and other creatives.
Besides, she did not feel like she belonged here. Without her family, Singapore felt more like a workplace than a home.  
A FATEFUL MEETING
However, things changed when she met her Singaporean husband, Mr Aaron Low, in 2016.
"It was love that made me want to stay in Singapore," she said.
They were colleagues at a publishing company in 2016, where Ms Santos works. That was her second job in Singapore — they were both retrenched in April last year due to the pandemic. Ms Santos has since found work as a graphic designer in another company, while Mr Low works as a freelance photographer.  
In any case, Ms Santos recalled how Mr Low, who is now 40, first expressed a romantic interest in her in late 2018.
She was initially hesitant at the time. "I still had plans of going to other countries and experiencing the other side of the world, so I wasn't sure I could commit to being in a relationship (in Singapore)."  
Mr Low said that it was a "weird place that we were in" when he found out that she had this on her mind.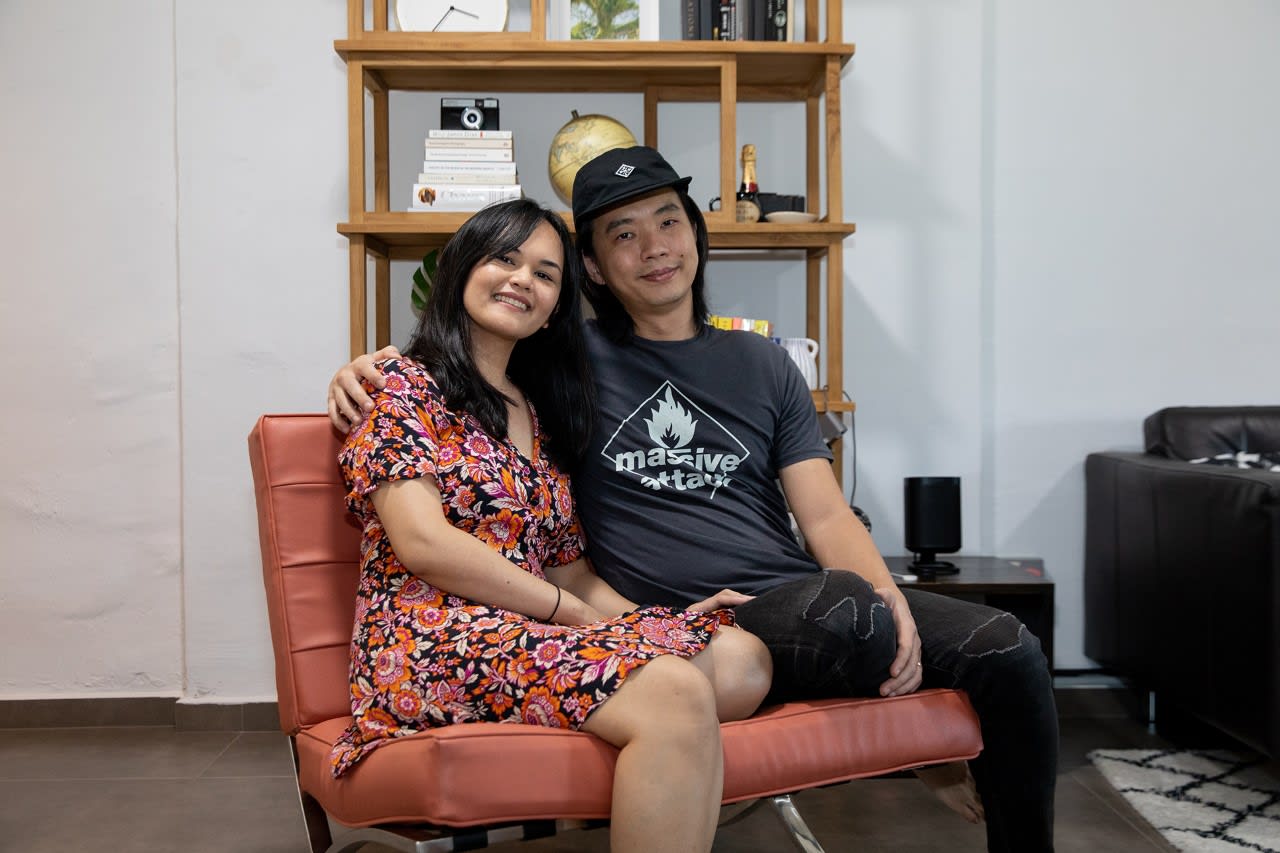 "I told her to be free and I'll take things as they come. If she plans to go somewhere else, I won't stop her from leaving," he said.
Ms Santos eventually changed her mind when a close relative died, because it made her realise that she should not take her relationships for granted. 
The rest, as Mr Low put it, is history.
EMBRACING SINGAPORE AS HOME
Mr Low and Ms Santos got married on Aug 8 in 2020, in the middle of the pandemic. It was a small ceremony held in their home, which friends and family attended via the video conferencing platform Zoom.
While she still misses her family, Ms Santos said that in retrospect, the friends she made in Singapore over the seven years she has been here have helped her cope with being away from family members — particularly over the last two years during the pandemic.
"They made an effort to check in on me every now and then to make sure I'm okay, whether it's just a text message or spending quality time (with me) in person," she said.
Her in-laws have also made her feel welcomed. "They're my family here...(and) I think they like me better than Aaron," she joked. 
"Every time we visit his parents, his mum would cook a feast, with a minimum of seven different dishes, something that I really appreciate," Ms Santos said, adding that her father-in-law would also ask about the well-being of her family in the Philippines.
These days, Ms Santos feels like her habits are slowly becoming more Singaporean.
For instance, she finds it hard to do without McDonald's signature garlic chilli sauce when she dines at the food-fast chain — a combination she initially found "weird" when she arrived.
And on occasions, she even gets mistaken for being Singaporean, such as when "uncles start speaking to her in the lift in Chinese".
So, over time, she found a sense of belonging far away from the Philippines.
"I have friends here now, and I have him (my husband) here. It's just about being surrounded by people that you care for." 
She is thankful that she was in Singapore when the pandemic broke out, she added.
Aside from the fact that it allowed her to spend more time with her husband, she said that the Government was quick in implementing Covid-19 rules and those made her feel safe — something she did not think would have been possible elsewhere.
Ms Santos said that based on how the virus has been contained by other countries, she concluded that Singapore has "done a pretty good job" in comparison.
"The people are less panicky and are generally more mindful of the situations caused by the pandemic," she observed, adding that this built on to the overall sense of safety in Singapore, which she had come to appreciate as an integral part of feeling at home. 
In the meantime, though, her journey to take root here has hit a snag. Ms Santos applied for permanent residency in December last year, but was rejected in June.
She intends to re-apply, since she is unable to apply for a Built-To-Order public flat with her husband.
Mr Low said: "It is important to have a flat together because in a way, it's a symbol to us that we can finally have a place that we can call (our) home." 
More importantly, becoming a permanent resident would cement her idea of where home is, Ms Santos said. "Symbolically, it would be like a seal of approval saying, 'Hey, we want you here. We want you to stay longer in Singapore'."