#trending: Top moments from NDP 2022 that got people talking
Singapore turned 57 on Tuesday (Aug 9) and the National Day celebrations that took place at The Float@Marina Bay were not without incident. Here are four moments that set social media abuzz.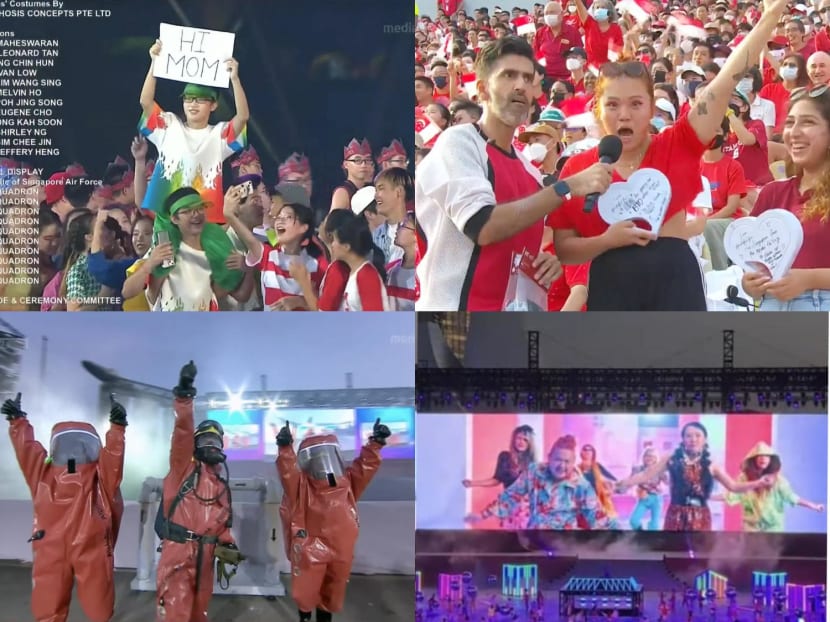 SINGAPORE — Our young nation celebrated its 57th birthday on Tuesday (Aug 9) and the National Day Parade (NDP) that took place at The Float@Marina Bay was not without incident. 
Two noteworthy moments that set social media abuzz were when Third Warrant Officer (3WO) Jeffrey Heng made a rough landing during the Red Lions parachuting segment at the start of the parade.
Many people who saw the incident took to social media to send thoughts and prayers to the parachutist. 
The second moment that got everyone talking on social media was when an audience member, Mr Azuan Tan, was captured on camera crying while singing the national anthem.
The image tugged at the heartstrings of fellow countrymen and was dubbed one of the "iconic" images of this year's NDP by Deputy Prime Minister and Finance Minister Lawrence Wong.
Apart from these, here are some other lighthearted scenes that added colour to this year's NDP, which the online community were talking about on social media while the parade was going on in the evening.
1. TEENAGER HOLDS UP 'HI MOM' SIGN
Every year, as the National Day performance segment comes to a close, participants will come together to dance and sing during the end credits. One student motivator took this opportunity to greet his mother on live television. 
Sitting on a friend's shoulders, the teenager waved a sign with the simple message, "Hi Mom".
Needless to say, the moment birthed many memes.
People praised the participant for his courage and expressed hope that his mother saw the sign. Others joked that the father might have felt left out.
Some also suggested that he might have been saying "hi" to the Ministry of Manpower instead and not his mother, referring to the ministry's abbreviation MOM.
2. SPECTATOR THANKS HDB FOR HER BTO QUEUE NUMBER
When asked by NDP host Rishi Budhrani what she is grateful for, social media personality Nicole Liel gave an answer that resonated with many Singaporeans.
The 24-year-old replied: "I'm very grateful to HDB for giving me a BTO (Build-To-Order) queue number." 
Her response was met with laughter and cheers from fellow spectators, after which she added, "And Ya Kun Kaya Toast", referring to the chain of food shops selling coffee and toast.
HDB, or the Housing and Development Board, said last year that demand for BTO flats have more than doubled from 2018 to 2020 as more couples got married and more people choose to have their own flat. However, young couples and first-time home buyers have been set back by various factors due to the Covid-19 pandemic.
In a series of Instagram stories uploaded after the parade, Ms Liel said she was unaware that she would be asked to make an appearance on national television and had to have a "brainstorm session" with her friend so that they would not say "something stupid" on-air.
Many social media users reached out to Ms Liel following the amusing incident and she responded with an Instagram post to say that she is glad that her "BTO struggle" resonated with so many others.
The former Night Owl Cinematics talent also invited everyone to visit her house once it is completed.
3. 'AUNTIES' GROOVE TO BLACKPINK'S BOOMBAYAH
Before Tuesday's NDP show, video clips of a group of women dancing to K-pop girl group Blackpink's Boombayah during NDP rehearsals had already made their rounds on social media and drew mixed reactions from online users.
Some deemed it cringe-worthy, while others argued that it was creative.
Chatter around the performance had piqued interest among social media users and the segment proved to be one of the more well-received parts of the show.
Boombayah trended on Twitter on Tuesday and Wednesday following the performance.
Blackpink, the quartet behind the hit K-pop song, also trended on Twitter following the announcement of dates for their upcoming Born Pink world tour. The group revealed through social media that they will be making a stop in Singapore next May.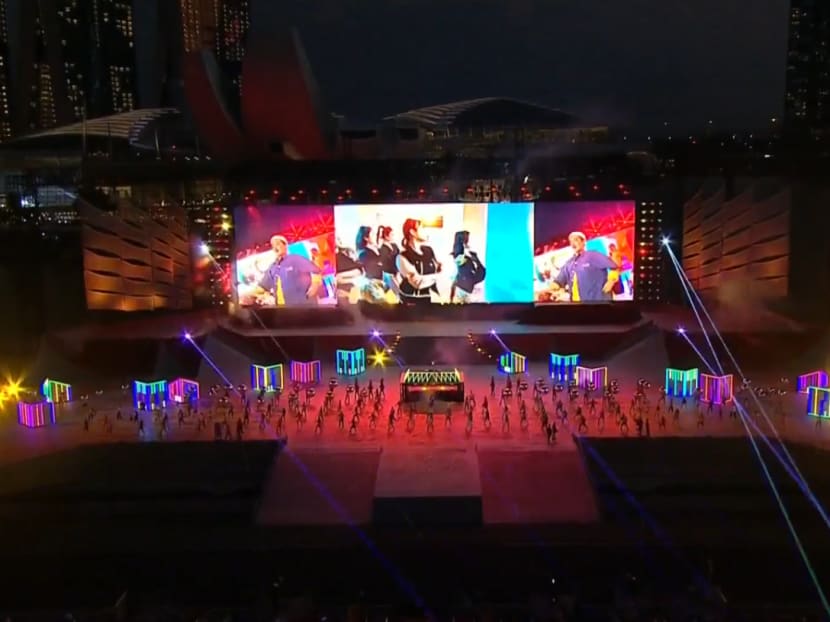 4. OFFICERS IN HAZMAT SUITS
Some may find men in suits sexy, but perhaps not these suits?
A number of social media users have likened Singapore Civil Defence Force (SCDF) officers who were dressed in hazardous materials (Hazmat) suits to characters from the Minions movie or the online multiplayer game Among Us. The SCDF team was part of the parade's Total Defence Display.
The suit definitely is more similar to that worn by characters in Among Us, with its red body and dark face cover.
One Twitter user wrote: "The Hazmat people look so funny when they raise their arms up to wave. It's like a minion waving at you."
Singaporean blogger Lee Kin Mun, better known as "mrbrown", also made a reference to the Minions characters. He tweeted: "Half my family are going 'bee boo bee boo' during the SCDF fire segment."
The NDP returned in full force this year with a 25,000-strong crowd after two years of scaled-back celebrations due to the pandemic. It was also the last time the parade was held at the floating platform before redevelopment works for NS Square begin.
Social media channels such as Instagram and Twitter continue to be abuzz with videos, photos and, of course, memes of the event. It seems like Singaporeans may not be ready to let go of the patriotic spirit just yet.