NEA opens new facility to breed 5 million mosquitoes a week to combat dengue
SINGAPORE — A new mosquito production facility has opened at an industrial estate in Ang Mo Kio, and it aims to breed about five million Wolbachia-carrying Aedes aegypti mosquitoes a week to counter the surge in dengue cases.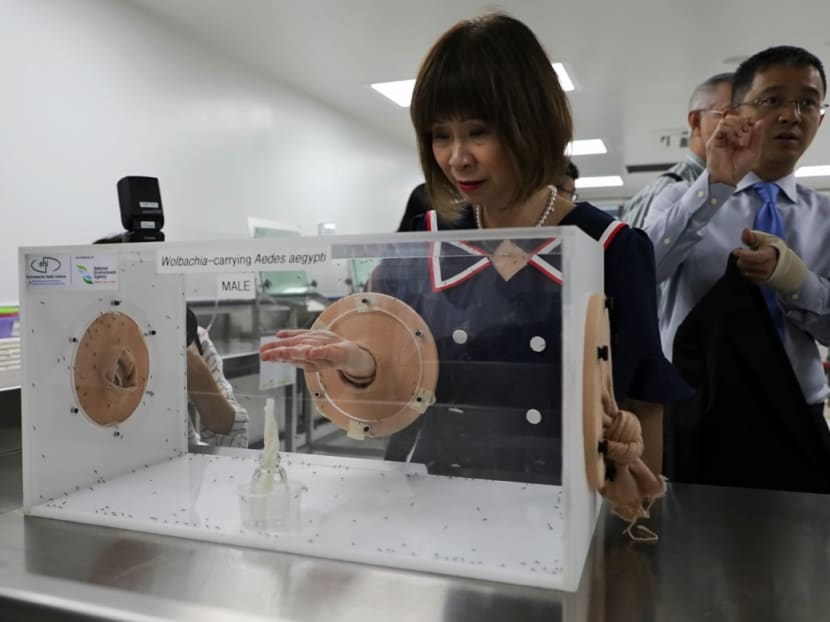 SINGAPORE — A new mosquito production facility has opened at an industrial estate in Ang Mo Kio, and it aims to breed about five million Wolbachia-carrying Aedes aegypti mosquitoes a week to counter the surge in dengue cases.
Speaking at the launch of the S$5 million facility on Monday (Dec 2), Dr Amy Khor, Senior Minister of State for the Environment and Water Resources, said that there were close to 15,000 dengue cases this year so far, and 20 people had died from the disease.
Data compiled by the Ministry of Health's Communicable Diseases Division showed that the numbers this year were significantly higher than the last four years.
"This surge in transmission is likely due to increased mosquito populations coinciding with very warm weather this year," she said.
Dr Khor said that higher temperatures not only allow mosquitoes to breed faster, but causes the dengue virus to replicate faster as well — enabling it to be transmitted more efficiently.
She added that global warming, along with climate change, will likely "worsen the dengue situation in Singapore".
"If we are serious about confronting climate change and other challenges, dengue control cannot simply be just 'business as usual'," Dr Khor said. "We cannot just do more of the same."
The National Environment Agency (NEA), which manages the new facility at Techplace II in Ang Mo Kio Avenue 5, started working on the Wolbachia method to reduce the Aedes aegypti mosquito population at least five years ago.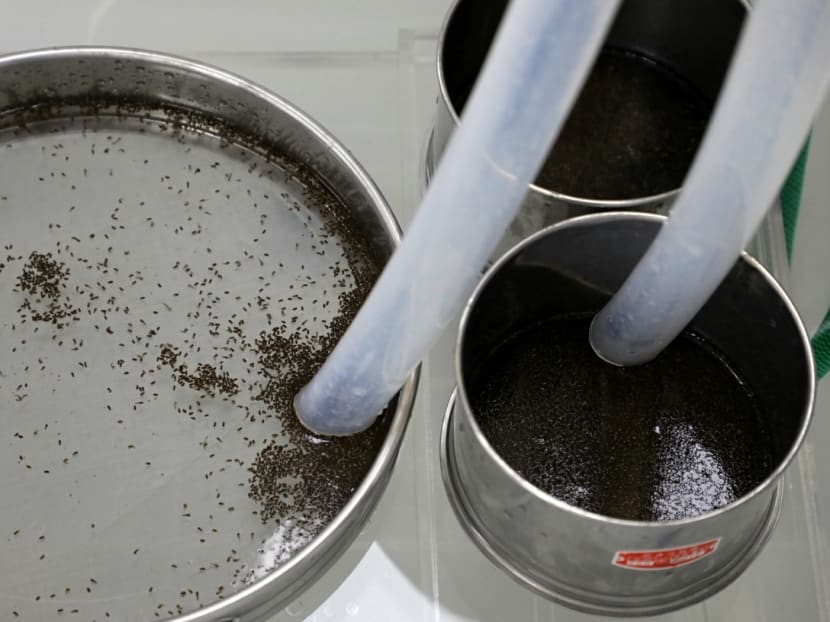 Male mosquitoes are intentionally infected with the Wolbachia bacteria and they are then released to mate with female mosquitoes. The eggs produced from their mating will not hatch because they are biologically incompatible.
Wolbachia is a naturally occurring bacterium found in several insect species, but not in the Aedes aegypti mosquito.
Experiments by researchers abroad have shown that Wolbachia injected into the mosquito boosts its immune system and protects it from viruses such as dengue. The bacteria compete with dengue for food in the mosquito, making it harder for the dengue virus to replicate.
The male Aedes mosquitoes do not bite and Wolbachia has not been shown to infect humans or other mammals, even when carried by biting insects.
Bites from the female Aedes mosquito carrying the dengue virus can leave a person with a high fever, excruciating joint pain, pounding headaches and a rash. In severe cases when dengue hemorrhagic fever develops, there may be internal bleeding, shock, organ failure and death.
The disease has no vaccine, cure or specific treatment.
In 2016, NEA first began small-scale field studies under "Project Wolbachia" to release the dengue-blocking Aedes mosquitoes in a few housing estates, namely Braddell Heights, Nee Soon East and Tampines West.
This led to a 50 per cent suppression rate of the Aedes mosquito population.
The rate has since improved. Dr Khor said that there is now a 90 per cent suppression rate at study sites in Tampines and Yishun from February to November this year.
However, she noted that the field trials at these two estates have been carried out in small study sites comprising 284 apartment blocks.
"Moving forward, this new facility will give us the production capacity we need to expand our coverage to understand its impact on dengue," she said.
Mr Tan Meng Dui, NEA's chief executive officer, said that in order to expand beyond the two study sites to benefit more areas in Singapore, the mosquito breeding and release processes need to be scaled up and made more efficient.
The new facility, which has been in operation since September this year, has a "10-fold higher production capacity" than NEA's former facility at Neythal Road near Boon Lay, Mr Tan said.
"Our eventual target capacity is to achieve production of five million male Wolbachia-Aedes mosquitoes every week," he said. "This will allow us to gradually roll out Project Wolbachia to cover larger areas."
With just 50 researchers from NEA's Environment Health Institute working at the new facility, there are several automated solutions aimed at improving productivity.
To cope with the increased breeding, there is a new sorter to separate male and female pupae before they develop into adult mosquitoes. Sorting becomes 10 to 20 times faster as the smaller male pupae are filtered from the females. The females are then destroyed.
Without the sorter, researchers used to manually collect male pupae through a specially constructed filter — a laborious process which typically takes eight to 10 minutes for every tray of 4,000 larvae.
With the sorter, researchers can filter out five trays of larvae within 10 to 20 minutes.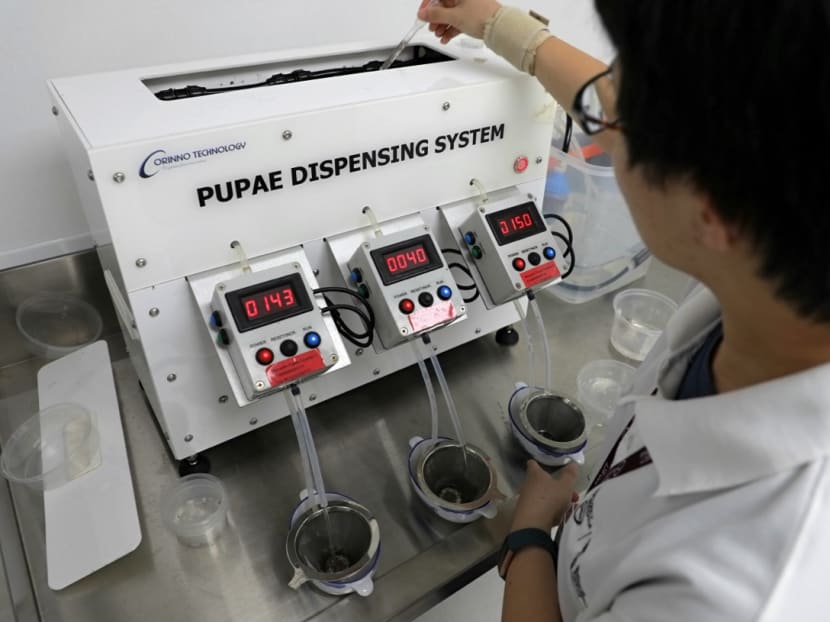 Another automated system used at the facility is one that delivers a fixed amount of feed to several trays of male pupae simultaneously. Mr Tan said that this will allow 40 times faster pupae harvesting.
Other plans in the pipeline include equipping drones with a mechanism to release mosquitoes.
Earlier this year, NEA started using a "mosquito launcher", which is designed to store male Wolbachia-carrying Aedes mosquitoes so that they can be easily transported and then released at high-rise residential blocks.
Mr Tan said that the latest machines and innovation will save his officers time for higher-value tasks such as continued research into improving the efficiency and scalability of Project Wolbachia to cover more areas in Singapore. 
Dr Khor stressed that Wolbachia is meant to enhance and not replace existing control strategies for disease-carrying mosquitoes, which are focused on source reduction, especially in homes and external breeding sites.
As the end of the year nears and more Singaporean families head abroad for holidays, Dr Khor urges them to "mosquito-proof" their homes by eliminating the potential for water to pool and stagnate.
"Any breeding of Aedes mosquitoes in the community will cancel out the positive impact of Wolbachia technology," she stressed.
CORRECTION: In an earlier version, it was reported that researchers used to manually collect male pupae through a specially constructed filter which takes about eight to 10 minutes for every tray of 20,000 larvae. This is incorrect. The process takes about eight to 10 minutes for every 4,000 larvae. We are sorry for the error.