'It's not a contagious disease': Singaporean, 29, and mum shunned due to genetic condition that disfigures them
SINGAPORE — Having people steer clear of her is part of the everyday experience of Ms Nur Nabilah Zakaria and her mother Sharifah Zakaria.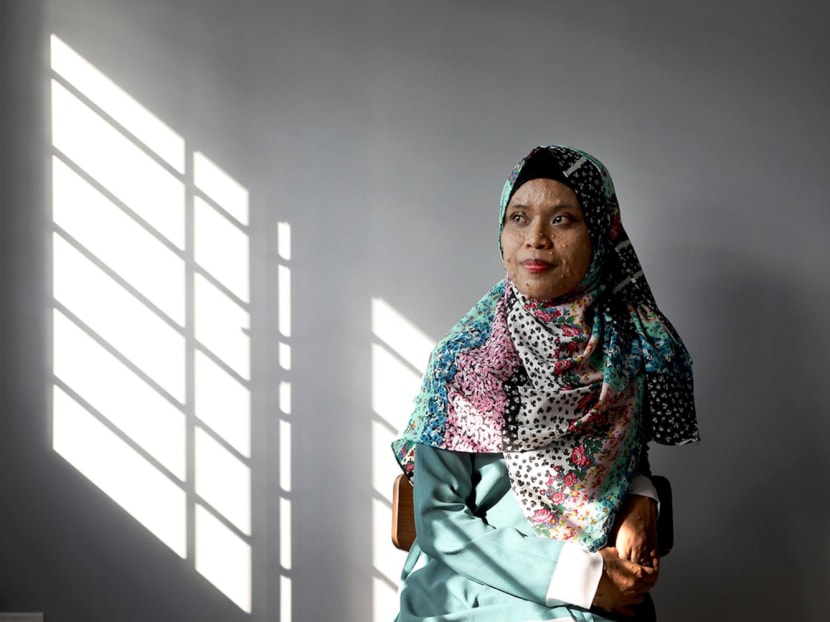 Neurofibromatosis type 1 is a rare incurable genetic condition that comes with skin changes and tumours growing along the nerves
It can also affect bones, vision and other bodily systems
The tumours are usually benign but can sometimes become cancerous
People with the genetic condition often face social stigma and negative emotional experiences due to the physical symptoms
A 29-year-old and her 61-year-old mother told of the heartaches they experienced after being severely disfigured
SINGAPORE — Having people steer clear of her is part of the everyday experience of Ms Nur Nabilah Zakaria and her mother Sharifah Zakaria.
Just recently, while taking public transport, her 61-year-old mother recalled that a child had stared hard at the lumps on her face and burst out crying. 
"Some people don't want to sit next to us. For me, that is nothing, although I feel upset sometimes for my daughter (Nabilah)," Mdm Sharifah told TODAY.
"I tell her, 'Please be patient, don't be angry. This is all from God. If I could, I also want to be pretty – who doesn't want to be pretty?'" she added.
Mdm Sharifah has lived with severe disfigurement for decades. "Sometimes I cry, it's sad. People look at me with disgust."
On her part, Ms Nabilah, 29, has also lost count of the times people have ridiculed her and stared at her because of her physical appearance.
She endures it on a regular basis — this being the reality for her since benign (non-cancerous) tumours started appearing on her face when she was around 12 years old.
Ms Nabilah and her mother have a rare genetic condition called neurofibromatosis type 1 (NF1), which causes skin changes and tumours to grow along the nerves in the body, including the brain, spinal cord and peripheral nerves.
One of the common symptoms are bumps and lumps (neurofibromas) on or under the skin. They are usually non-cancerous.
As time went by, more visible tumours appeared, covering Ms Nabilah's face and body. They are on her feet and palms as well.
She said that most of the growths on her skin are not painful, although they sometimes cause discomfort when they become too large.
Taking public transport, securing an internship stint, finding work — all of which many people may take for granted — are not that smooth for Ms Nabilah, who works part-time in a bubble-tea shop.
In conjunction with Neurofibromatosis Awareness Day this month on May 17, the young Singaporean opened up about the heartaches and discrimination she faces.
She hopes that what she is going through will help people understand the genetic condition better and be kinder in their words and actions.
"Not many people know about neurofibromatosis. It is not a contagious disease; it is a genetic condition," she said.
WHAT CAUSES THE UNCONTROLLED TUMOUR GROWTHS?
The condition occurs when there is a fault in the NF1 gene, which is a tumour suppressor gene that normally produces a protein that blocks tumours and cancer from developing.
The tumours usually do not cause problems but a few may grow quite large and cause local effects (such as discomfort) or develop into cancer."

Dr Nikki Fong from KK Women's and Children's Hospital
Dr Nikki Fong from KK Women's and Children's Hospital (KKH) said that when the NF1 gene is faulty, it leads to uncontrolled growths and an increased risk of tumours or cancer.
Dr Fong is a consultant specialising in genetics service from the hospital's department of paediatrics.
There are two other types of neurofibromatosis: Type 2 and schwannomatosis.
All three types of neurofibromatosis are caused by mutations in different genes.
NF1 is the most common type, Dr Fong said. It is estimated to affect around one in 3,000 people.
Ms Nabilah has an uncommon variant of NF1 with plexiform neurofibroma, which causes very large and deep tumours around the nerves. Sometimes, the tumours cannot be seen or felt because they are located deep inside the body.
Dr Fong said: "The tumours usually do not cause problems but a few may grow quite large and cause local effects (such as discomfort or when it presses on important body structures) or develop into cancer."
People with NF1 are almost 10 times more likely to develop any type of cancer during their lifetime than the general population, she added.
There is also a 50 per cent risk that their child will inherit the condition.
Dr Fong recommends that children whose parents have NF1 be assessed clinically for signs of the genetic disorder.
As part of their assessment, genetic testing may be done by consulting a clinical geneticist.
An NF1 diagnosis may be made when doctors observe two or more of the following features:
Multiple "cafe au lait" spots (coffee-coloured patches on the skin)
Freckles appearing around the armpit or groin areas
Neurofibromas (pea-sized bumps that grow on nerve tissue or under the skin) or plexiform neurofibroma (larger, deeper tumours around the nerves)
Optic pathway glioma (a tumour along the main nerve of the eye)
Lisch nodules (tan-coloured clumps of pigment within the iris of the eyes)
Skeletal changes (such as curving of the lower leg bone)
A family history of NF1
A fault in the NF1 gene
CAN CHILDREN INHERIT CONDITION FROM PARENTS?
Ms Nabilah's older sister, 35, did not inherit the faulty gene from her mother.
TODAY understands that Ms Nabilah's three-year-old son Nasri meets the criteria for an NF1 diagnosis based on certain clinical features.
Nasri is now being monitored at KKH. The boy has NF1 symptoms such as freckles on the skin, but does not yet have visible bumps and lumps under his skin.
I learnt to ignore and not care about what people say or think, but I'm a bit worried for my son because other kids won't understand his situation.

Ms Nur Nabilah Zakaria on her three-year-old son
Ms Nabilah is learning to take things in her stride.
During the interview, it was evident that she and her mother lean on each other for support. Their world also revolves around Nasri, whom they were trying to soothe because he was slightly cranky from missing his usual afternoon nap.
For Ms Nabilah, her mother's advice on having patience has helped her through tough times.
"I learnt to ignore and not care about what people say or think, but I'm a bit worried for my son because other kids won't understand his situation."
Sometimes, people's line of questioning make her feel small.
To get an internship placement, Ms Nabilah, who studied at the Institute of Technical Education (ITE), went for six interviews before she was accepted as a kitchen crew in a hotel after the seventh interview.
She recounted: "Someone from the human resource department asked me why my skin is like that and whether it is a contagious skin disease. I felt very 'heart pain' (hearing that)."
But not everyone she meets focuses on her appearance or lack understanding.
After being questioned by the human resource personnel during the internship stint, she told my lecturer about it and he "defended" her by writing an email to the personnel, she said.
"He didn't look down on me."
HOW SHE FOUND LOVE
Ms Nabilah met her husband, Mr Muhammad Firdaus, 34, a senior technician, at a school event. That was in 2011.
At first, Mr Firdaus mistook her skin lesions for chicken pox. After he found out that it was a genetic condition, he remained steadfast and they continued to date.
Mr Firdaus, who has cerebral palsy and is a former para-athlete, is no stranger to receiving stares from strangers.
They married in early 2019 and Nasri was born just before the Covid-19 outbreak hit Singapore.
"I really don't care about what people think. Even for myself, from young till now, if people stare at me, I let them stare," he said, adding that he appreciates his wife's care and cooking.
Mr Firdaus is aware that there is a 50 per cent chance the faulty NF1 gene will be passed down to their children but accepts it with no regrets.
"To me, as long as my child can walk and talk, I consider him healthy," he said, as his active three-year-old ran around him in circles. 
ARE NF1 SYMPTOMS THE SAME FOR EVERYONE?
NF1 symptoms are different for each person and they can vary in severity.
Not everyone experiences the same health issues. Besides skin symptoms, some people with the condition may experience learning difficulties and behavioural problems such as attention deficit disorder, or hypertension (high blood pressure).
There is no cure for NF1, but Dr Fong said that much can be done to ensure that people with the genetic condition have the best possible health outcomes. 
"They should be cared for by a multidisciplinary team to address the specific medical concerns and related health issues. Regular follow-ups and surveillance are required," she added.
Ms Nabilah and her mother have undergone surgery several times to remove some growths that have grown too large. For example, Ms Nabilah removed a large growth measuring around 5cm on the side of her face.
Dr Fong explained that surgery may be needed in some situations.
For plexiform neurofibromas, surgery is warranted if there are concerns that the lump is cancerous or when the person experiences significant local effects. For example, when there is pain, when the growth presses on important structures, or when it develops in certain areas and impairs function — such as when it develops in the leg and affects the way the person walks.
However, not all plexiform neurofibromas can be surgically removed. It depends on the location and surrounding structures involved, Dr Fong said.
Some growths may also recur after surgery if they are not fully removed.
Despite the setbacks, Ms Nabilah said that she feels contented with her life so far.
For her, happiness is surrounding herself with the people whom she loves and loves her back and accepts her for who she is. She enjoys whipping up Korean, Western and Japanese cuisines for her family and friends.
"I have a son, I have a husband, I have my best friend, I have a house and I can cook whatever I want. I'm happy," she said with a smile.
For those struggling with similar disfiguring conditions, Ms Nabilah has this advice for them: "Focus on your family and loved ones. Do whatever you like. Life must go on."