New app lets consumers compare grocery, hawker prices in Jurong West, Tampines, Toa Payoh
SINGAPORE — From Sept 28, a new mobile application will allow residents in Jurong West, Tampines and Toa Payoh to compare prices of items at nearby supermarkets and hawker centres in a bid to help them achieve savings.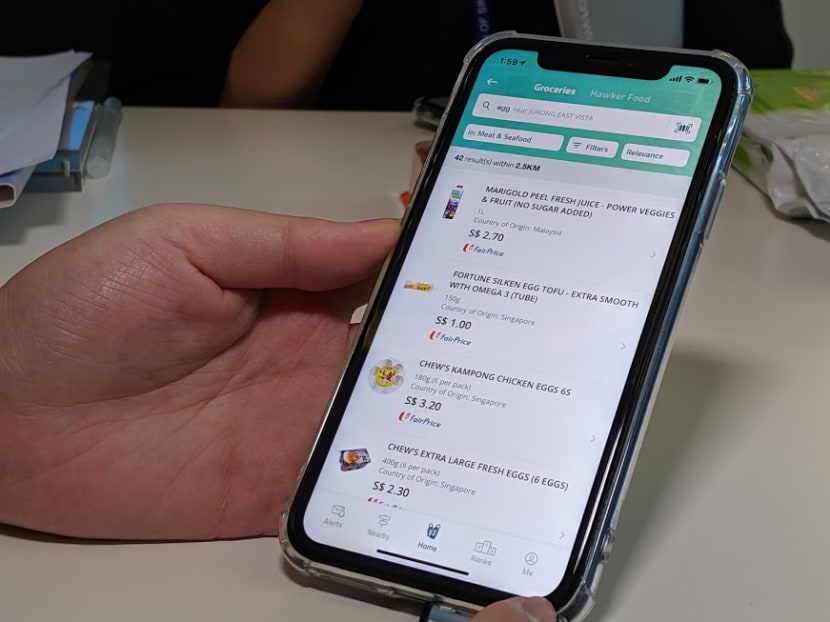 SINGAPORE — From Sept 28, a new mobile application will allow residents in Jurong West, Tampines and Toa Payoh to compare prices of items at nearby supermarkets and hawker centres in a bid to help them achieve savings.
The app is set to be rolled out nationwide early next year.
Called Price Kaki, meaning "price friend", it was launched by the Consumers Association of Singapore (Case) on Tuesday (Sept 10) to empower consumers to make more informed decisions and stretch their dollar, said the consumer watchdog in a media release.
Consumers will be able to compare about 3,000 frequently bought items, such as milk, rice and eggs, and any promotions available at the time. Fresh produce is not included in the app.
In all, 31 supermarkets — NTUC Fairprice, Giant, Sheng Siong and Prime — as well as 11 hawker centres across the three estates will be part of the pilot project. The app will be available from the Apple app store and Google Play from Sept 28.
Prices of grocery items on the app will be provided and updated regularly by the four supermarket chains. Hawker meal prices will be collected by Case workers heading to the 11 hawker centres.
CONSUMERS CAN SUBMIT UPDATED PRICES
The app also allows consumers to contribute information on prices and promotions if they are shopping in-store and notice changes that are not reflected in the app.
They can submit new prices or promotions in the app, along with a photo of the price tag. Once Case verifies this with the respective supermarket, the price will be updated on the app.
The app was launched by Senior Parliamentary Secretary for Trade and Industry Tan Wu Meng at a Case fund-raising event.
Dr Tan described the feature allowing input from consumers as a "network of 'kakis'" sharing tips on shopping, and exchanging knowledge on the best deals.
To incentivise users to share more information, points will be awarded to those who have shared accurate information. Every two weeks, the most active users with the most points will be given grocery, movie or transport vouchers.
Speaking to reporters at the launch event, Mr Melvin Yong, who is the chairperson of Case's consumer empowerment taskforce, said that they wanted to plug the gap of a lack of information on some in-store prices, in contrast to many e-commerce websites, which freely display the prices of the products they are selling.
"Our mission is to tell the people where the food is and where the prices are. You make the choices," added Mr Yong, who is also a Member of Parliament for Tanjong Pagar Group Representation Constituency. 
RETAILERS' INITIAL RESERVATIONS 
Mr Yong said it was initially a challenge to get supermarket retailers on board the scheme.
Prime Group chief executive officer Mr Tan Yong Shao said that the initial fear was that the app would drive a "race to the bottom".
"The very first question is would we have the problem of over-competing for transparency of prices?" said Mr Tan.
However, supermarket retailers told reporters that their fears were eventually allayed as the app also benefits them by allowing to advertise their promotions to a wider audience.
Sheng Siong Group chief executive officer Lim Hock Chee said that price is not the only aspect of doing business since customer service and quality matter as well.
"As long as you do these three components well, I don't think there is much of a problem," he said.
Mr Tan believes convenience is another factor influencing consumers. For instance, they may not wish to visit three different supermarkets just to get the lowest prices for, say, 10 items, he said.
In response to a question from reporters, the supermarket bosses also said the app would not facilitate price fixing, since prices are already quite transparent, with prices on supermarket websites and in regular newspaper advertisements.
Mr Yong said that the app merely provides transparency and the sharing of information that is already available in the public.
"The supermarkets themselves do monitor prices of each other. This doesn't really make a difference to supermarkets' operations," he said, adding that Case will monitor possible price-fixing.
NEW FEATURES MAY BE ADDED
Case will monitor feedback during the pilot and see what features could be tweaked or added.
Mr Yong said there is potential to extend the app to include food items sold at coffee shops and food courts as well.
To help elderly Singaporeans make better use of the app, he also said that they are looking to include different languages in the app in the future.
With such plans in place, Mr Yong said he thinks "more resources" would probably be needed.
"With the three pilot towns, we used whatever existing resources we have. But when you extrapolate it out and expand it out nationwide, do we need more? I probably think so. How are we going to get it? We'll have to review that and discuss that when the time comes," he said.