New BTO flats under construction at Sin Ming, first project in area in more than 30 years
SINGAPORE — More than 900 Build-To-Order (BTO) Housing Board flats are under construction at Sin Ming Road, in a project that has yet to be launched.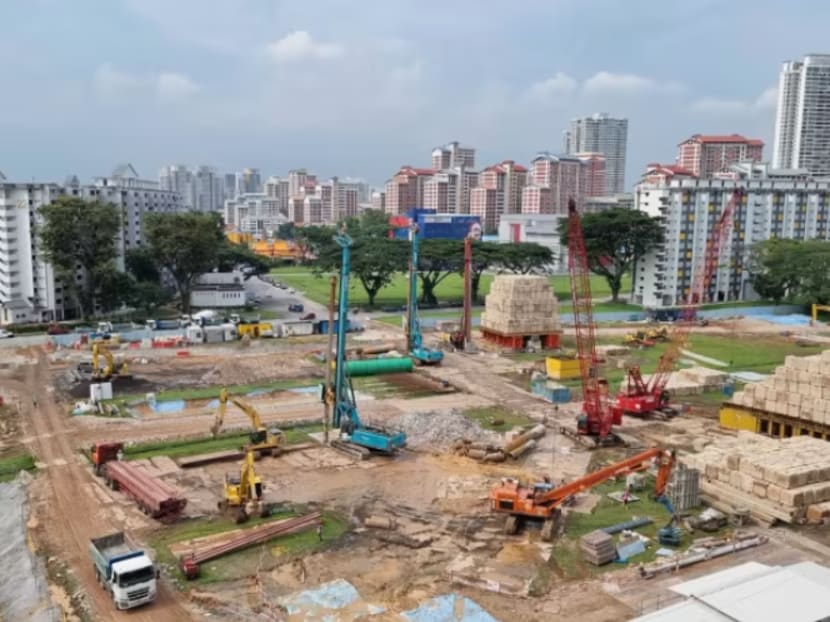 SINGAPORE — More than 900 Build-To-Order (BTO) Housing Board flats are under construction at Sin Ming Road, in a project that has yet to be launched.
Information about the project was first posted on the Reddit discussion website earlier this week. Based on a board outside the construction site, the proposed public housing development will have five residential blocks comprising a total of 984 flats.
This new estate, located beside Block 25 Sin Ming Road, will have "social communal facilities" such as a roof garden and a multi-storey car park.
The last flats built in the Sin Ming area - located within Thomson and Bishan in central Singapore — were completed in 1988, 35 years ago.
Analysts said demand for new BTO flats would be "strong" due to potential pent-up demand in the area.
The expected date of completion for the new flats is the second quarter of 2027, according to the project board at the construction site.
The Housing and Development Board (HDB) has said that it is building ahead of demand or actual bookings, where possible. Since May 2011, it has called for and awarded construction tenders for the majority of BTO projects ahead of the outcome of flat selection rounds.
"It appears that HDB is building BTO flats in mature estates in advance so as to deliver it within a shorter time," said Huttons senior director of research Lee Sze Teck. "In the past, it has always been non-mature estates like Tengah, Choa Chu Kang."
This year, HDB will launch about 23,000 flats to meet strong demand. 
The Sin Ming site does not appear to be part of the next two BTO launches in May and August, which will offer flats in Tengah, Bedok, Kallang Whampoa, Serangoon, Choa Chu Kang, Bukit Merah and Queenstown.
Property analyst Nicholas Mak said the flats might be launched in November this year or in February 2024.
"This method of building ahead of demand will shorten the waiting time for BTO applicants, and this project, with its proximity to Bishan, should be quite popular with homebuyers," said Mr Mak, chief research officer at Mogul.sg.
Ms Christine Sun, senior vice president of research & analytics at OrangeTee & Tie, pointed out that the flats would be near "good" schools like Catholic High and Ai Tong.
There may also be healthy demand due to a lack of new flats in the area, and prices of new private homes in nearby districts such as Upper Thomson, Bishan, Ang Mo Kio, Marymount and Lentor are quite high, she added.
Huttons' Mr Lee anticipates a mix of community care apartments and two- to four-room flats in the upcoming project.
"Larger flats are seldom offered in mature estates because of the higher price so there may not be any in this BTO. This is unlikely to be a PLH (Prime Location Housing) BTO project," he added.
He expects the indicative pricing to be between S$525,000 and S$650,000 for four-room flats, which would be lower than four-room flats elsewhere in Sin Ming.
These are now going for S$600,000 to S$750,000 despite being more than 30 years old. CNA