New campaign at major supermarket chains to cut down on disposable plastic bags
SINGAPORE — Four major supermarket chains have teamed up with the Singapore Environment Council and DBS Bank to encourage customers to take fewer single-use plastic bags and opt for reusable bags instead.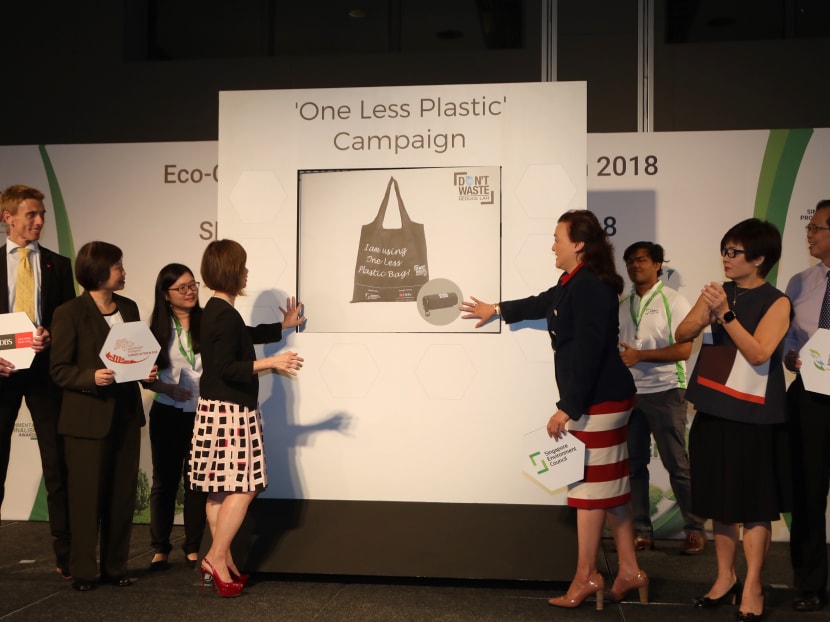 SINGAPORE — Four major supermarket chains have teamed up with the Singapore Environment Council (SEC) and DBS Bank to encourage customers to take fewer single-use plastic bags and opt for reusable bags instead.
The "One Less Plastic" campaign, launched on Wednesday (Dec 12), aims to reduce the consumption of disposable plastic bags by 25 per cent over the next year.
But observers wondered if it will succeed in changing consumer behaviour, and highlighted the need to ensure it is ultimately better for the environment.
Asked if the latest campaign could spur permanent change in the way consumers use plastic bags, SEC chairman Isabella Loh said the results will speak for themselves in a year's time.
Although some have called for businesses to charge for single-use plastic bags, Ms Loh said encouraging reduced use of plastics is "a far better way" than the "draconian" and "punitive measure of banning" plastic bags.
From Saturday (Dec 15) to Feb 3, shoppers at selected NTUC FairPrice, Sheng Siong, Dairy Farm Singapore Group and Prime Group's supermarkets can redeem a specially designed reusable bag if they spend S$50 or more.
A total of 40,000 bags will be given to eligible customers at 16 supermarkets, including outlets at Bedok Central, Great World City, Century Square, Jurong West and City Square Mall.
From March, eligible customers at all outlets of the four supermarket chains will be able to redeem the bags. That is also when the supermarkets will begin scanning the barcode on each bag to track how often it is used, said Ms Loh.
"The data will form a report card for consumers. Consumers get to understand their behaviour and whether they are doing the right thing, and supermarkets can also track behavioral patterns. (Then) they can see whether they can adjust their own incentive programmes (in) the future. Each supermarket can have their own loyalty or incentive programmes," said Ms Loh.
Based on SEC's recent study of over 1,000 residents in Singapore, some 820 million plastic bags are taken from supermarkets a year. This means an average shopper uses three plastic bags during each supermarket visit.
The SEC also found that 14 per cent of customers use six bags or more.
The participating supermarkets said their previous attempts to introduce reusable bags to consumers were mostly unsuccessful, but were optimistic about the latest joint effort.
Mr Tan Yongshao, general manager of Prime Group International, said: "We have tried to push out reusable bags for free or (at) low cost over the years, but many times, the repeated use is not there."
Shoppers also felt the supermarkets were trying to profit from the sale of reusable bags, he said. The latest campaign will show that it is a "nationwide concerted effort", he said.
Supermarkets said they have also discouraged the double-bagging of groceries.
Sheng Siong chief executive Lim Hock Chee told reporters in Mandarin: "We tell customers that plastic bags are made to be more durable than before, so one bag is enough."
REAL CHANGE DEPENDS ON INCENTIVES
Plastic-lite advocates said the effectiveness of the campaign would hinge on the incentives for shoppers to reuse the bags.
A 2018 Danish study found that, to have the same environmental performance as single-use plastic bags, polypropylene bags (one type of reusable bag found in supermarkets) should be used 45 to 52 times before being recycled. Bags made of polyester should be used 35 times before being used as a bin liner and incinerated.
"Even if the campaign did show that more people are bringing back the bags, it does not mean an actual, corresponding reduction in amount of plastic bags used," said Ms Aarti Giri, founder of Plastic-Lite Singapore, a community group.
"The findings of the campaign may not adequately target the ground mindset of expecting free plastic bags or lifestyle behaviours in Singapore," she added.
The environmental footprint of the reusable bags used for "One Less Plastic" should also be made known, in order to properly gauge the effectiveness of the campaign, said Ms Giri.
The SEC only said the bags are made of "raincoat" material.
Environmentalist and Member of Parliament for Nee Soon Group Representation Constituency Louis Ng said: "Reusable bags have already been available in the market for a long time and part of the concern is that we have too many reusable bags."
Current trends suggest consumers may need incentives to use reusable bags repeatedly, he said.
Mr Ng, who previously suggested charging for single-use carrier bags made of all materials except those used to carry fresh produce, said the campaign could take a longer time to effect change compared to imposing a surcharge.
The data collected through the campaign could be useful, and Mr Ng said the supermarkets could experiment with shopping rebates and other incentives on different groups of consumers.
Consumers told TODAY they did not mind spending S$50 to redeem the reusable bag. But it would take much more to get into the habit of taking a reusable bag along when they leave the house.
"If you want people to start reusing it, that would depend on the perks, for example how much rebates there would be on my purchases," said Ms Cherie Loh, 25, a business efficiency associate.
She added that simply having the bag would not make much of a difference for those who are not environmentally conscious.
Pharmacist Amanda Goh, 26, said: "Sometimes I want to just grab some stuff on the way home from work or on the way somewhere, unplanned. In such cases, I wouldn't really carry the recyclable bag around with me every day."