New Chief Digitalisation Officer to be appointed to lead SAF's digital efforts
SINGAPORE — The Singapore Armed Forces (SAF) will appoint a Chief Digitalisation Officer to lead and drive its digital transformation, the Ministry of Defence (Mindef) said as it embarks on several intiatives on that front.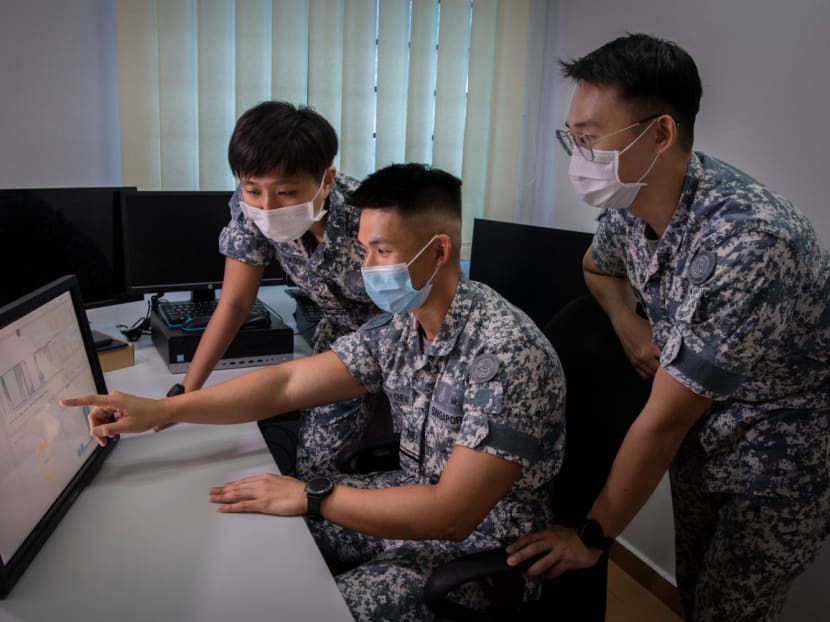 A new Chief Digitalisation Officer will be appointed to lead and drive the Singapore Armed Forces' digital transformation

Announcing this on Thursday, Mindef added it will step up recruitment efforts for the Digital and Intelligence Service

Two centres for excellence will also be established to develop SAF's digital capabilities
SINGAPORE — The Singapore Armed Forces (SAF) will appoint a Chief Digitalisation Officer to lead and drive its digital transformation, the Ministry of Defence (Mindef) said as it embarks on several intiatives on that front. 
The Chief Digitalisation Officer will report to the Chief of Defence Force. 
Mindef also revealed on Thursday (June 30) updates on its plans to establish a new Digital and Intelligence Service (DIS), including stepping up its recruitment efforts for the new fourth service that will sit alongside the existing army, navy and air force.
In his annual interview on Thursday ahead of SAF Day on July 1, Defence Minister Ng Eng Hen said that he will introduce bills in Parliament next week to establish the DIS as a standalone service.
If passed, an inauguration parade is set to be held at the end of the year, and a service chief will also be appointed.
"Also, we can look forward to a DIS contingent marching at the National Day Parade next year," Dr Ng added.
To grow a workforce capable of supporting SAF's digital defence strategy, the DIS will expand recruitment efforts for two of its career schemes. 
From July, its existing uniformed Command, Control, Communications and Computers Expert and non-uniformed Defence Cyber Expert scheme will start to take in applicants skilled in tech skills such as software engineering, application development, data science, artificial intelligence and cloud architecting.
SAF will establish an "initial core" of digitally skilled personnel from these two career schemes and seek to grow this group through recruitment, in-service conversions and professional partnerships, Mindef said.
Recruitment for these digital roles under the two schemes is open to both fresh and mid-career jobseekers and there will be options for flexible short-term employment. 
Mindef will also increase the number of top-tier scholarships for digital and intelligence talents.
Dr Ng said that already, there has been strong interest among this year's scholarship recipients in joining the DIS, even though the service has not yet been incorporated.
SAF is also exploring deploying operationally ready national servicemen with digital skills to positions where they can contribute their tech expertise, Mindef said.
For instance, they may be deployed to the Cyber Security Task Force where they can support the cyber defence efforts.
Full-time national servicemen will also have the opportunity to join the DIS through a work-learn scheme for digital specialists launched in collaboration with the Nanyang Technological University in March. 
The first batch of digital specialists are expected to enlist early next year. Full-time national servicemen under this scheme may earn academic credits that contribute to a degree in data science and artificial intelligence, computer science or computer engineering.
Two centres for excellence will also be established to develop SAF's digital capabilities:
1. A Digital Ops-Tech Centre to equip SAF with a quick response force to meet the new operational needs on the digital front and to develop data science and AI technology. The centre will partner the defence tech community, government digital agencies, academia and the industry to "remain innovative'' in its approaches and culture, Mindef said
2. A Centre of Excellence for Cyber Range to train "cyber defenders" capable of defending Singapore's critical infrastructure. These soldiers will train alongside government bodies in simulations, including enterprise informations systems and critical infrastructure systems. The centre will also host bilateral and multilateral exercises that bring in militaries, industries and academic to share best practices and insights
In response to a reporters' question how cyber defence here compares with other global powers', Dr Ng stressed that Singapore is not targeting or preparing its defence against any country.
However, the building up of the DIS will have to serve as an adequate deterrence against known types of threats, he added.
He noted that unlike conventional warfare, cyber warfare is always ongoing. 
"You are talking about malware in the order of millions a day. And really, it is a question of consequences.
"In other words, if you attack a transportation grid... trains crash, or traffic lights are out and vehicles crash. Or worse still, (it is) an air grid or an air traffic control grid and planes crash."
Although the DIS will be part of the national cyber defence structure, which includes other cyber-security agencies and the Ministry of Home Affairs, it will deal with external threats and, especially, orchestrated ones.
F-35 fighter jets set for 2026 delivery
Giving an update on the acquisition of the F-35 fighter jets by the Republic of Singapore Air Forces'(RSAF), Mindef said that delivery remains on track for 2026. 
Ahead of the acquisition, RSAF personnel have been attending exchanges, training and study trips to learn how to use, maintain and integrate the aircraft into the SAF's warfighting systems, Mindef said.
Singapore had announced in 2019 that it will buy four F-35B fighter jets for complete testing with the option for eight more. The plan is for the F-35s to replace the RSAF's ageing F-16s, which face obsolescence globally beyond 2030.
Chief of Air Force Kelvin Khong said in February it will continue flying its F-16C/D fighter jets for "at least another decade".
Separately, Mindef said that it will roll out its "Smart Camp" initiatives, which were on trial for about a year in 2018, starting with Stagmont Camp in Chua Chu Kang next year.
It will expand to Clementi and Kranji Camps in 2024 and the rest of the army camps in 2025 onwards. 
These include various technological and automation upgrades to existing administrative processes that servicemen have to go through such as in the stores, armoury, workshop and cookhouses.
And from July 1, past and present full-time national servicemen who have diplomas in nautical studies or marine engineering may apply to have their time served on board the Republic of Singapore Navy's ships count towards sea-time requirement for Maritime and Port Authority of Singapore's Certificate of Competency for Seafarers.