New Malaysia PM Anwar an 'old friend' of Singapore; both countries will manage differences constructively: Vivian Balakrishnan
SINGAPORE — Singapore's development works on Pedra Branca are "needed to enhance maritime safety and security, and to improve the search and rescue capabilities in the area", said Minister for Foreign Affairs Vivian Balakrishnan on Monday (Feb 27).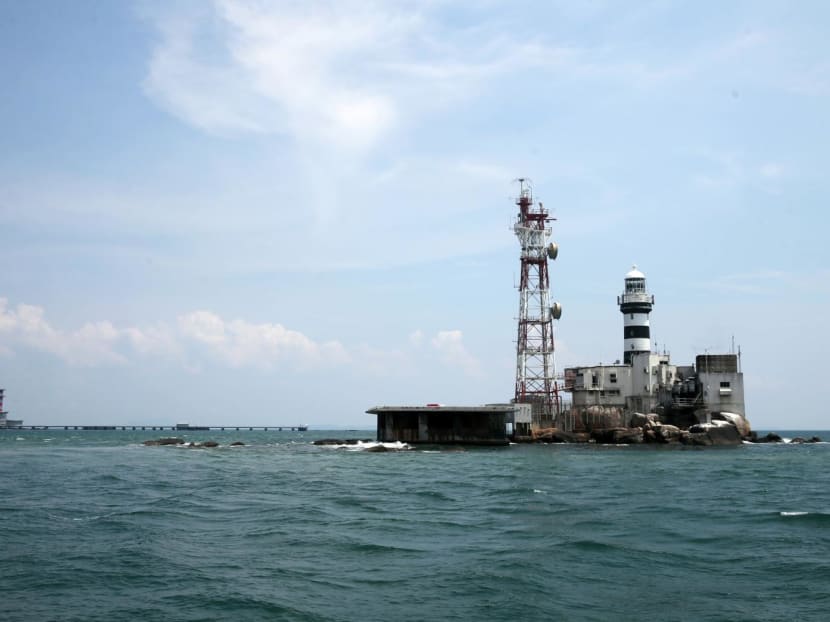 SINGAPORE — Singapore's development works on Pedra Branca are "needed to enhance maritime safety and security, and to improve the search and rescue capabilities in the area", said Minister for Foreign Affairs Vivian Balakrishnan on Monday (Feb 27).
The works also ensure that Pedra Branca is "adequately protected against the threat of sea-level rise".
And these works are "fully in accordance" with international law and Singapore's sovereignty over the island and its waters, said Dr Balakrishnan in Parliament.
In May 2022, Singapore temporarily suspended the works to facilitate discussions on Malaysia's concerns and comprehensively address their queries "in the spirit of mutual cooperation and good faith", noted Dr Balakrishnan. 
"In December 2022, Singapore put forward proposals to Malaysia to resolve the issue and to move forward with the work. Subsequently, we agreed to Malaysia's request for more time for them to consider our clarifications and proposals," he added.  
The development works are currently paused due to the monsoon season. 
"We will manage our differences constructively and pragmatically, and not allow any single issue to overshadow the entire relationship," said Dr Balakrishnan. 
'CLOSE RELATIONS' WITH MALAYSIA 
Highlighting Singapore's "close relations" with Malaysia, Dr Balakrishnan said these relations are underpinned by "strong people-to-people ties and frequent high-level exchanges".
Malaysian Prime Minister Anwar Ibrahim, who became the country's 10th prime minister after their 15th General Election last November, is "an old friend of Singapore". 
Dr Balakrishnan added Singapore had welcomed Mr Anwar at the end of January on his introductory visit to Singapore in a "fruitful visit". 
"We signed... the Framework Agreements on Digital and Green Economy, as well as the MOU (Memorandum of Understanding) on Personal Data Protection, Cybersecurity and Digital Economy. These signal our commitment to work on new and emerging areas of mutual interest," he said, adding that Mr Anwar would return to Singapore later this year for the 10th Leaders' Retreat.
Dr Balakrishnan also pointed to ongoing cooperation projects between the two countries, including the Rapid Transit System (RTS) Link between Singapore and Johor Bahru. 
"This project will facilitate more convenient two-way travel for the tens of thousands who cross the border every day. It is making good progress and is expected to commence operations by the end of 2026," he said. 
ENHANCING AVIATION RELATIONSHIP WITH INDONESIA
Dr Balakrishnan on Monday also covered Singapore's relationships with another neighbouring country, Indonesia. 
He noted that both countries have recently completed the respective domestic legal processes for the formal ratification of the three agreements under the Expanded Framework — the Flight Information Region (FIR) agreement, Defence Cooperation Agreement (DCA) and the Extradition Treaty (ET). 
Under the FIR agreement, the next step is for Singapore and Indonesia to jointly seek approval from the International Civil Aviation Organization (ICAO), said Dr Balakrishnan. 
"Once the FIR Agreement is ready for implementation, both sides will arrange for all three agreements to enter into force simultaneously, on a mutually-agreed date." 
Under the FIR Agreement, Indonesia will delegate to Singapore the provision of air navigation services in portions of the airspace within the realigned Jakarta FIR which are nearest to Singapore, added Dr Balakrishnan. 
"This will ensure that the present and future air traffic to Changi Airport and nearby Indonesian airports continue to be managed safely and efficiently." 
ASEAN, US, REGIONAL RELATIONS
On Singapore's efforts to deepen cooperation between Asean and the US as well as our regional neighbours, Dr Balakrishnan said that Singapore has "always advocated engaging major players, so that they all have a stake in the peace, stability and development of our region, and can create a stable balance of power in the Asia Pacific". 
As such, Singapore "seeks to forge overlapping circles of friends" as embodied in the "open, inclusive and Asean-centred regional architecture". 
He pointed to "Asean-led mechanisms" that bring major powers together, such as the East Asia Summit, Asean Regional Forum, Asean Plus Three and the Plus-One summits.
Addressing the outlook in Myanmar and Asean's role, Dr Balakrishnan noted that the situation remains "grave and grim" two years after the coup in Myanmar. 
"Singapore and Asean remain deeply disappointed with the lack of progress in the implementation of the Five-Point Consensus. We will not interfere in the domestic politics in Myanmar," he said. 
"But the solution must ultimately involve national reconciliation amongst all the domestic stakeholders living there. This will not be easy to achieve." CNA