Merlion on Sentosa to make way for 'multisensory' pathway linking RWS and island's beaches
SINGAPORE — The iconic Merlion statue on Sentosa island will make way for construction of a 30,000 sqm "multisensory" pathway — about the size of five-and-a-half football fields — linking Resorts World Sentosa (RWS) in the north to the island's beaches in the south.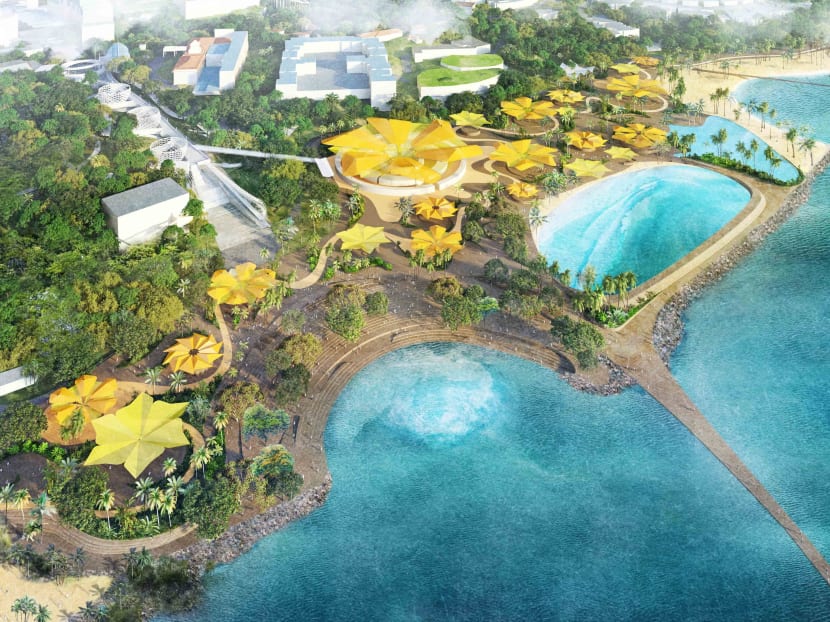 SINGAPORE — The iconic Merlion statue on Sentosa island will make way for construction of a 30,000 sqm "multisensory" pathway linking Resorts World Sentosa (RWS) in the north to the island's beaches in the south.
The Merlion — the tallest among seven in Singapore — will close on Oct 20 and be demolished on a date yet to be disclosed.
The new S$90 million pathway, dubbed Sentosa Sensoryscape, is set to be completed in 2022. It is part of a bold master plan to transform Sentosa and nearby Pulau Brani into a game-changing leisure and tourism spot in the next two to three decades.
Sentosa Development Corporation (SDC), the island's manager, unveiled the Sentosa-Brani master plan on Friday (Sept 20), a month after Prime Minister Lee Hsien Loong announced plans to revitalise Singapore's southern coastline in his National Day Rally speech.
Brani will house new attractions similar to the Universal Studios theme park on Sentosa, the prime minister had said last month. It will also be home to a Downtown South resort for members of the labour movement.
SENTOSA SENSORYSCAPE
Replacing the current pedestrian thoroughfare, the Sentosa Sensoryscape will connect RWS to the popular Siloso, Palawan and Tanjong beaches — which are also to be revitalised in the longer term, as part of the master plan.
But construction of the Sensoryscape means the Merlion, which was built in 1995, four shops — ice-cream store Stickhouse, cafe Coffee Bean & Tea Leaf, KFC and 7-Eleven — and some water features will close permanently.
SDC chief executive officer Quek Swee Kuan said that Sentosa's visitor numbers have swelled to more than 19 million a year, from between four and six million around the time the Merlion was built.
Hence, the island needed "larger capacity" along the pathway linking the island's north and south, he said. The new linkway will double capacity along that 400m stretch, he said.
Mr Chee Hong Tat, Senior Minister of State for Trade and Industry, said the decision to close the Sentosa Merlion was not easy, but trade-offs had to be made. "It's really about how we can redevelop the whole island and bring about greater benefits to businesses and visitors," he said.
"Sometimes, you wish you could have the option of doing everything, but… after taking in views from different stakeholders, a choice had to be made."
On average, the Merlion on Sentosa receives 350,000 paid visitors every year, One Faber Group, which runs the attraction, told TODAY.
The most iconic Merlion, Mr Chee said, remains the original statue at the Merlion Park that overlooks Marina Bay.
The Singapore Tourism Board said people could also visit the other Merlion statues islandwide such as those at Mount Faber, Tourism Court and Ang Mo Kio.
Construction of the Sentosa Sensoryscape — described as the master plan's "first milestone project" — is set to begin in the last quarter of this year and be finished by 2022.
The new link — covering an area about the size of five-and-a-half football fields — will feature a series of vessel-like structures that will be 25m wide and 13m high.
Framed by architectural features, each of these structures will be designed to "pique and amplify one of the five senses", said SDC, a statutory board under the Trade and Industry Ministry.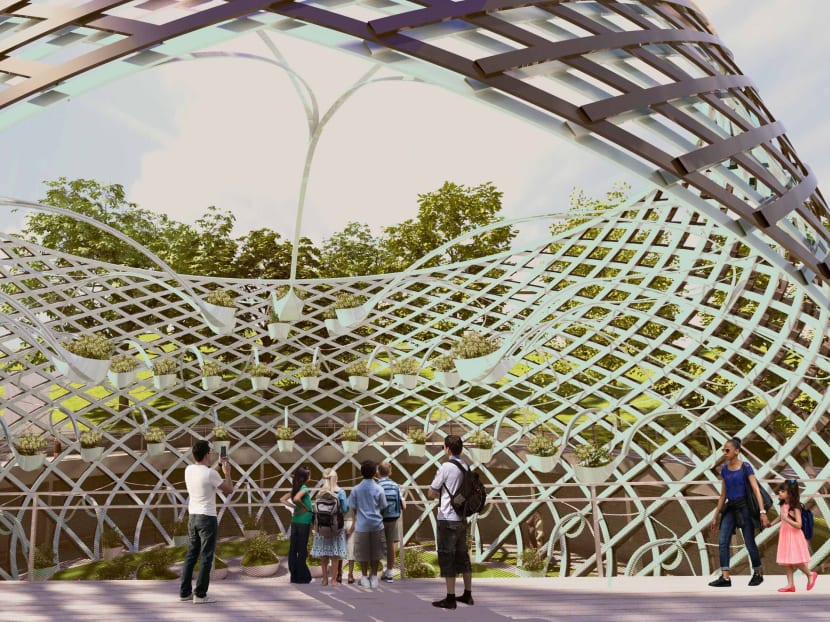 This will be achieved by elements such as water features that involve many sounds, including that of cascading water; mist; textured surfaces and responsive plants; and flowers and trees with unique scents.
The redeveloped area will be easily accessible by guests, and feature break-out spaces and expanded vistas overlooking the beaches, suitable for taking photos from. "All of these features are designed to enhance the overall experience of guests strolling through the island in the day or night," SDC said.
Mr Chee said the Sensoryscape would complement the expansion of Resorts World Sentosa as well as the infrastructural work on Sentosa and Brani. "Our tourism industry is doing well and still has plenty of scope for further growth and rejuvenation," he added.
As announced in April, RWS is adding more than 164,000sqm to house new attractions, and entertainment and lifestyle offerings in a S$4.5 billion expansion, set to be completed by about 2025.
When construction on the Sensoryscape gets underway, it will be business as usual at Sentosa's various themed attractions, beaches, accommodation spots, dining outlets and nature trails, which will stay open, SDC said.
WHAT YOU CAN EXPECT ON SENTOSA-BRANI IN 20-30 YEARS
The redevelopment of Sentosa and Brani, to be done in stages over the next 20 to 30 years, will culminate in world-class attractions, fresh night-time offerings and improved transport connectivity to and within the islands, SDC said.
Also on the cards are authentic and environmentally sustainable spaces, including rejuvenated beaches, and expanded nature and heritage trails.
The islands will feature five zones: Vibrant Cluster, Island Heart, Waterfront, Ridgeline and Beachfront.
Vibrant Cluster: This zone will house large-scale attractions to be completed in phases in the coming decades. The plan is for it to house major world-class attractions, with eateries and retailers, hotels, event areas, outdoor performances and activity spaces.
Island Heart: This area will be home to indoor and outdoor activity spaces, hotels, regional meeting and conference spaces, indoor attractions as well as dining and retail, set amid a waterfront promenade that offers views of Mount Serapong. At the centre of this zone, a water body will be lined with event pavilions, an amphitheatre and al fresco dining, complete with outdoor-performance and waterfront play spaces.
Waterfront: This zone will connect Sentosa-Brani to the city, with novel concepts such as a discovery park being explored.
Ridgeline: This zone will be formed primarily by canopy from secondary forest stitching Mount Faber and Brani to Serapong and Fort Siloso, allowing nature lovers solace from the rush and heave of an urban environment. It could house various nature and heritage attractions, trails, forest-inspired architecture, eateries and shops.
Beachfront: Sentosa's beaches, too, will be given a makeover with family-friendly water-themed attractions, including a major beach event space. The beaches will have themes: Siloso for active sport; Palawan for families, festivals and water shows; and Tanjong for those who appreciate marine biodiversity.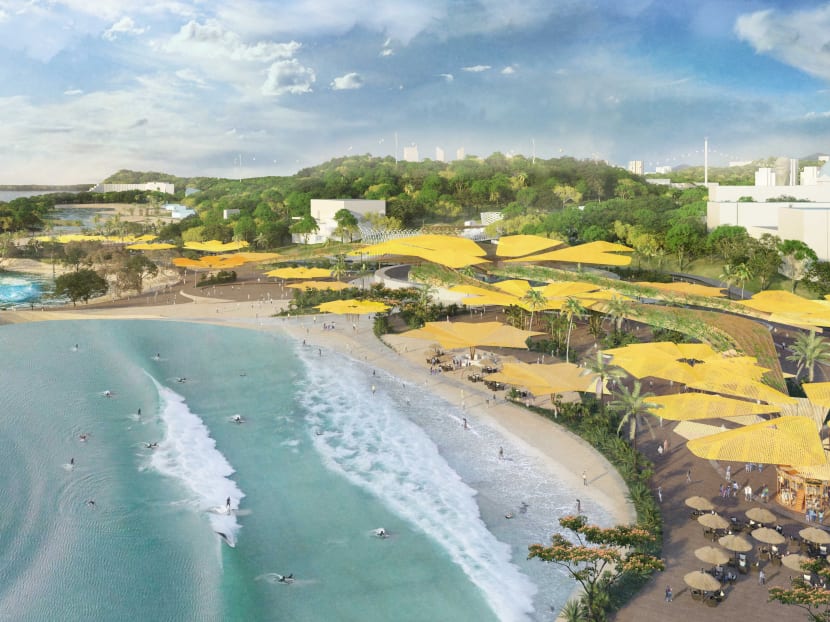 Brani will be developed once a port terminal that sits on the island moves to the new megaport in Tuas by 2027. It will be integrated with Sentosa, though the number of linkways between the two islands is still being worked out, said Mr Quek of SDC.
Mr Quek and Mr Chee could not provide estimates for how many more visitors the integrated development was expected to bring in.
"Our tourism offering is very diverse and when tourists come to Singapore it is not because of one or two attractions, but really what we offer as a whole," said Mr Chee.
As for the cost of the redevelopment, Mr Chee said it would largely be borne by private investors, but he did not disclose figures. Pointing to RWS' S$4.5 billion expansion, he said: "The same thing will happen with many of the projects that we are going to do subsequently."
The Sentosa-Brani project, Mr Chee said, will ultimately benefit "visitors, both tourists and Singaporeans, and in turn, bring about more business to our island-partners and to the tourism industry in Singapore".