New private home sales surged in May but analysts say it is still a buyers' market
SINGAPORE — Private home sales shot up by almost 30 per cent in May, compared with April, as property hunters were able to choose from significantly more new launches during the month in an already saturated market.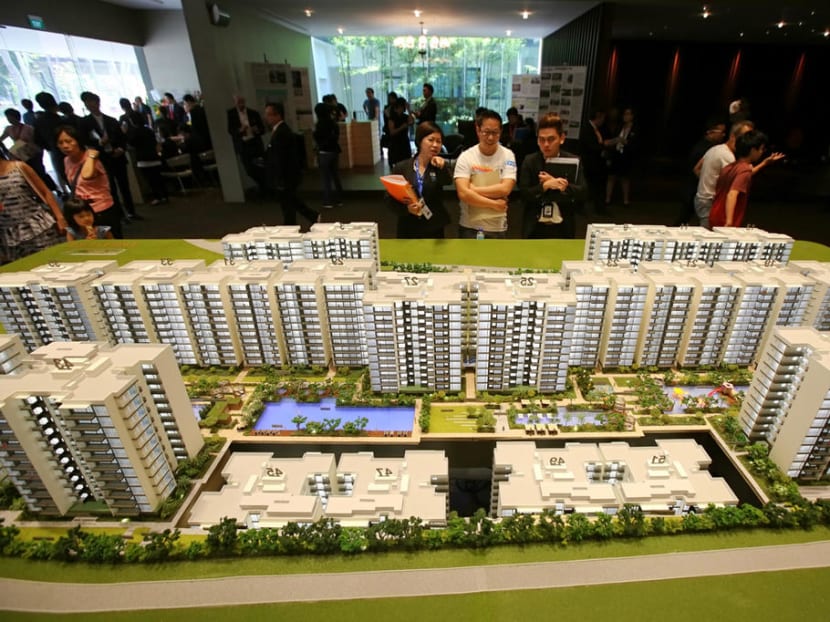 SINGAPORE — Private home sales shot up by almost 30 per cent in May, compared with April, as property hunters were able to choose from significantly more new launches during the month in an already saturated market.
Some property analysts said that buyers are now spoilt for choice, with a growing stockpile of unsold units from earlier launches — creating a classic buyers' market. Developers might have to lower prices somewhat to attract even more buyers, one analyst added.
In all, 952 private housing units were sold in May, with 1,394 new units launched in the month, based on data released Monday (June 17) by the Urban Redevelopment Authority (URA). By comparison, only 444 new units were launched in April, with a total of 735 units sold that month. The figures exclude executive condominiums, which are a hybrid of public and private housing. 
Still, in May, one project — Amber Park, off Marine Parade — accounted for the majority of the month-on-month increase, with an eye-popping 155 units sold out of 160 units launched. Analysts said that the reputation of its developer, City Developments, as well as its freehold status are factors behind its popularity.
Although May sales were much stronger month-on-month, they were still 15 per cent lower than in May last year, when 1,222 units were sold, and 1,060 units were launched. But those sales were achieved before the Government's round of property cooling measures in July last year.
A BUYERS' MARKET
With the cooling measures still in place, some analysts said that it is still a buyers' market given the choices on offer.
Mr Desmond Sim, head of research for Singapore and South-east Asia at property consultancy CBRE, said that with the exception of Amber Park, other new launches saw less than 30 per cent of units sold.
Parc Komo at Changi sold 28.6 per cent of its new units, and The Lilium at Serangoon sold only 5 per cent of its new units.
Property agency ERA's key executive officer Eugene Lim noted that buyers are still price-sensitive, given that 62.5 per cent of new homes sold in May were under S$1.5 million.
"The market is not short of buyers; and they are spoilt for choice, given the variety of projects in the market currently. Developers… have taken to pricing their projects in line with expectations," he said.
Mr Ong Teck Hui, senior director of research and consultancy at property firm JLL, said that unsold units in previous launches are also building up.
There were 3,491 unsold private residential projects in the first quarter of this year, compared with 1,066 unsold units in the same period last year.
These unsold units "offer buyer opportunities in spite of new projects being placed on the market," he added.
Mr Sim from CBRE said that sales have come to a relative standstill. "Ultimately, it is a question of how long they can afford to maintain prices at current levels as more launches come onto the market to compete for buyers. Should take-up remain at current levels, it is likely that developers might shave off some margins to launch at lower prices," he added.
However other analysts said that prices will not go down any further.
Mr Lee Sze Teck, who is head of research at property agency Huttons, said that buyers are returning to the market as they have concluded "that prices are going to stay at current levels and have accepted the new price point".
'SOLID SHOWING' FOR LUXURY MARKET
The luxury market, however, is bucking the trend, analysts said.
Data from property firm OrangeTee showed that in all, 48 new homes were sold for S$3 million and above — the highest number since May last year, when 56 units were sold above that amount.
One of them is a penthouse that sold for S$28 million, at Boulevard 88, in the prime Orchard Road district.
Ms Chrsitine Sun, OrangeTee's head of research and consultancy, said that there is high liquidity in the market after the latest collective sales cycle — in other words, plenty of buyers have cash in their pockets after selling en-bloc.
"Singapore's property market is highly regarded as one of the world's safest havens for capital appreciation and preservation in the long run, especially with our strong currency and transparent housing regulations," she added.