New S$20 note to commemorate S'pore bicentennial available from June 10
SINGAPORE — A new S$20 note showcasing Singapore's journey to nationhood will be available to the public from next week.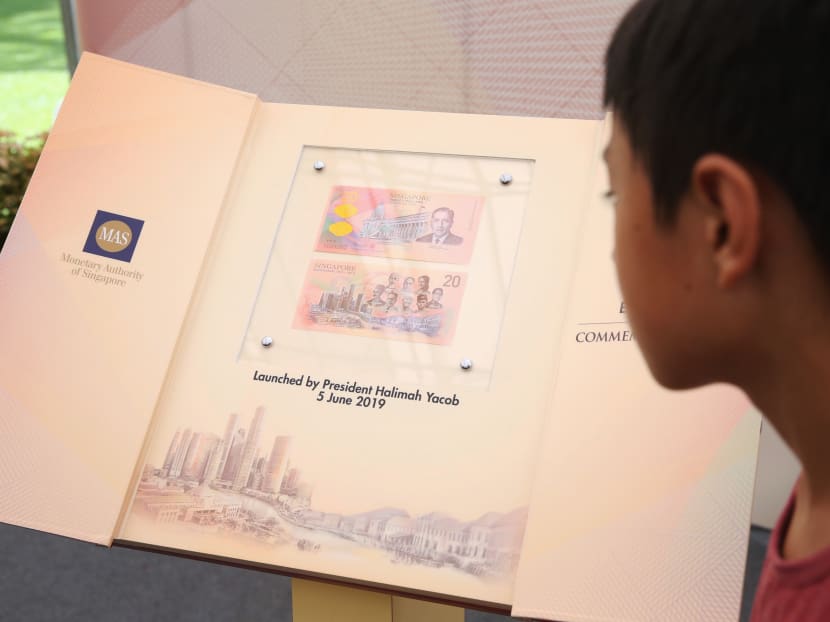 SINGAPORE — A new S$20 note showcasing Singapore's journey to nationhood will be available to the public from next week.
The note, issued by the Monetary Authority of Singapore (MAS), commemorates Singapore's bicentennial — which marks 200 years since Sir Stamford Raffles' arrival on the island. It was launched by President Halimah Yacob on Wednesday (June 5) at the Istana's Hari Raya open house.
On its front is Singapore's first president Yusof Ishak, alongside national monuments such as the former Supreme Court and City Hall, which witnessed key events such as the swearing-in of the state government in 1963 and Singapore's first national day parade in 1966.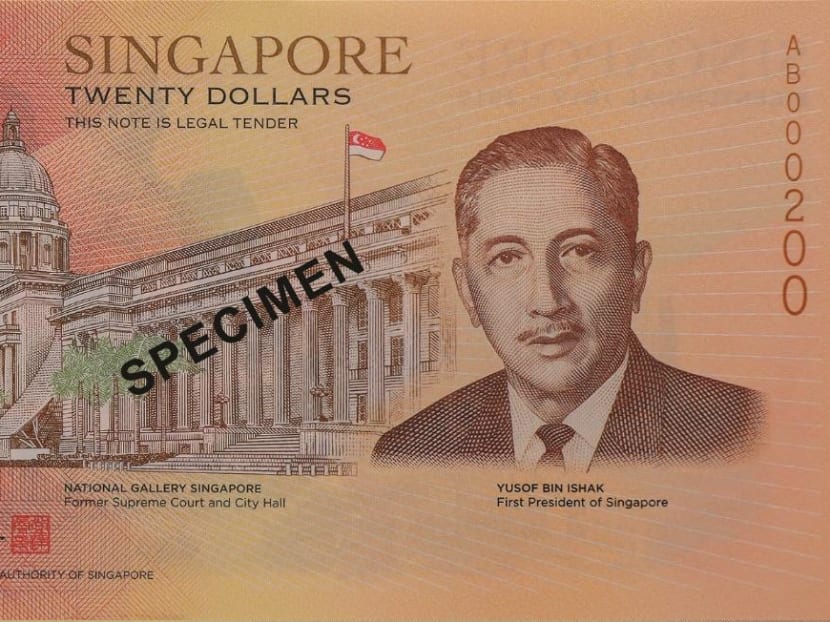 On the back are eight pioneers who made significant contributions to Singapore, across various fields. They are showcased against the backdrop of the old Singapore River flowing into modern-day Singapore.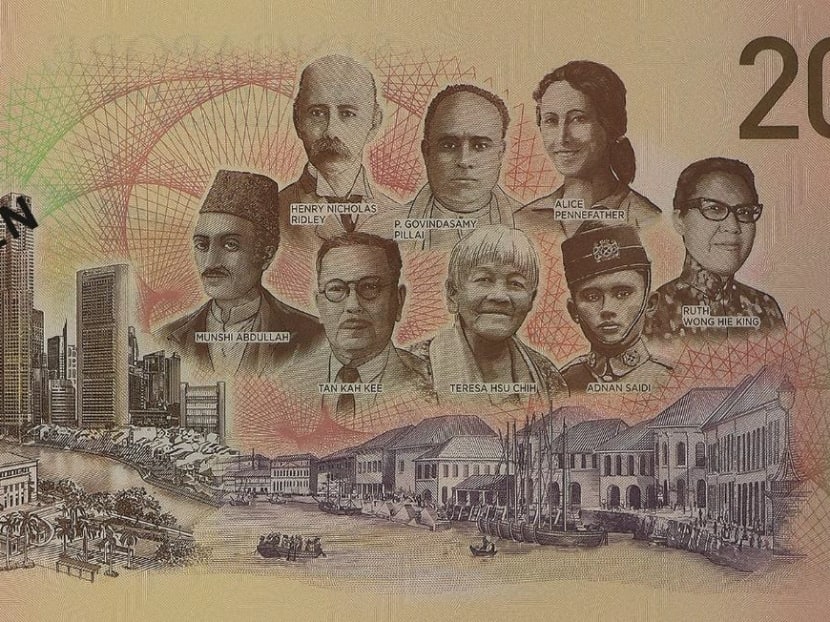 Among them are Munshi Abdullah, who was Raffles' secretary and interpreter. The accomplished scholar — widely regarded as the father of modern Malay literature — also taught new European arrivals to Singapore aspects of Malay society and culture.
Another is philanthropist Tan Kah Kee, who arrived in Singapore from China in 1890 and set up several schools here, including Nanyang Girls' School in 1918 and Nan Chiao Girls' High School in 1947.
Badminton and tennis champion Alice Pennefather is also on the note. The late Pennefather was the women's singles champion at the Singapore National Badminton Championships four times between 1931 and 1937.
The other five are — the first director of the Singapore Botanic Gardens, Mr Henry Nicholas Ridley; businessman and philanthropist P Govindasamy Pillai; social worker Teresa Hsu Chih; war hero Adnan Saidi and the then-Institute of Education's founding director Ruth Wong.
Family members and relatives of the eight individuals were present at the launch.
Speaking to the media, Alice Pennefather's 70-year-old granddaughter, Ms Annabel Pennefather, said that she was "filled with an overwhelming sense of happiness and pride" to have her grandmother featured on the note.
"Despite her many sporting achievements which is what she is noted for, as being the first all-round sports woman in Singapore in the 1930s, she was always a very humble and loving and caring person… This is such a great honour and we are just so happy and proud for her."
The S$20 note, which also has the years "1819" and "2019" depicted in gold, was designed by local artist Eng Siak Loy, 78, and his son Weng Ziyan, 40. Mr Eng is known for designing Singapore's longest-running currency series, the portrait series, introduced in 1999.
Speaking to the media, Mdm Halimah lauded the bicentennial celebrations for recording the history and contributions of the different communities in Singapore.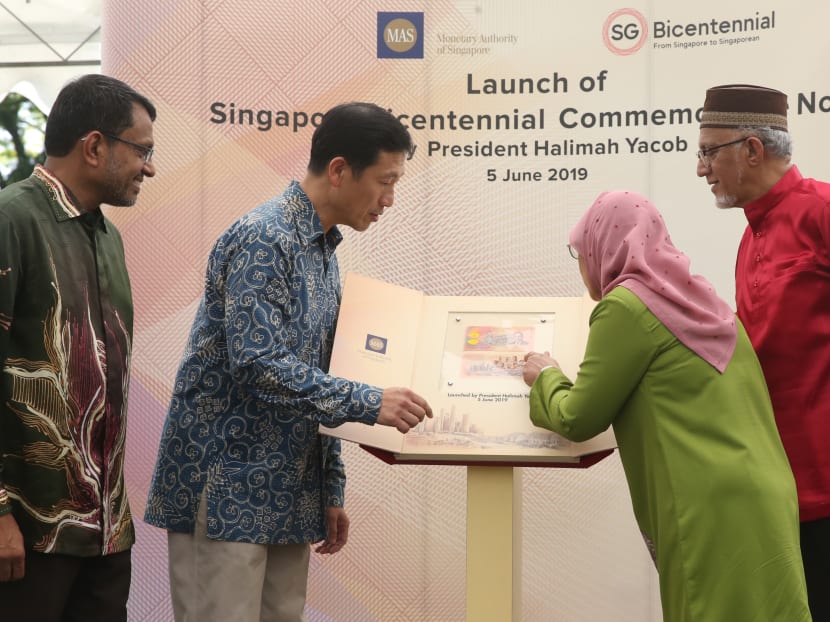 She also called on Singaporeans to remain united so that the country can continue to "see quantum leaps of growth and development".
"Then we will be able to celebrate many more bicentennials and you will be able to leave a very solid legacy for our children," she added.
HOW TO GET THE NOTES     
Two million pieces of the S$20 note will be available for public exchange at face value at nine major retail banks, such as DBS, OCBC and UOB, from June 10 onwards. Each person may exchange up to 20 pieces of the note per transaction.
Five thousand limited edition numismatic sets, each comprising an uncut sheet of three S$20 commemorative notes, will also be on sale. Members of the public may place their pre-orders with The Singapore Mint between June 5 and 13.
The public may also view the commemorative note at the MAS Gallery, in the MAS Building, along with other rare currency notes and coins that trace Singapore's currency history from the 1800s to the present day.