New Temasek Shophouse promotes social impact, sustainability on Singapore's premier shopping strip
SINGAPORE — New life has been breathed into one of Orchard Road's most striking heritage buildings with the launch next Monday (June 3) of Temasek Shophouse, a co-working space and "cradle for social impact".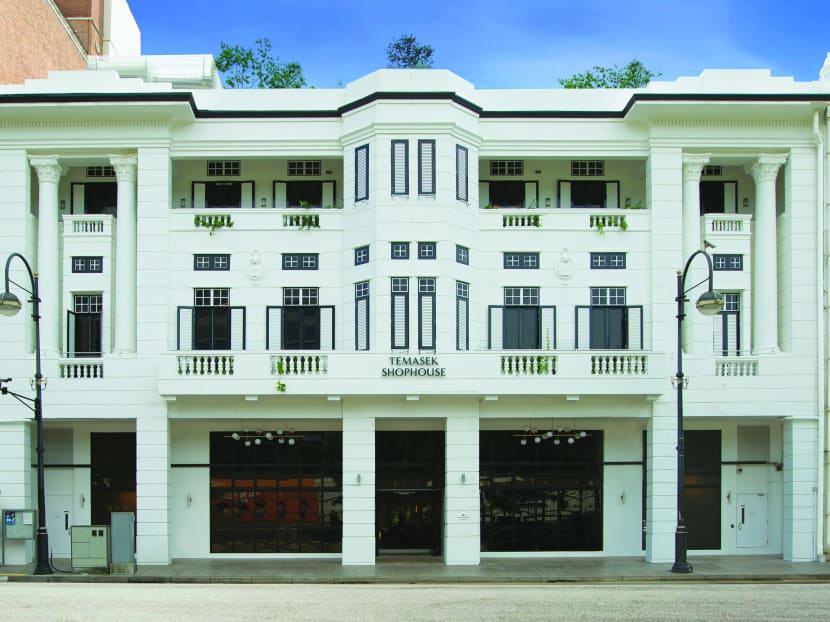 SINGAPORE — New life has been breathed into one of Orchard Road's most striking heritage buildings with the launch next Monday (June 3) of Temasek Shophouse, a co-working space and "cradle for social impact".
The four-storey building, opposite Dhoby Ghaut MRT and near MacDonald House, was built just after World War 1, and is now home to the philanthropic arms of Temasek Holdings: Temasek Trust, Temasek Foundation and the Stewardship Asia Centre.
Temasek is sharing the premises with a range of partners, including Foreword Coffee, a cafe on the first level, which employs people with disabilities to help promote their employability in the food and beverage industry. Other partners include a firm that looks at innovative ways to recycle waste, and an investment fund focused on sustainable investments.
Members of the public wanting to take in the stylishly refurbished building can expect an array of events such as exhibitions, movie screenings, seminars and workshops on topics like environmental issues and sustainability.
Some events will be priced affordably, others will be free.
The first exhibition, starting on June 7, will be free. In conjunction with World Environment Day, the [Not-So] Convenience Store aims to raise awareness about the world's growing waste problem, which has snowballed to over two billion tonnes a year. The organisers said Singapore alone generated more than 7.78 million tonnes of waste in 2017 — enough to fill 15,000 Olympic-sized swimming pools.
The Temasek Shophouse is part of the philanthropic efforts of Temasek Trust and will be open to the public from Mondays to Sundays, 8am to 9pm on weekdays and 11am to 5pm on weekends.
Temasek Trust's director of social impact, Ms Yvonne Tay, who is also managing the shophouse, told TODAY at a media preview on Friday (May 31) that the aim of the shophouse is "to become a cradle for social impact".
Ms Tay added that she hopes the premises will act as "a convener where like-minded partners come together in working out solutions for a better earth and better tomorrow."
When asked about the motivations behind the shophouse, she explained that the team wanted to create a space where "doing good can be at the heart of the city" and "everyone can inspire and learn from each other".
Inspired by a biophilic design — a design that incorporates nature — greenery is a key feature of the building. A Green Wall, which stands before the entrance of the shophouse, houses 27 plant varieties with a microclimate cooling system installed to help flora thrive in an urban space.
There are offices, meeting rooms and lounge spaces located on the second and third storeys, with a meeting room and sky garden on the fourth.
Designed to accommodate up to 120 people, Ms Tay hopes that the shophouse can give a "lift-up" to entrepreneurs who are just starting up.
She said: "We are hoping to help companies who are very small and need a few seats to start with, who are also very socially conscious, so that they can benefit from working in this space. Hopefully they can get a mentorship in Temasek Foundation and come across like-minded partners who can help accelerate their business."
She later clarified, however, that there is no mentorship programme that has been set up at the moment.
Accessibility to the public is a strong consideration for the team. Ms Tay said: "This space is good for the public because it is near an MRT station with three lines and it has a huge bus stop in front as well.
"It is also close to shopping malls where families come together to enjoy the weekend. In terms of accessibility, this place is excellent for family-centred activities as well as for a space for doing good and learning about doing good."
The state-owned building, featuring Art Deco and Classical architectural styles, has been vacant for several years. It was offered for lease in 2017.