New VivoCity outlet is NTUC FairPrice's largest, with an indoor farm and bicycle repair station
SINGAPORE — NTUC FairPrice on Tuesday (Aug 6) officially opened its largest combined FairPrice Xtra hypermarket and Unity Pharmacy on more than 90,000 sqf of retail space, which is about 1.5 times the size of a football field.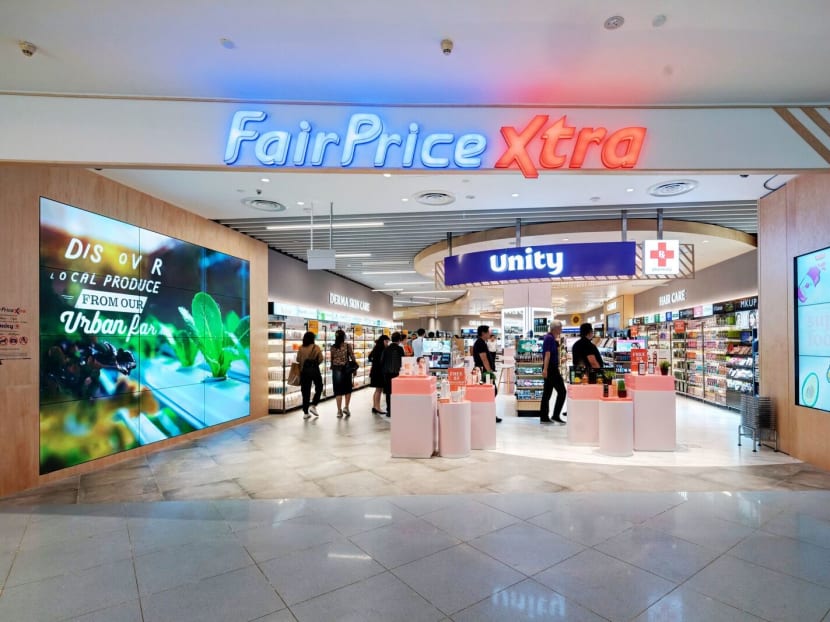 SINGAPORE — NTUC FairPrice on Tuesday (Aug 6) officially opened its largest combined FairPrice Xtra hypermarket and Unity Pharmacy on more than 90,000 sqf of retail space, which is about 1.5 times the size of a football field.
But it is not just size that sets the new VivoCity outlet apart. It features a fresh, hip look with a mini indoor farm supplying fresh green vegetables, boutique products on offer such as freshly churned almond butter, and a bicycle repair station.
Shoppers may buy meat or seafood, then have it cooked on the spot — and even eat it in-store at a dining area near the kitchen.
The store has more than 35,000 products, and offers a range of services such as luggage repair services for tourists, and an ice-cream "truck", FairPrice said in a statement.
In collaboration with Comcrop, Singapore's first urban rooftop farming firm, the outlet offers vegetables freshly grown within the store using a hydroponic farming system and automatic water pumping system.
The station, which is just 6m by 3m, is manned by an employee who checks on the harvest every two days.
Comcrop chairman Allan Lim told TODAY the vegetables are affordably priced from S$2.20 to S$2.80.
Vegetables being grown in the VivoCity store. Photo: NTUC FairPrice
"Hopefully, Singaporeans, after seeing this, have a better understanding of hydroponics… These Asian greens are not more expensive than the imported ones. We are trying to let Singaporeans eat more nutritious and affordable food," Mr Lim said.
Embodying a zero-mile concept, because the vegetables are harvested and sold in the store, it will help to reduce carbon emissions.
Ms Elaine Heng, FairPrice's deputy chief executive officer and head of channels, said at the opening: "The development of our store is guided by an insight-driven process that is consumer-centric and innovation-focused. The store's differentiated services, as well as products specially curated to complement our customers' lifestyle, are pivotal features that deliver an enhanced shopping experience.''
She added: "In a fast-evolving retail landscape, FairPrice will continue to strengthen our core while leveraging our capabilities to adapt and transform in serving our customers' needs."
The store also features a station to grind almonds and churn out almond nut butter on the spot, with jars going for S$10 each.
A special tourist section sells souvenirs and provides luggage repair services for those coming in from the HarbourFront cruise and ferry terminal.
There is also a dedicated bicycle workshop that allows customers to have their bicycles repaired and serviced within the store.
An ice-cream "truck" in the FairPrice Xtra hypermarket. Photo: NTUC FairPrice
Supported by the YumSing! Initiative, which was launched by Enterprise Singapore, Nanyang Polytechnic and FairPrice last year to help Singapore companies introduce new products to the market, the outlet collaborated with many homegrown organisations such as Tiong Hoe Specialty Coffee to make their products available on the shelves.
Trade and Industry Minister Chan Chun Sing, who was the guest-of-honour at the event, said: "I am very proud that NTUC FairPrice has given special pride of place to our local enterprises to share their brands and promote their brands in this store… This is a very unique location. A lot of tourists come here, a lot of locals come here and this is one of the best locations besides Changi Airport for us to promote our local brands to give them the best chance to succeed."
The second largest FairPrice store is FairPrice Xtra at Jem in Jurong, which is 70,000 sqf.
Customer response to the new VivoCity store, which had its soft opening on July 16 ahead of the official opening on Tuesday, has been mostly positive.
Account manager Romina Peralta, 34, used to do her shopping twice a week at the Giant hypermart in VivoCity before it shut down in February this year, but prefers the new FairPrice Xtra outlet.
"I work nearby so I do my shopping here and I find (this to be) a lot better because there are more choices of everything here. It is like a small wet market with a lot of organic stuff here," she said.
She added that she enjoyed the freshly brewed coffee from the cafe in the store.
Ms Monica Tan, 48, a housewife whose daughter goes to school nearby, visits the hypermart regularly when she has to pick up her daughter.
"I can get what I want from here, but it is more because of the store's convenience and size (than its new features)," she said.
Another frequent shopper, Ms Sarah Ong, 51, an administration executive who lives in Telok Blangah nearby, said that she prefers the old Giant hypermart because she was not able to find some of her groceries at the new store, such as a brand of pre-cooked chicken and asparagus.
Having visited the Giant hypermart almost four to five times a week, she said that it would take time before she could get used to the new FairPrice Xtra.