Ninja Van ready to pounce on rivals in S'pore and the region
SINGAPORE — Like the Japanese warrior it is named after, homegrown logistics tech startup Ninja Van is taking the fight to its rivals in its bid to become the top delivery e-commerce service here and in the region.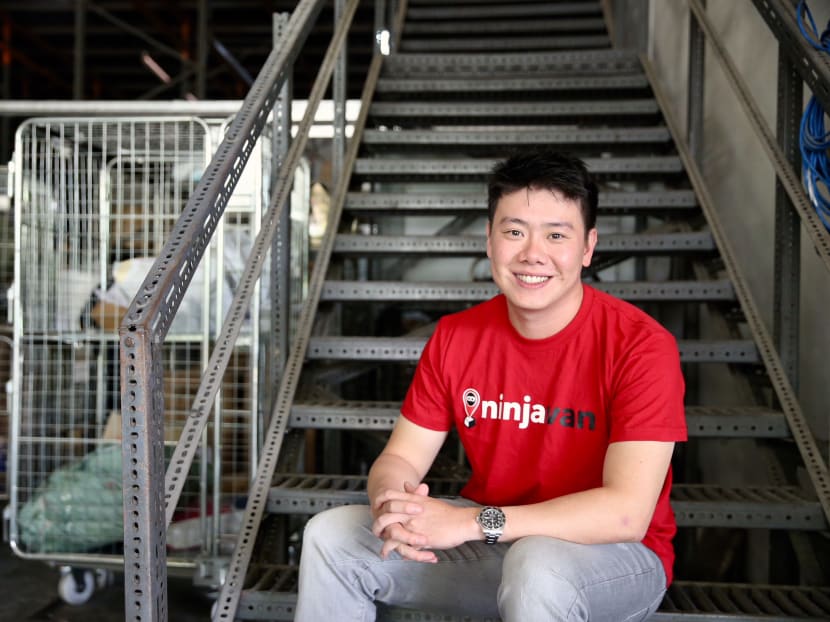 SINGAPORE — Like the Japanese warrior it is named after, homegrown logistics tech startup Ninja Van is taking the fight to its rivals in its bid to become the top delivery e-commerce service here and in the region.
For a start, Ninja Van plans to increase its parcel collection points to 500 by the end of the year — more than doubling its current number of 200 stations around the island. They are usually found near MRT stations and in shops, and the locations include Toa Payoh, Woodlands, Clementi, Punggol, and Orchard Road.
To help enhance the customer's delivery experience, it plans to give them a "live" option to redirect their parcels. Mr Lai Chang Wen, 31, Ninja Van's co-founder and chief executive, said in an interview with TODAY that the service will be launched here before the end of the year, and will be gradually rolled out in other countries in South-east Asia.
It will provide customers with information on when their parcels will arrive, and if they are unable to receive it in person, they can redirect it to a nearby Ninja Point, or request for it to be left at the door or neighbour's house via the company's website or mobile application.
Mr Lai said this service is designed to cater to customers' demands, making it "hassle-free", and that it will help improve the collection experience.
"We want to give customers more options, rather than just tracking," he said.
Currently, customers can also choose to self collect the parcels rather than have them delivered to their homes. Some collection points, such as those at shopping malls, are very "popular", he added.
The collection point service, known as Ninja Collect, includes automated parcel lockers called Ninja Box, as well as Ninja Points that allow for collection at retail shops.
Ninja Van's 500 points islandwide ensures that there is a pick-up point located within 500 metres from any residential home, said Mr Lai. TODAY understands that its rival, government-linked company Singapore Post (SingPost), has over 150 automated parcel lockers, called POPstations, in Singapore.
While this push by Ninja Van could be seen as a threat to SingPost, Mr Lai insisted that both firms can "co-exist and challenge each other to keep improving". He believes that Ninja Van's e-commerce parcel delivery service is "on par" with SingPost's.
In the next three to five years, the firm will focus on strategies such as social commerce where customers shop on social media platforms such as Facebook, Instagram and Internet forums.
He added: "We are looking at how we can allow mid-tier Korean cosmetic brands to sell (their products) in South-east Asia. For social commerce… the sellers need to find a way to ship the parcels. We provide that solution for them."
Ninja Van's social commerce business is currently focused on Indonesia, Thailand and Vietnam. An expansion within the region would potentially increase their driver numbers by over 300 per cent, bringing the total count in the region to between 30,000 and 50,000 drivers.
WE'RE A RHINOCEROS, NOT A UNICORN
Founded here in 2014 by Mr Lai and his partners, Ninja Van has since expanded its business to the rest of South-east Asia, including Malaysia, Indonesia, Thailand, Vietnam, the Philippines, and Myanmar.
The Singapore office employs 200 staff and 400 drivers, while its businesses overseas have a total of 2,000 full time staff and 10,000 drivers.
Early this year, the tech company raised a record amount — believed to be over US$85 million (S$111.5 million) — in its series C funding round. It is believed to be the largest series C funding raised for the region.
The development drew the attention of observers, who said that Ninja Van could be the next "unicorn", which is a privately held startup company that is valued at US$1 billion or more.
Ninja Van has raised more than US$115.5 million to date.
Mr Lai said that the company's expansion plans are "on track". The startup currently covers about 80 per cent of South-east Asia, and with the funding, it can grow its network of depots, trucks, drivers and sorting spaces, he added.
He also said that the firm is focused on South-east Asia for now. There are also no plans to diversify from its core logistics business, nor does it plan to pursue new projects such as ride hailing firm Grab's e-wallet payment solution Grabpay, for instance.
Dismissing talk that the company could be a "unicorn", Mr Lai prefers for it to be seen as a rhinoceros instead.
"A unicorn gives the connotation of being sexy, too prim and proper, and elusive," he said.
"A rhinoceros is more grounded. It's rare but you can actually find it. It is a bit grungy, and dirty and real. That's the business we are in."
LIVING THE DREAM?
Looking to the future, Mr Lai said that Ninja Van needs to keep its digital and innovative culture alive and well in order to prevent it from being "disrupted" by competitors.
Aside from its staff, technology is also a key part of its business. For example, in Vietnam, the company uses a "certain form of machine learning" and tech algorithms to identify addresses in the country and check if the location is accurate.
While running a startup and being your own boss might sound like he is "living the dream", Mr Lai, who did not have any experience in logistics when he co-founded Ninja Van, said that would-be entrepreneurs should not think that way.
He said: "People join for the wrong reasons. They think it is very cool, but it is quite tiring. The real reason to start a company should be because you want learn, to challenge yourself, and to try to make a difference."
The busy entrepreneur works seven days a week, and he is always on his phone replying to messages and taking business calls. He only spends around 80 days a year in Singapore, with the rest of his time spent travelling around the region for his business.
He added: "There is no line (between business and leisure). Whatever needs to be done, you do it."