Sylvia Lim refuses to apologise for GST 'test balloons' allegation; Grace Fu slams 'deplorable' conduct
SINGAPORE – Despite calls from government leaders in the last week, Workers' Party (WP) chairman Sylvia Lim on Thursday (March 8) refused to apologise over her claims that the Government had floated "test balloons" on the need to raise revenues within this term and had intended to raise the goods and services tax (GST) immediately.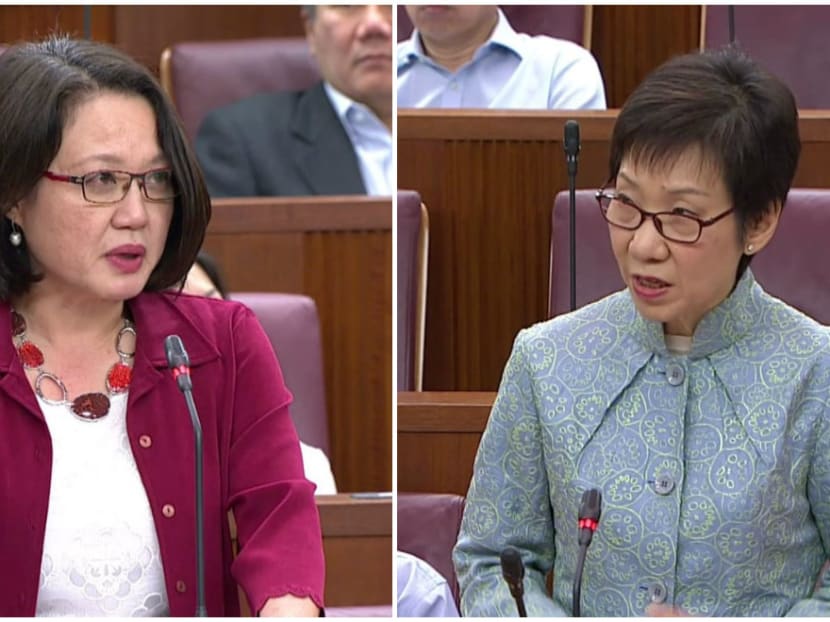 SINGAPORE – Despite calls from government leaders in the last week, Workers' Party (WP) chairman Sylvia Lim on Thursday (March 8) refused to apologise over her claims that the Government had floated "test balloons" on the need to raise revenues within this term and had intended to raise the goods and services tax (GST) immediately.
She also said she would not withdraw the allegations, and her stance prompted Leader of the House Grace Fu to remark that she was "deeply disappointed" with Ms Lim's "deplorable" conduct, and the "low standards" set by her and the opposition party.
Ms Lim's statement, which was read out at the start of the Parliament sitting, came two days after Ms Fu called on her in Parliament to apologise and withdraw her statement by Thursday. Ms Lim was not present in the House when Ms Fu made the demand.
On Thursday, Ms Lim reiterated that she had informed Speaker of Parliament Tan Chuan-Jin on Monday evening that she intended to speak on the matter, and she was not informed that Ms Fu would be speaking the next day. She was making her way to Parliament when Ms Fu delivered her statement, Ms Lim added.
While she accepted that her initial suspicion "may not have been correct" given that the Government has refuted it, Ms Lim maintained that she had basis for it. Thus, she did not see any reason for her to retract the statements which she made during the during the round-up of the Budget debate last Thursday.
Addressing the Speaker of Parliament, she said: "There was a sequence of events, which led me to have that suspicion, contributed to by the government. Secondly, Sir, I will not apologise to this House because I believe that I was doing my duty as a MP in the constitutional role that we were elected into, to give the Government the forum to account to the people. And for that, I make no apology."
In the past week, several ministers – Law and Home Affairs Minister K Shanmugam, Finance Minister Heng Swee Keat and Ms Fu, who is the Minister for Culture, Community and Youth – have pressed Ms Lim to apologise and withdraw her comments.
On Thursday, Ms Lim spelt out the sequence of events that led her to develop her suspicion. She noted that since 2013, Prime Minister Lee Hsien Loong and Mr Heng has raised the topic of increasing taxes, including Mr Lee's comments during the People's Action Party (PAP) convention in November last year, where Mr Lee said he agreed with Mr Heng that raising taxes was not of matter whether, but when.
Ms Lim said this set off public discussion and speculation, and the Ministry of Finance also issued a statement days later to say PM Lee's comments were in line with Deputy Prime Minister Tharman Shanmugaratnam's statement in 2015 which said the revenue measures taken by the Government would provide sufficiently for spending planned until 2020. Ms Lim also cited a Channel NewsAsia report which stated that "the ministry's statement came after (PM Lee's) comments on the impending tax hike triggered public discussion that the government is making a U-turn".
The uncertainty over taxes and whether GST would be raised continued after MOF's statement, Ms Lim said. This was further fuelled when "MOF officeholders kept up the discussion on raising taxes in the immediate run up to the Budget statement", she said, in reference to Mr Heng and Senior Minister of State (Law and Finance) Indranee Rajah. Prominent economists went on record to predict that taxes would be raised this year and the next, she pointed out.
"What was notable is that nowhere in the discussions just before Budget 2018 did the Government publicly commit that it would not raise GST before 2021, this was only announced on 19 February, during the Budget statement," Ms Lim said.
"As an opposition MP, it is my duty to watch every move and signal from the Government for the future of Singapore and the welfare of Singaporeans. Hence, I admit that I did suspect that the Government intended to raise the GST. However the Government contributed to this suspicion by its non-denial of reports and economist predictions of an immediate GST rise," she said.
She added: "Based on the sequence of events, I believed the Government could have intended to raise the GST at this Budget. Thus, during the heat of exchanges at the Budget round up, I articulated my suspicion."
ALLEGATIONS 'TARNISHED LEADERS' REPUTATION'
Ms Lim stressed that she did not accuse the Government of being untruthful or dishonest, as alleged by its leaders. Hence, she did not accept the "overcharacterisation the PAP MPs have put on my words and intentions, based on their own interpretations borne out of their overactive imaginations and oversensitivity".
Responding to Ms Lim's statement, Ms Fu said her allegations have "indeed harmed and tarnished the reputations of other members, namely the Prime Minister, Deputy Prime Minister and Minister of Finance Heng Swee Keat because she has put questions, she has not withdrawn allegations, she has not apologised". Ms Lim's conduct had fallen "well short" of the standard of integrity and honour expected of all members of the House, Ms Fu said. "I must therefore put the honourable Member on notice, and the rest of the House too, that if she repeats such conduct and abuse parliamentary privilege, I will refer the matter to the Committee of Privileges," she said.
Ms Lim sought clarifications from Ms Fu on the standards expected in the House, quoting PM Lee's comments during the parliamentary debate in July last year where the Prime Minister rebutted allegations levelled by his younger siblings, Mr Lee Hsien Yang and Dr Lee Wei Ling, over their Oxley Road family home. PM Lee had said then that if MPs believe that something is wrong, it was their job to pursue the facts and make allegations in their own name and ask for answers.
Ms Lim asked: "I'd like the Leader to clarify, is there a difference in standard here? One standard when the PM's name needs to be cleared and another standard when we are talking about raising taxes on the people?"
In response, Ms Fu reiterated that facts have to be checked before MPs "bring the opinions, the speculations, the views, the unhappiness" on the ground. She added that the Ministers had laid down the facts to Ms Lim but she continued to make the allegations.
The exchange, which lasted about 20 minutes, also saw Mr Heng and WP chief Low Thia Khiang jumping into the fray, with the Finance Minister pressing Ms Lim to retract her comments. "You said 'I suspect that this is the case'… Now that you had the opportunity to gather all the facts, now that I and my colleagues made all the clarifications, and you had the chance over the last few days since you made the statement to check the Hansard, to check whatever facts. I think it is only right and honourable that you withdraw the statement, unless you have a basis for that," said Mr Heng, adding that the Budget is a "serious matter" where details are kept secret as they have an impact on the markets.  
Ms Lim replied: "I don't think Minister for Finance was listening to my speech. I set out in my speech the basis for my suspicion."
She added: "(Mr Heng) mentioned that of course Budget preparation is a secret and so on, and I think that's actually part of the whole issue. Only the Cabinet knows the truth… I do not know the truth, so I can accept that I may have been wrong. But I do not accept that that my suspicion had no basis and I do not apologise."  
Mr Low pointed out that the Government could have cleared the air earlier, despite the need to keep Budget details under wraps. "I do (accept) that Budget is a serious matter. It's always (in) secrecy because it might affect market movements and all that. But I'm sure (if) the Government has no intention to raise GST, there is nothing wrong for (it) to come out earlier to say that 'look, we don't have the intention to raise GST at this Budget'," he said. "I think Ms Lim accepted that… her suspicion wasn't really correct at that point in time." 
To which, Mr Heng reiterated that the issue of raising taxes had been brought up many times previously, and he did not think it was proper for the Government to talk about the timing and details of the GST hike before the Budget this year. While he accepts that MPs can say things they did not intend in the "heat of exchange", the issue now is whether Ms Lim still thinks she has the basis for her beliefs "so many days" after and accepts the explanations given, he said.
Ms Lim replied: "I can accept that my suspicion may have been wrong but I do not accept that my suspicion had no basis and I do not accept that I have failed or been derelict in my duty as an MP to this House."
WHAT IS A COMMITTEE OF PRIVILEGES
The Committee of Privileges — chaired by Speaker of Parliament and comprising the Leader of the House and other MPs, including from the Opposition — looks into any complaint alleging breaches of parliamentary privileges. When a complaint is referred to it by Parliament, the committee will meet, examine witnesses and make its recommendations to Parliament in a report.
For any dishonourable conduct, abuse of privilege or contempt by a member, the committee could mete out punishments ranging from the Member being reprimanded or admonished, suspended from Parliament for the remainder of the current session of Parliament, fined up to S$50,000 or jailed up to a term not extending beyond the current session of Parliament.