No-go for Watain concert: Organisers, fans upset by authorities' decision
SINGAPORE — Fans of Watain, a Swedish black-metal band, and the concert promoters were upset that the authorities have called off the show just three hours before it was to happen.
SINGAPORE — Fans of Watain, a Swedish black-metal band, and the concert promoters were upset that the authorities have called off the show just three hours before it was to happen.
On Thursday (March 7), about 100 fans turned up at EBX Live Space, the concert venue along Upper Paya Lebar, when TODAY was at the scene.
A handful were there early for the show without knowing it was cancelled, while most of them were milling about hoping to still catch a glimpse of the band members or to find out more about what was going on.
News of the cancellation started spreading on Thursday afternoon. The Info-communications Media Development Authority (IMDA) had earlier allowed the gig, which was supposed to be held with a rating of Restricted 18 (R18). The Ministry of Home Affairs then announced late Thursday afternoon that the concert cannot go ahead due to "security concerns", given that the band has a track record of denigrating religions and promoting violence.
In an interview with TODAY, Mr Mohamad Khalid, 39, the show promoter, said that the organiser, Ravage Records, has spent more than S$15,000 to bring the band to Singapore and set up the concert venue.
They have sold 150 tickets, of which 100 were early-bird tickets.
They were informed of IMDA's decision to cancel the concert at around 4pm on Thursday, Mr Khalid said, adding that they will be refunding the tickets, which cost between S$70 and S$166. Details are still being worked out for this.
A meet-and-greet session for fans was held outside the concert venue instead and the band's merchandise was sold there.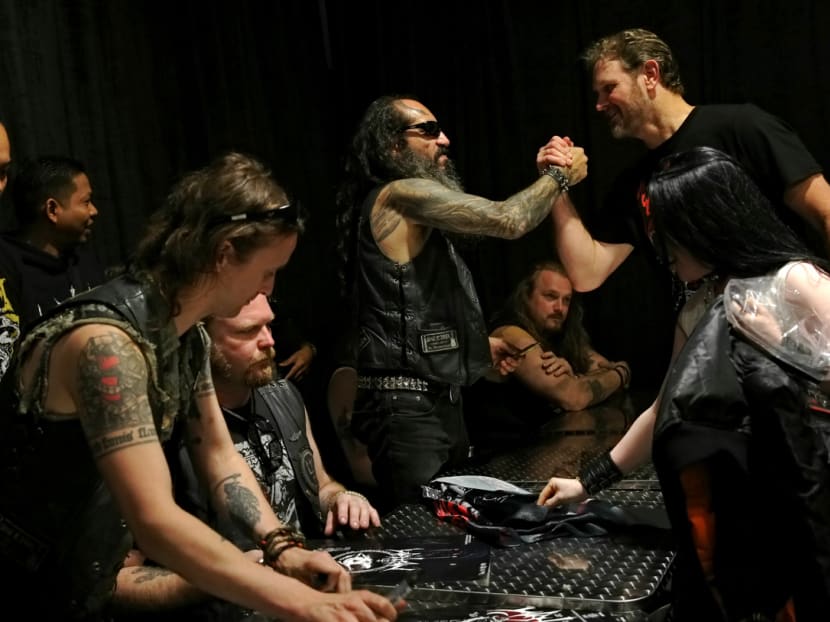 Singapore firm Vent Box Productions, the gig's coordinator, said that the "money spent setting up this concert will be burnt".
Its representative, who gave his name as just "Mike", 40, told TODAY that Vent Box Productions had helped the band apply for a licence on Dec 28 last year and received approval from IMDA only on Tuesday.
"We had to put in the applicants' identification — name, date of birth, even their passport (numbers). And also the band name, the set list for the show, plus the band lyrics. So (IMDA) assessed (the application for a licence) from there."
Mike said that the authority had raised some concerns about what the backdrop used in the concert would be like and how the band would be performing.
Mr Khalid already met IMDA officials on Monday to confirm details of the concert as the approval process was taking quite a long time, Mike said. Mr Khalid promised IMDA that the band will not be doing much of their theatrics here and left the meeting with a positive impression.
"(IMDA) even told him (Mr Khalid) verbally that there shouldn't be any display of anti-religious stuff, and the band and the promoter agreed," Mike added.
Vent Box Productions had helped a bigger and more controversial black-metal band, Behemoth, with their application for the same licence here. Behemoth went on to have a show in 2013, held at a hall in the Singapore Federation of Chinese Clan Associations in Toa Payoh.
When asked about the petition protesting against the band's concert in Singapore, Mr Mike said that despite the petitioner's claim that the band's music causes people to commit suicide, he is still alive even after years of listening to the band.
"Please do some research before you judge something. Not every band is satanic... It's just theatrics, it's performing art in an unorthodox way."
'NOT WELL-HANDLED'
Mr Ricky Tan, 40, who is working in sales and took leave to attend the concert, said that the authorities should not have approved the concert in the first place if they had an issue with the band.
"I find that the authorities didn't handle this well… they suddenly called it off last-minute when they have already approved it.
"Everyone here is an adult and we will comply with all the regulations... There is no need to cancel (the concert) unless they break the rules halfway through," he said.
There were also fans from overseas who had flown into Singapore just to attend the concert. A 35-year-old Indonesian businessman, who gave his name as just "Ucox", said: "I regularly watch this sort of concerts with my friends and this is the first time I've gone to a concert that has been cancelled."
Other fans noted the concerns of the authorities but disagreed with their position. Mr Mohammed Zair, 27, a process technician, said that although the band's music does involve religion, their fans perceived their beliefs as a "political view", rather than a view that is against any religion.
"If (rapper) Lil Wayne is in Singapore and he's cursing and swearing at governments, we still allow it, right? So why is this different? Is it because that's pop culture and this is underground culture?"
A fan of Watain for more than 10 years, Mr Zair believes that the band's style is a form of marketing more than anything else.
Another fan, "Nadx" from Singapore doom metal band Hella Morrigan, found out about the cancellation only when she reached the concert venue.
"This is my favourite band because I love their music composition and their beliefs, but I don't practise these beliefs. I take their music composition as a source of influence for my band instead," she said.
When asked about the online petition against the band, she said that those who signed the petition do not understand Watain's music, thinking that it would really influence minds.
However, she did say that it depends on how individuals take to the music, and "depressive songs may touch those who are feeling depressed".
'FIRST TIME IN 20 YEARS'
Watain's frontman Erik Danielsson seemed to take the news in his stride, even if he was a bit surprised.
"We were setting up as usual as we have been doing the past 60 days on this tour and right in the middle of the working day, around three o'clock, we were informed that the Government has chosen to cancel the show," he told TODAY.
"It is definitely not the first time that we have had threats to have the show cancelled, but it's the first time that it actually happened in 20 years of touring."
Danielsson, who has admitted to being a Satanist and once said in an interview with Revolver magazine last year that "the Satanist can be found in the music and the lyrics and the artwork", added that the band knew there was "going to be problems with the Government here".
"We were informed that we might have to face certain requests from the Government in terms of what songs to play."
He said that he has "full understanding" of the authorities' decision, but looking at how the fans were angry and frustrated, "you think that a Government would have enough faith in their own adult citizens… to make their own decisions".
"Well, luckily, we have been able to meet the fans face-to-face here tonight, so we could have a good straight dialogue."