'No impact on free speech': Law Minister says laws to curb fake news target false statements of facts, not opinions
SINGAPORE — The newly proposed laws to counter fake news deal solely with "false statements of fact" and not with opinions, Law and Home Affairs Minister K Shanmugam said, addressing concerns that the definition of falsehood and what is considered "public interest" could stifle free speech.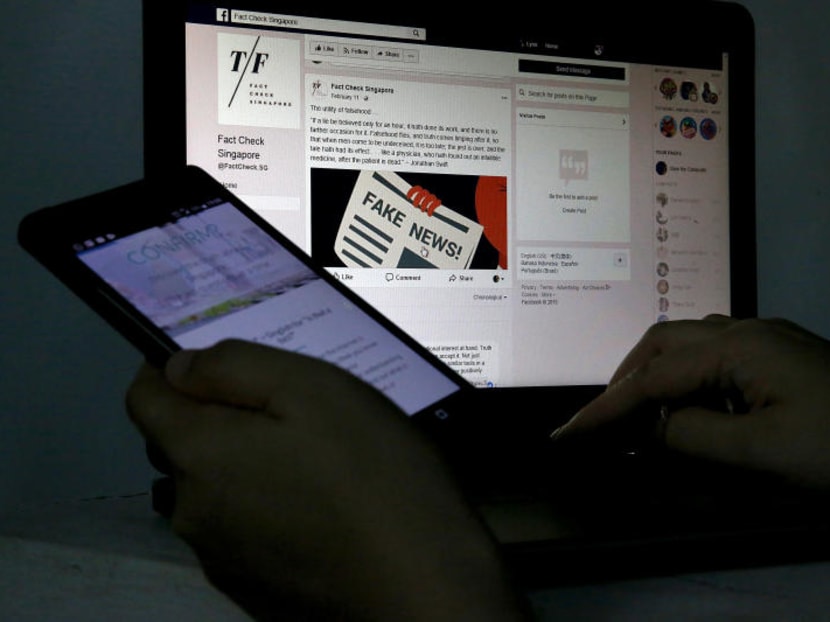 SINGAPORE — The newly proposed laws to counter fake news deal solely with "false statements of fact" and not with opinions, Law and Home Affairs Minister K Shanmugam said, addressing concerns that the definition of falsehood and what is considered "public interest" could stifle free speech.
Fielding questions from Singapore and international media at the Ministry of Law on Monday (April 1), he said that the primary approach of the new legislation — to direct online news sites to publish corrections alongside false statements — "encourages free speech because there are more viewpoints for you to have rather than be restricted and what is said to be just false".
"So, I don't see how it affects free speech," Mr Shanmugam said.
He also noted that people "can have whatever viewpoints, (however) reasonable or unreasonable".
Tabled in Parliament on Monday, the Protection from Online Falsehoods and Manipulation Bill gives government ministers broad powers to issue orders, directing online news sites to publish corrections, among others.
In extreme cases, they can order a publisher to take down an article or cut off the revenue streams of errant online news sites.
Criminal sanctions will also be imposed on "malicious actors" who have the intent to spread fake news.
The proposed laws come six months after a select committee studying the issue of deliberate online falsehoods made its recommendations.
During the public hearings that took place last year, several individuals who gave testimonies to the committee expressed concerns about the impact of legislation on free speech, and the lack of a definition of what constitutes falsehoods.
The Ministry of Law said that the proposed new laws define a falsehood "as a statement of fact that is false or misleading", and that does not cover opinions, criticisms, satire or parody.
The new laws also stated the definition of public interest, broadly covering areas such as the country's security, the protection of public health, finances and safety as well as to prevent any influence on the country's elections.
Mr Shanmugam reiterated that "you can define what is true and what is false when you refer to facts".
He added that there are people who "put falsehoods into the marketplace to confuse others, to change the terms of the debate", and this undermines free speech and democracy.
SAFEGUARDS IN PLACE
Asked by reporters whether the new laws could potentially be abused by the Government since it determines what a falsehood is and also imposes the punishment, Mr Shanmugam said that there is a need to have the laws to counter the "virality" of online falsehoods and harmful content such as hate speech and extremist materials.
He noted that the new laws allow those accused of putting out false statements to appeal to the High Court against the Government's orders, with the courts ultimately having the final say in determining whether a statement is a falsehood.
"If the person who has put it out feels that what he or she has said is true, challenge it. And anyway, it's not as if, primarily, he or she is required to take it down. So, what is the abuse?" Mr Shanmugam asked.
Furthermore, online news sources carrying fake news would be asked to publish corrections and direct readers to other platforms "for the truth", he said.
"How is that an abuse… In fact, it's calibrated to allow for a more informed discussion on issues."
WHAT IF THE SHOE IS ON THE OTHER FOOT?
On the question of what happens if the Government is the one spreading the fake news, Mr Shanmugam said that there are "remedies against the Government".
In such situations, individuals can sue the Government through the defamation laws, for instance.
Mr Shanmugam said that the new Bill also serves to protect public institutions against false statements of fact.
In situations where falsehoods are lobbed at the Government, it "ought to be able to correct it" and order that an online news source carry a correction.
GETTING SOCIAL MEDIA COMPANIES TO FALL IN LINE
Mr Shanmugam pointed out that the Government is already in discussion with social media networks such as Facebook and Twitter on the new laws.
More than one of the tech companies have expressed the view that they prefer to take down online falsehoods, he said. The Government's position, though, is to leave the false statements up online, which is a "better approach".
"Just have something which says 'This is inaccurate. For the truth, go to such (and) such a place'. And that way, in a sense, people can read whatever they want and make up their own minds," he told reporters.
"So, that's our preference and this is a conversation that we have to have with them, because if things are taken down too often, that also affects confidence, I think."
Asked whether the tech giants will comply with the proposed laws, Mr Shanmugam said that the legislation deals with the impact of falsehoods within Singapore, regardless of where the individual or the entities are based.
When a government minister issues an order, "there has to be compliance", he stressed, adding that there will be sanctions for non-compliance.
However, tech companies, too, may challenge the Government's orders, and the courts will have to decide on the outcome.
NEW LAWS NOT A SILVER BULLET
Though countries such as France have laws to deal with fake news, the effectiveness of such measures are still unclear.
What if the outcome of Singapore's new laws might not be what the Government expects?
"I'm not suggesting that all the problems will vanish the moment this Bill comes into place," Mr Shanmugam said.
"I think the reality of falsehoods and hate speech and harmful content on the Internet is a reality that is here to stay. We have to deal with it as best as we can."
The proposed new laws, similar to other legislations, will not be retrospectively applied, but Mr Shanmugam cautioned that if "old falsehoods" are recycled, then the new laws could be applied.
Measures to counter foreign interference or disinformation campaigns by foreign actors are not covered under the proposed laws.
This is a "serious issue" and it is "something that's being actively thought through", he said. "I can't go into further details but I think that has to be dealt with."
The country's next general election is due to be called by April 2021. However, there has been talk that it could be held at the end of this year.
Asked on the importance of pushing out the laws on fake news before the next election, Mr Shanmugam did not give a direct answer, saying only that the new legislation is aimed at falsehoods that target public institutions.
Pressed on whether the move is a signal that a general election could be held this year, he replied with a wry smile: "I'm not answering that."