With no Tan Cheng Bock-led alliance in sight, opposition parties turn to plan Bs
SINGAPORE — Inspired by last year's shock victory of the Pakatan Harapan alliance in the Malaysian General Election (GE), hopes were briefly raised among the opposition circles on this side of the Causeway that several parties could band together, led by former presidential candidate Tan Cheng Bock.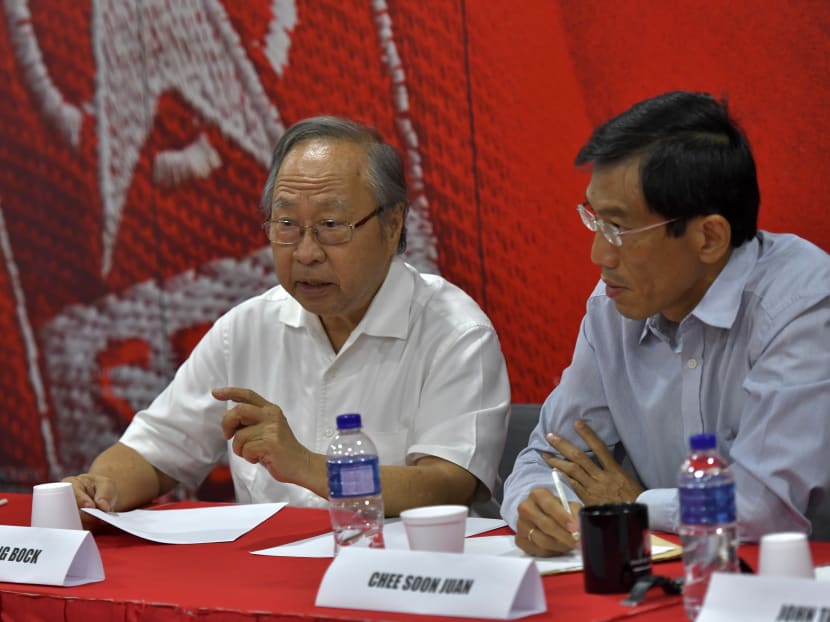 SINGAPORE — Inspired by last year's shock victory of the Pakatan Harapan alliance in the Malaysian General Election (GE), hopes were briefly raised among the opposition circles on this side of the Causeway that several parties could band together, led by former presidential candidate Tan Cheng Bock.
It was touted as a possible game-changer given the fragmented opposition landscape dotted by fewer than a handful of established parties and several fringe ones that have struggled to make any impact at recent polls.
Eight months on, however, the proposed coalition of seven opposition parties appears dead in the water, with several party leaders fast losing hope and turning to plan Bs.
"For (several) months, I held out hope for an alliance. Nothing has materialised. And I think it's best that we each develop our own party and do what we think is best in the interest of the Singapore people," said opposition leader Lim Tean, 54, of People's Voice, one of the seven parties.
"If after eight months, nothing has come out of it, it's hard to imagine (it would happen)."
READ ALSO
The parties in the earlier talks were the Singapore Democratic Party (SDP), National Solidarity Party (NSP), People's Power Party (PPP), Democratic Progressive Party (DPP), Reform Party (RP), Singaporeans First (SingFirst) and People's Voice.
Dr Tan, 78, whom the leaders of these parties see as a galvanising figure, now appears to have more pressing priorities than serving as a unifying force among opposition parties.
And as the drumbeat of Singapore's next GE gets louder, the opposition scene remains as fragmented as ever — and it has, in fact, become more crowded.
Experts said such a state of affairs is detrimental to the opposition's prospects at the next GE, which must be held by early 2021. Even within the opposition fraternity, some feel the same way.
"It is time smaller parties do some soul-searching and see which one of the bigger parties aligns more with (them) and can help them to be more effective," said former People's Voice member Brad Bowyer.
The 52-year-old, who is self-employed, left People's Voice last month when he observed that things were moving too slowly. The efforts were too scattered and inadequate to make an impact on the national level, he noted.
"Even the more established parties have a challenge in their hands. If you don't all start working together on pooling your resources and knowledge… how are you really going to have a proper challenge?"
READ ALSO
Associate Professor Bilveer Singh, from the National University of Singapore's (NUS) department of political science, said weak and small opposition parties have helped the ruling People's Action Party (PAP) garner a sizeable share of the votes in some constituencies.
If they continue to operate as they did in the previous GE, he said these parties would not only be rejected by the public, but they would also help the PAP further entrench its dominance and bring disrepute to the idea of a political opposition in developed Singapore.
"If they are serious about politics and their impact, the best option would be to merge with existing bigger parties, such as the WP and the SDP, or from the start, establish a coalition," Assoc Prof Singh said.
"For their own good and the good of Singapore, these fringe parties should pack up, but how this is done is up to them."
MORE JOINING THE FRAY
Late last month, the Progress Singapore Party (PSP), which was set up by Dr Tan, was formally registered.
The PSP is the second new opposition party formed in the past five months, after Mr Lim registered his party on Oct 31 last year.
RP chairman Andy Zhu said his party has not received word from Dr Tan's team and he does not know why the former PAP Member of Parliament has gone quiet.
"There were no updates before or after he started his party. We didn't probe him further because it is up to him individually to decide," Mr Zhu added.
When contacted, Dr Tan referred TODAY to one of his aides, who said the party was unable to comment. The party, the aide noted, had just been formed and it was busy putting the infrastructure in place and preparing for its launch.
At least one party, however, remains hopeful of working with Dr Tan's camp.
The DPP — whose secretary-general Benjamin Pwee defected to the SDP in February — said a meeting has been fixed with the PSP in the coming weeks. The meeting was set up by a former DPP member who has now joined the PSP, said DPP's new chief Mohamad Hamim Aliyas.
Other parties, though, are looking elsewhere.
Some have intensified discussions in recent months to try to hammer out ways to work together, whether by forming a loose coalition or pooling their resources for a common cause.
Still, the bigger boys — notably the Workers' Party (WP) — appear to be unmoved by efforts towards opposition unity.
Despite Mr Pritam Singh taking over the reins at WP from opposition heavyweight Low Thia Khiang last year, hopes of the party taking part in an alliance remain dim, as political observers said its stance is unlikely to shift with a younger leader in charge.
Mr Low made clear his aversion to coalition politics in 2013, calling the idea of uniting all opposition parties an "unworkable concept".
In January, Mr Singh hinted that his approach for the party would hew closely to his predecessor's.
He noted that the WP has a role in supporting "what it means to be Singaporean".
"Our vision must be to continue building on the sensible approach of rational and responsible politics established by Mr Low," Mr Singh told party members at the WP Members' Forum 2019.
He added that this path best represents "how opposition politics can develop and how the WP can remain relevant".
The WP declined to be interviewed when contacted.
Even so, other parties are keeping possible partnerships on the table. The SDP, for instance, is "happy to work with anyone committed to a more democratic Singapore based on justice and equality", said its chairman Paul Tambyah. The "shape and form of the collaboration" between parties will become clearer only closer to the election, he said.
Meanwhile, the Singapore People's Party (SPP), headed by opposition veteran Chiam See Tong, 84, remains focused on "retail politics" — knocking on doors and building relationships at the constituencies it contested in the last GE in 2015.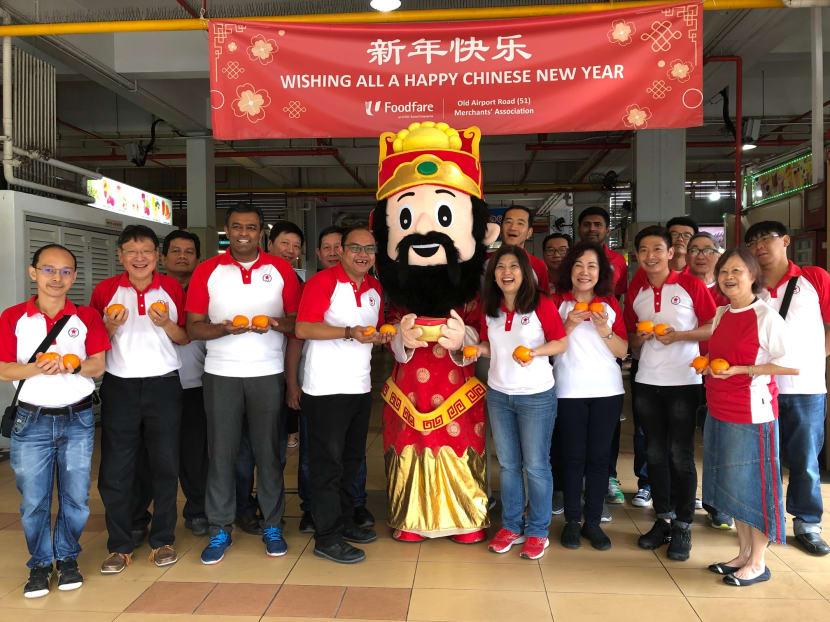 LOOSE TIE-UPS, NOT-SO-FRIENDLY APPROACHES
The diminishing prospects of a Dr Tan-led coalition aside, some parties have been meeting behind the scenes in hopes of collaborating — in some cases, these efforts have been going on for years.
NSP's secretary-general Spencer Ng, 39, told TODAY that his party has been in touch with SPP and RP to discuss how they may establish common platforms — such as the policies they wish to champion — and marshal their resources for the next GE.
"We've been in talks for about three years on how to achieve a common working vehicle," said Mr Ng, a business consultant.  
NSP member and the party's social-media head Kevryn Lim, 31, added: "We also discussed the constituencies that we might be interested in between the parties and we all have a consensus."  
When asked about the talks, the SPP declined comment, while RP's Mr Zhu confirmed that he had been in touch with members in the NSP and SPP. However, he declined to elaborate.
Separately, Singapore Democratic Alliance (SDA) chairman Desmond Lim told TODAY that over the last five months, "agents" from five opposition parties had been in touch with him.
They asked if he was willing to step aside as leader, so they could use the SDA as a vehicle to form an alliance. In addition, they requested that his party's name and logo be changed.
Mr Lim, a principal engineer at a telecommunications company, declined to name the individuals who approached him, but noted that he was hard-pressed to accept the suggestion as their motives were unclear. He questioned if their intention was to join his alliance or take it over. "The platform is there for an alliance, so what's the problem now?" Mr Lim, 52, said. "Country first or leader first?"
The SDA, formed in 2001 by Mr Chiam, is the most recent attempt at a formal coalition among the opposition parties.
It began with four component parties: The SPP, NSP, Singapore Justice Party (SJP) and the Singapore Malay National Organisation (PKMS).
Today, only the SJP and PKMS remain, after the NSP pulled out in 2007 and the SPP did likewise four years later.
Meanwhile, PPP's secretary-general Goh Meng Seng, 49, said his party is open to contesting as part of a vehicle like the SDA, if there is insufficient time to create a formal alliance. Interested political parties can come together in a matter of weeks, he noted.
At SingFirst, secretary-general Tan Jee Say, 65, said that the party has been inactive as it prefers to "restart on the right footing". It favours campaigning as part of a bigger force, such as a coalition. Nevertheless, he said the party has "quite a few members in their 30s" who will probably step forward and play a bigger role in the coming elections.
'MOSQUITO PARTIES' 
Professor Garry Rodan, an emeritus professor of politics and international studies at Australia's Murdoch University, said Singapore's opposition camp has seen more small parties with "limited policy programmes or without an explicit ideological alternative to the PAP, let alone other opposition parties".
To take the opposition to the next level, he said the political landscape needs fewer parties with stronger internal engagements and organisational structures.
"People's Voice and Progress Singapore Party are a distraction from this imperative," added Prof Rodan, whose research covers South-east Asian politics.
Dr Lam Peng Er, a senior research fellow at the NUS' East Asian Institute, described these smaller parties, which are largely based on a single charismatic leader, as "mosquito parties".
He cited RP chief Kenneth Jeyaretnam, SDP's Dr Chee Soon Juan and People's Voice's Mr Lim as examples.
Most of these parties do not have daily grassroots activities, but they cannot be blamed for that, since they lack the resources that the PAP can muster, he said.
"They are there as mosquitoes just to irritate and distract the PAP, and make the PAP more diffused in the resources and let the WP concentrate on the (hotly contested) Marine Parade, East Coast and Aljunied Group Representation Constituencies," Dr Lam said.
Political scientist Felix Tan said these parties would not have a future in the country.
"They are just there for the moment and not there for Singaporeans throughout… They are just going to fight for a small, disgruntled segment of society," said Dr Tan, an associate lecturer at SIM Global Education.
GEARING UP FOR THE POLLS
Although the next GE could still be months or more than a year away, some parties have hit the ground running. 
READ ALSO
The SDP kicked off its election campaign in February and started work on its election manifesto early, so it could introduce its policy positions between March and July.
It released a policy paper last month, proposing solutions to tackle the rising cost of living here.
On Saturday, it released a policy paper on housing. The next launch, planned for May, aims to provide an alternative to Singapore's population policy.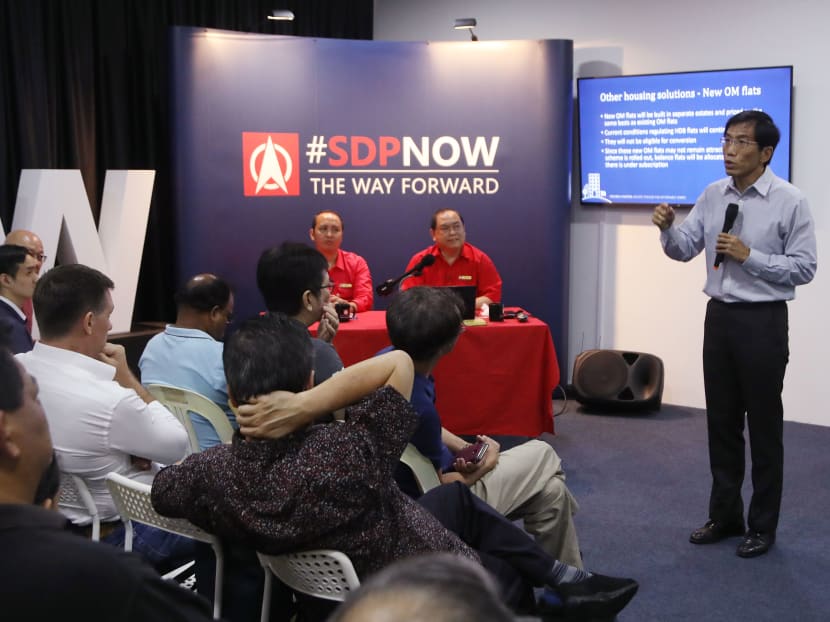 The release of these papers, Dr Tambyah said, was planned with the help of many young people who had contributed ideas to bring these policies to millennials. 
Judging by its current approach, Singapore Management University (SMU) law professor Eugene Tan said the SDP's "charm offensive" has helped it to shed its combative image remembered by older Singaporeans.
Former SPP candidate Ravi Philemon observed that the five-month-old People's Voice, which appears to be taking activism and policy discussions to the extreme, is making the SDP look like "moderates" and thus more electable.
While Dr Chee has toned down his strident style in recent years, the opposition camp has found a new firebrand in Mr Lim, who is often seen criticising the PAP Government online and at rallies in Hong Lim Park.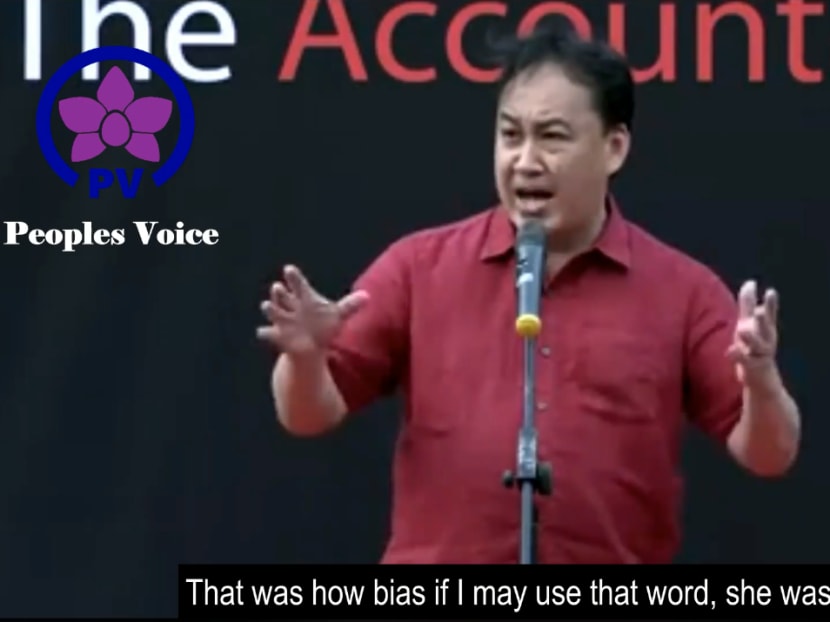 WILL VOTERS BITE?​
SMU's Assoc Prof Tan said: "Some may find Mr Lim Tean's approach refreshing, bold and convincing, while others may be wary of an aggressive approach."
Prof Rodan said he would expect young voters who are most anxious about cost-of-living challenges to be more receptive to such a pitch, though Dr Tan of SIM Global Education said to most Singaporeans, combative politics is "quite a huge turnoff".
A case in point is the WP, which has grown to become Singapore's dominant opposition party based on its "sensible approach of rational and responsible politics" — as Mr Pritam Singh had put it.
Over the years, the WP has kept up its presence on the ground, and many of the analysts interviewed said it remains the most well-organised and serious opposition party, despite the ongoing town-council lawsuits dealing a possible blow to its reputation.
Assoc Prof Singh said the party is still well-regarded, notwithstanding the multimillion-dollar civil suits brought against its Members of Parliament and two other town councillors.
They are being sued by the Pasir Ris-Punggol Town Council and an independent panel acting on behalf of the Aljunied-Hougang Town Council. Those involved are alleged to have wrongfully paid S$33.7 million to managing agent FM Solutions and Services and other third-party service providers between 2011 and 2015.