NOC's Sylvia Chan files police reports over death threats, sex video; separate report lodged against her
SINGAPORE — Ms Sylvia Chan, co-founder of production company Night Owl Cinematics (NOC) who is the subject of workplace harassment allegations, has filed a Magistrate's Complaint and several police reports for death threats and alleged harassment, among other claims. A representative for her said this in response to media queries on Thursday (Oct 21).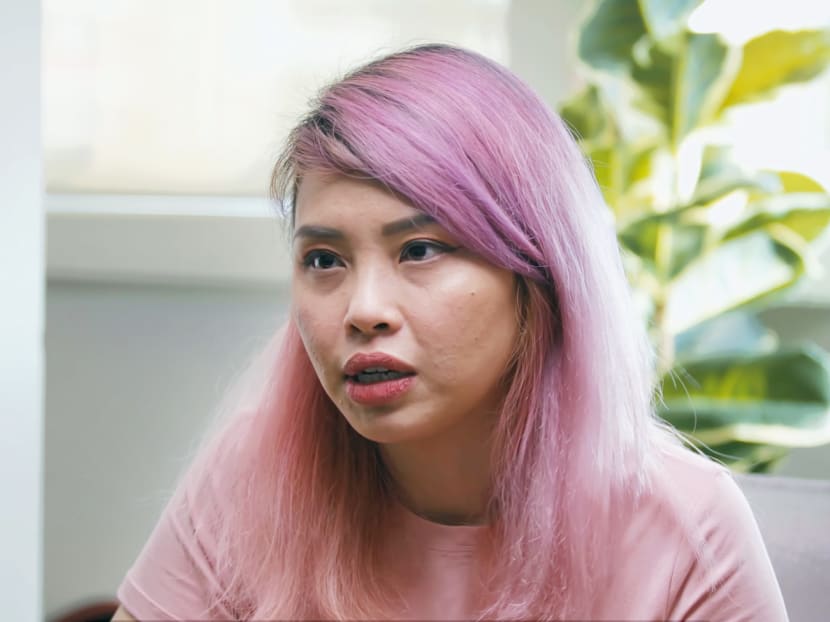 Night Owl Cinematics' Sylvia Chan has been the subject of a series of workplace harassment allegations
Other allegations include misappropriating company funds
Ms Chan has now filed a Magistrate's Complaint and several police reports, alleging harassment 
She has said that she will "thoroughly rebut" the allegations against her and has kept silent so far out of civility
SINGAPORE — Ms Sylvia Chan, co-founder of production company Night Owl Cinematics (NOC) who is the subject of workplace harassment allegations, has filed a Magistrate's Complaint and several police reports for death threats and alleged harassment, among other claims. A representative for her said this in response to media queries on Thursday (Oct 21).
A separate police report has been made against her over allegations made by a group of current and former employees.
Ms Chan's representative said that the Magistrate's Complaint was filed in the State Courts, citing a "concerted and coordinated effort to discredit and disparage" her.
"These efforts include death threats, incessant harassment, hacking of her emails, loss of access to NOC's financial systems and records, and even a sex video," the representative said. "The Honourable Magistrate has directed the police to commence investigations in relation to police reports filed."
In response to TODAY's queries about the report filed against Ms Chan, the police confirmed that a report was lodged and they are looking into the matter. It was not clear what the police report entailed.
Ms Chan had said earlier this month that she would be removing herself from the artists' team at NOC, and apologised for not stepping up to the standards she should have upheld as a leader.
However, new allegations against her, which include misappropriating company funds and bartering sexual services of an NOC "talent" in exchange for courier services, surfaced in a blog on Tuesday evening.
She was also accused of using the company to fund her brother's salary in order to facilitate his permanent residency application.
This follows a string of accusations, such as being verbally abusive towards one of the company's employees, which came to light earlier.
The Immigration and Checkpoints Authority (ICA) said in response to TODAY's queries that it is aware of online allegations pertaining to Ms Chan's brother, Mr Sikeen Chan, but it is unable to provide any details for reasons of confidentiality.
"ICA takes into account a range of factors, such as qualifications, age, family profile, residential duration, family ties to Singaporeans, and economic contributions when assessing applications for immigration facilities.
"ICA will take firm action against persons who provide false or misleading information or conceal material facts when applying for any Singapore immigration facility. Any person who has made a false statement or declaration in their application will be dealt with firmly in accordance with the law." 
WHAT CO-FOUNDER RYAN TAN, EX-STAFF SAY
NOC's co-founder Ryan Tan on Wednesday told TODAY that he will be taking steps to tackle the "public relations crisis" the company is facing.
The YouTube personality who has since resigned as the company's director said: "My thoughts and concerns have always been about the talents, and members of the crew and staff. Given recent developments and the public relations crisis facing NOC, I will be taking steps to handle these problems."
"In the meantime, while there may be heightened scrutiny and interest in matters relating to NOC, I hope that members of the public extend the same kindness and civility that they have shown to me to other individuals who may be involved in these recent developments," Mr Tan, who is Ms Chan's ex-husband, said.
Former producer Felicia Tung, whose name was mentioned in the leaked video recording shared in the blog, said she is aware that a report against Ms Chan has been made to the authorities but is unsure what it is about.
Recalling her experience having worked directly under Ms Chan in the last three years, Ms Tung said that her body still tenses up each time she hears her former employer's voice.
"When I hear Sylvia's voice, my body immediately tenses up in reflex and my mind automatically starts trying to predict what she's going to say next, way ahead of her," she said in an email interview with TODAY.
Ms Tung said that this is also the reason she avoids watching Ms Chan's videos.
She hopes that by speaking out though, current employees can leave the company without facing legal repercussions despite the agreements tied to them.
"I also hope better management decisions and safer practices can be put in place to ensure the welfare of future employees within NOC."
SEEKS TO 'THOROUGHLY REBUT' ALLEGATIONS
In the statement, Ms Chan's representative said that she intends to "thoroughly rebut" every allegation against her "in due course".
"Sylvia has full faith that these investigations will reveal the person(s) behind this vicious campaign.
"The motivations of the person(s) leading the charge against Sylvia are becoming increasingly clear, and will be plain for all to see in time to come."
The representative claimed that some of the published allegations appeared to be "skilfully edited to conveniently leave out portions so that a false narrative could be published to the public".
He also said that Ms Chan possesses the "full documents" and will share them soon with the public and has "kept her silence to maintain civility".
"The full facts could prejudice the person(s) spearheading this campaign." 
The representative claimed that while Ms Chan was gathering evidence to clear her name, she had been locked out of NOC's financial systems even though she is the chief executive officer and majority shareholder of the company.
"Sylvia has apologised for the actions against her employees, and will continue to work on herself to be a better person, a better leader.
"However, she will not give in to this campaign designed to bring her, and NOC, to its knees."
MOM, TAFEP RESPOND
In a joint statement on Friday, the Ministry of Manpower (MOM) and the Tripartite Alliance for Fair and Progressive Employment Practices (Tafep) said that they had received feedback from members of public about allegations against NOC, adding that Tafep is in touch with the company to look into the matter.
"Employers should keep their workplaces safe by preventing and managing workplace harassment. They also have a legal obligation to pay employees their salary on time," the statement said.
MOM and Tafep advised those who encounter workplace harassment and have their salaries withheld to contact either Tafep or the Tripartite Alliance for Dispute Management early for assistance.
"Individuals with knowledge of any criminal conduct should report such incidents immediately to the police," they added.