Normanton Park residents go on souvenir-collecting spree ahead of final goodbye
SINGAPORE — Normanton Park was deserted on Thursday (Oct 4), bereft of its human inhabitants — and some pieces of signage and estate furniture — as the last residents moved out of the 41-year-old estate which had been sold en bloc for S$830.1 million.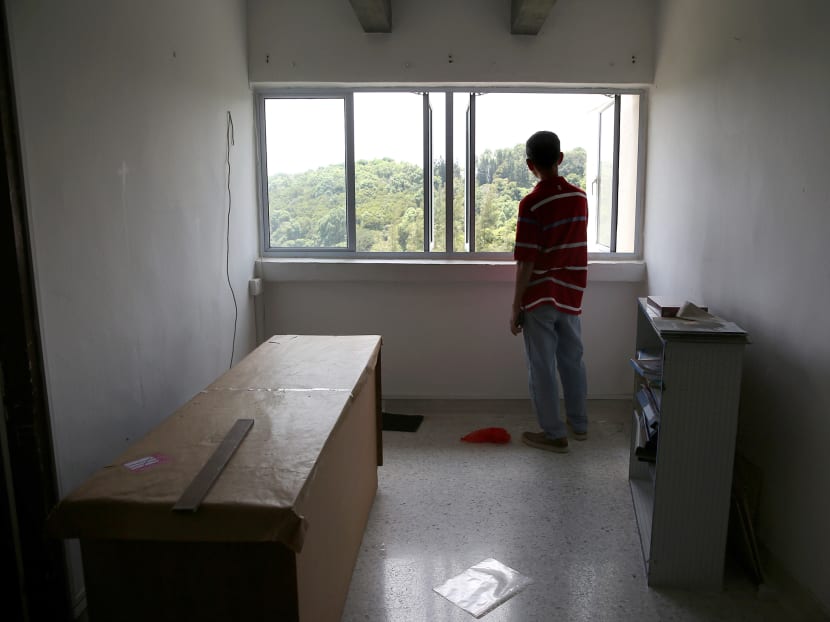 SINGAPORE — Normanton Park was deserted on Thursday (Oct 4), bereft of its human inhabitants — and some pieces of signage and estate furniture — as the last residents moved out of the 41-year-old estate which had been sold en bloc for S$830.1 million.
Ahead of their move, some residents of the 488-unit condominium had gone on a souvenir-collecting spree.
Items collected included the metal plates marking the floors on lift landings, wooden signs indicating block numbers, as well as a stone bench with the words "donated by a grateful resident" painted on it.
Even the bricks surrounding a series of underground brick shafts — the use of which is unknown — and a big yellow sign at its tennis court that read "Do not climb over and damage the fence" were not spared as well.
Some of these items have been lovingly repurposed as furniture or incorporated into the furnishings of the residents' new homes in fond memory of the tight-knit community of military families which they used to be part of.
For instance, two residents shared an idea that the large wooden block signs at the loading bays could be turned into coffee tables.
They waited till last week when most of the residents had moved out to hire a contractor to remove the signs at the blocks where they used to live.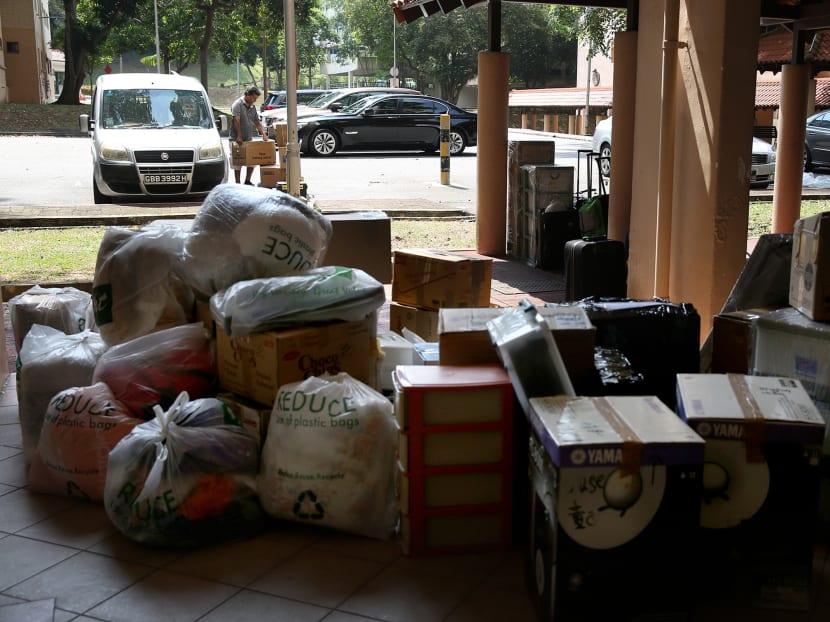 Mrs Louise Anne Vanderput, 62, the eldest daughter of Singapore's first chief of navy, the late Colonel James Aeria, carted away the sign at Block 9.
Her family was one of the estate's earliest occupants, having moved in in 1977, before the condo was officially inaugurated.
The second resident, who took the sign at Block 2, is a 59-year-old who wanted to be known only as Mr Kuet.
A resident since 1986, the retired navy officer moved into a five-room Housing and Development Board (HDB) flat at Bukit Merah View on Sept 28.
For Mr Kuet, a heritage buff who co-founded the Singapore Maritime Heritage Interest Group, the block sign was one of several Normanton Park mementos which he transplanted into his new home.
KEEPING THE NORMANTON STORY ALIVE
Apart from the repurposed coffee table — made from the round wooden block signs — Mr Kuet integrated some mosaic tiles from his old kitchen floor into the bathroom in his new home.
"I wanted the floor I had been stepping on for the last 31 years to be part of the future house," he said.
The retiree also dug up three bricks bearing the acronym "S.M.B.W" from one of at least four mystery shafts in the estate, which was incorporated into a wall in his new home's service yard showcasing his collection of nine "heritage bricks".
These bricks which he collected mostly from his jogs around the island are special, he told TODAY, because they bear the mark of their manufacturers or location — "Alexandra", "Jurong", "Asia", "PUB", "Bin Keow" and "Goh Bee".
The source of the "S.M.B.W" bricks, however, remains a mystery as even the heritage experts whom he consulted could not ascertain which brickwork company they came from.
Other items which Mr Kuet carted off included his old bathroom sink, a wooden directional sign board, and his unit's number plates that bore the letter M which marked his floor.
He said the estate had a practice — no longer common today — of using the alphabet to indicate the floors. The letter M, being the 13th letter, marked his lift landing as the 13th floor in his block.
To avoid raising too many eyebrows, his operation to collect these "artefacts" was a "well-planned operation", said his 24-year-old son, Mr Kuet Shao Heng.
The petrochemical broker said that if not for his mother putting her foot down, his father  — whom she nicknamed "karung guni man" — would have incorporated even more Normanton Park elements into their new home.
The elder Kuet had wanted to embed his prized bricks in their new living room for instance.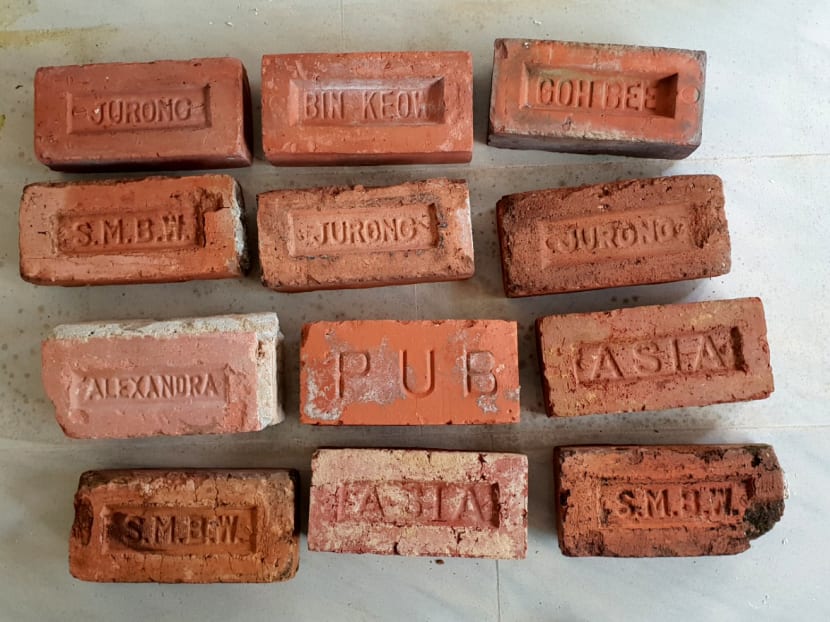 "Mom would say 'everything throw'. Me, I keep my memories in photos, which does not take up too much space," he told TODAY.
The elder Kuet — who had initially opposed Normanton Park's en bloc attempt — explained that once demolished, the "artefacts" would be lost forever. So he is doing his bit to preserve his sense of pride for the place.
"In these little ways, we can really let the (Normanton Park) story continue," he said, pointing to its special status as an estate originally built by the Government to house military personnel and their families.
SAYING THEIR LAST GOODBYES
During Normanton Park's last weekend on Sept 29 and 30, some residents who had moved out earlier returned to bid their final farewell.
Said freelance business consultant and tennis coach Jo-Anne Aeria: "This is our home right from the start."
The 53-year-old daughter of the late Colonel Aeria accompanied her sister Mrs Vanderput to take a final stroll around the estate last Saturday.
Mrs Vanderput, who had leased out the apartment since moving out 4.5 years ago, said it was far more difficult to say goodbye than she initially thought. 
"I didn't think I'd ever do it, but I actually went to every room and said goodbye to mum and dad. My mum actually died in the living room here," said the office manager.
REMAINS OF NORMANTON DEPOT?
Saturday also drew a handful of heritage buffs to Normanton Park. It was their last chance to analyse and ascertain the purpose and origin of a series of mystery shafts in the estate.
Four such structures — which extend to depths as deep as eight metres underground — lie within the Normanton Park estate. Three lie beneath the overgrown roots of a few trees near the tennis court, while the fourth is situated near a multi-storey car park.
Another shaft lies just outside the perimeter of the estate, away from the paved paths in Kent Ridge Park.
It drew intrigue as a few residents theorised that they might be colonial-era secret tunnels leading to Sentosa, given that the British army had used the Kent Ridge Park area as a fortress to defend Singapore against the Japanese invasion in February 1942.
The mystery was deepened as some bricks on the structures seem to be patched on as an afterthought.
But Mr Fong Chee Keong, 70, a retired consultant on petrochemical and water treatment systems who was invited by his friends to help analyse the shafts' purpose, broke the myths.
They are "merely water drainage system structures", he said, explaining that the area used to be a tank farm, or oil depot, for the British army, which was known as Normanton Barracks.
"The three enclosures that we saw most likely were water drainage systems to prevent flooding at the tank farm," he said. "And I think these were not properly removed because of budget."
To prevent people from falling into them, the authorities could have added some bricks to raise the level and cover the holes over the years, he said, which could explain why certain portions of the bricks were old, and certain portions looked newer.
They could not have been tunnels as the openings are too closely located, Mr Fong added.
CLARIFICATION: An earlier version of the story stated that a resident who wished to be identified only as Mr Kuet had kept a plaque unveiled by former Deputy Prime Minister Goh Keng Swee at the official opening of Normanton Park on April 15, 1978. Mr Kuet has clarified that he has passed the plaque to staff from the defence ministry. 
Sign up for TODAY's WhatsApp service. Click here: