'Army rations were surprisingly good': 31 youth shoot guns, tackle obstacles at Women's Boot Camp for a taste of NS life
SINGAPORE — What is an SOC? Does cookhouse food really taste that bad? And why are there so many mixed reactions to combat rations?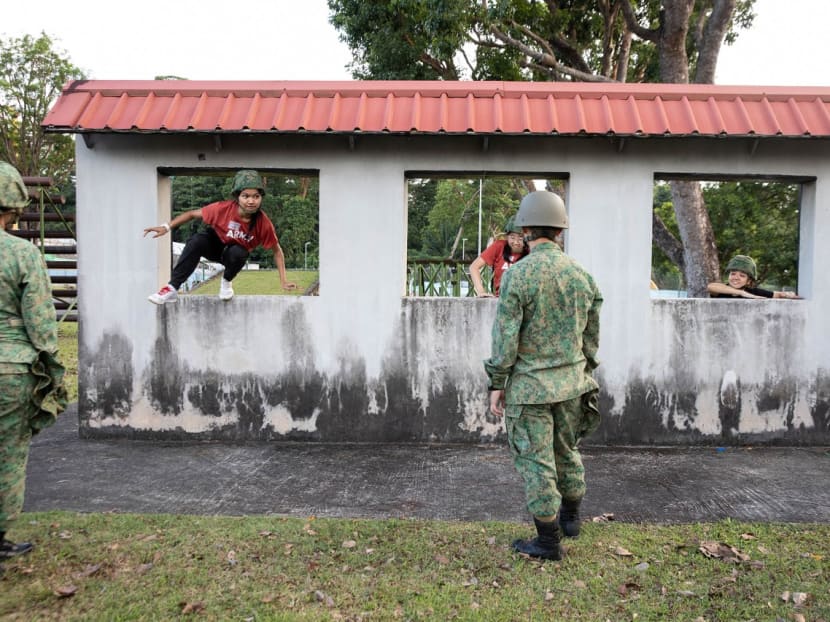 To experience life in the army, 31 women mostly under 35 joined Women's Boot Camp 2023
This year's edition is the first since the Covid-19 pandemic in 2020 and is also the first youth edition
As part of the camp, participants got to experience the standard obstacle course, learnt combat buddy aid and shot blanks from a Singapore Assault Rifle 21st Century, or SAR21
This year's edition also had some new editions, such as allowing participants to clear a room while using a SAR21 loaded with blanks
SINGAPORE — What is an SOC? Does cookhouse food really taste that bad? And why are there so many mixed reactions to combat rations? 
For 20-year-old Rachel Anne Lee, the lingo her male counterparts use among themselves after starting their National Service (NS) has left her curious about what it is really like to serve the nation in this way.
As any NS recruit will tell you, the SOC is the standard obstacle course. For answers to the other questions, read on.
Ms Lee told TODAY: "Being a girl, we aren't required to serve NS. So there's always this curiosity about what is it really about."
So while waiting for her A-Level results to come out, the recent Millennia Institute student was one of 31 participants in Women's Boot Camp 2023 — a two-day camp at Maju Camp in Clementi, which allows women to get a glimpse of army life.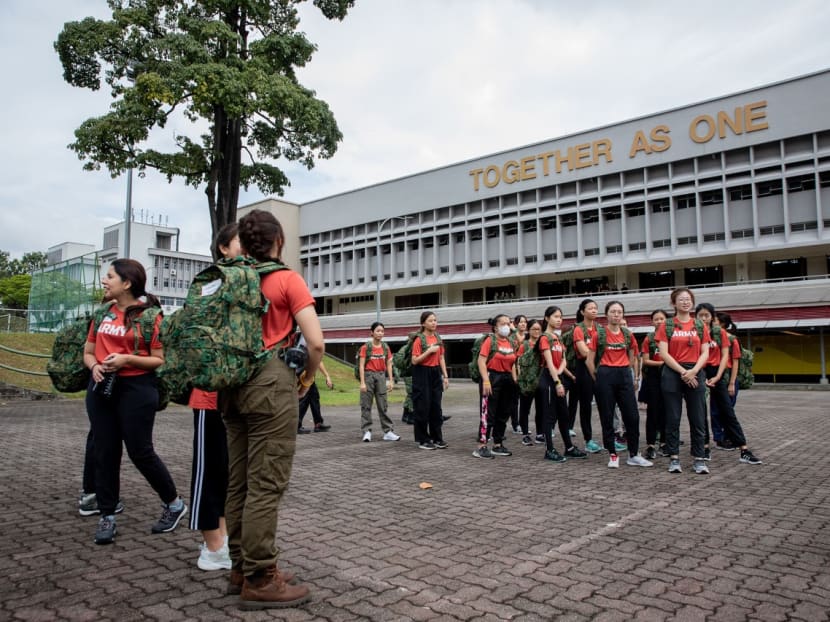 First organised in 2018, this year's edition, held on Feb 11 and 12, is the first after the Covid-19 pandemic. And unlike 2018 and 2019's camps, 2023's is focused on youth, with most participants aged under 35. 
The camp's organiser, Ms Joanna Portilla, said: "NS has become ingrained as part of life, a lot of times we don't think why we serve or why we do things that are so routine."
She said the camp provided an opportunity for the participants to understand and think of ways to play their part in total defence in their daily lives.
"Having a youth camp also allows us to remind the young that they can't take times of peace for granted," she added.
The camp is an initiative of the Advisory Council on Community Relations in Defence's (Accord) family and community council supported by the Singapore Armed Forces Volunteer Corps.
Ms Portilla is a co-lead of Accord family and community council working group two.
For 18-year-old Paulyne Santos Anthony, signing up for the camp allowed her to experience what her brother is currently going through as he serves the nation.
"I really enjoyed the standard obstacle course, especially the rope climb because... I got to learn how to use the rope and push myself up using my legs," said the former Tampines Meridian Junior College (JC) student.
She is currently waiting for her A-Level results.
Beyond getting to tackle nine different obstacles during the two-day camp, participants got to try their hand at using the Singapore Assault Rifle 21st century, or SAR21, learn combat buddy aid and participate in a 2km route march.
This year's edition also had some new activities in store for participants.
They included eating rations heated from a mess tin and discussing how they can play their part in defending the nation.
This year's group also got to watch a demonstration of how Micro Unmanned Aerial Vehicles can be used for intelligence, surveillance and reconnaissance purposes.
A crowd favourite among the activities introduced this year is getting to shoot blanks with the SAR21 while rehearsing the Instinctive Action Drill and clearing a room.
As part of the Instinctive Action Drill, participants learnt how to safely turn towards a target on their left or right, before aiming and firing their guns.
They also were able to shoot blanks at a target in a room by entering in pairs, before aiming and firing to "clear" the room of "enemies".
For former 18-year-old Tampines Meridian JC student Chan Pei Qing, her favourite was going through the standard obstacle course, where participants could attempt nine of the usual 12 obstacles.
"The low-rope station looked really intimidating and challenging but it's actually not that difficult while trying it, especially with the help of all the sirs and ma'ams," she said, referring to the trainers.
One takeaway from this experience? "Women can do it too and we must believe in ourselves," she said.
While Saturday's rain did not allow participants to try eating their combat rations in an outdoor setting — which would have involved digging a hole and using a mess tin to heat up their rations outdoors — they still got a taste of their meals albeit while the food was cold or lukewarm in the cookhouse.
Food during the camp also came as a surprise for most participants such as Ms Zhao Yi Lin, 18, a former student from Raffles Institution who is awaiting her A-Level results.
"I've heard horror stories from seniors and others who have said how the cookhouse food was really bad, but the food at the camp was surprisingly good. The chicken for lunch on our second day was not too dry," she said.
"And the rations were surprisingly good. While the texture is a bit hard to get used to at first, but after a while, I found it to actually taste quite nice!"
Speaking at the event, Senior Minister of State for Defence Zaqy Mohamad said that recent events — such as Covid-19, the Ukraine-Russia War and supply chain disruptions — are reminders of how important total defence is to Singapore.
The camp allows young women to have a greater affinity with and understanding of what their male counterparts go through during their NS, he added.
The parents of Ms Paulyne Santos Anthony could not help but gush over how proud they were of their daughter's achievements during the camp — hugging their daughter immediately after the boot camp came to a close.
"Not every woman needs to serve the armed forces, to go through and learn more about national service. The fact she signed up voluntarily and managed do all the activities makes us very proud," said Mr Anthony, 53, who declined to give his full name.