'Thought it was a grey area': NUS student packs up crypto-mining rigs in dorm after fellow resident got caught
SINGAPORE — He had been crypto-mining in his university dormitory room since September last year, but the first-year National University of Singapore (NUS) student finally packed up his equipment when he found out on Monday (April 11) that a fellow NUS campus resident was under investigation for doing the same.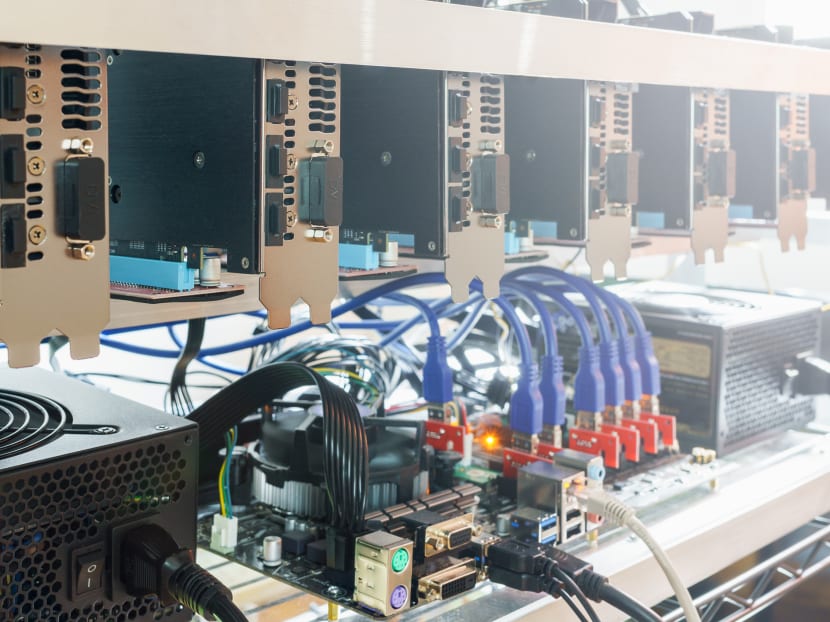 A student spent S$12,000 on equipment to mine cryptocurrencies in his university dormitory room
He stopped doing so when he found out that another student had gotten in trouble for the same activity 
He and other dorm residents at NUS believe that the phenomenon is not widespread, because the barrier to entry is too high 
SINGAPORE — He had been crypto-mining in his university dormitory room since September last year, but the first-year National University of Singapore (NUS) student finally packed up his equipment when he found out on Monday (April 11) that a fellow NUS campus resident was under investigation for doing the same.
The 21-year-old engineering major, who did not want to be identified, stays in a single room at one of the dormitories at NUS' University Town (UTown). He had bought the cryptocurrency "mining rigs" for about S$12,000 and installed it in his room, leaving them operating around the clock. 
These "mining rigs" are used to facilitate transactions in Bitcoin and other digital currencies. 
He had been reading up on cryptocurrencies for several years, but did not have the right resources to mine the currencies until he had his own dorm room.
This was until he found out in an email from NUS on Monday that cryptocurrency mining rigs were found last week in a unit at UTown Residence, a student dormitory located in UTown. 
It was also stated in the email that crypto-mining rigs were strictly prohibited.
"I thought it was a grey area, since (the university) did not specifically prohibit mining, so it was definitely not what I expected," the NUS student claimed, adding that the university should add a "new rule" to state explicitly that mining would not be allowed.
Under the housing agreement for NUS hostel residents, it is stated that "the use of heating and food preparation appliances, waterbeds, private air-conditioners, air coolers and any other items not expressly approved by the Management Office are prohibited in the hostel". 
Responding to the clause, the student said that many students bring in their own items such as coffee machines and hair dryers, and it is not possible to seek approval for every single item a student takes to the hostel. 
"After all, a mining rig is just a personal computer with more graphics processing units (components that process data)," he said. 
The email to the students stated that the university took a serious stance on such violations and that "disciplinary actions will be firmly enforced for non-compliance". 
"Since they said that we can't do it, I would rather not risk it, so I took everything home (on Tuesday night)," the student added. 
NUS also said in the email to students that the mining devices "consume extremely high levels of energy, which can overload our electrical circuit boards and cause power outages". 
"Most importantly, the higher-than-normal level of heat emitted by these devices poses a greater risk of fire hazard," it added. 
Although he pays the same fee as all other student residents, the student believes the electricity that the mining rigs consume far outstrips what is used by the average student. 
He added that "a lot" of heat is emitted by the rigs, enough to make his room noticeably warmer. 
The NUS housing agreement also states that "activities involving or the possession of chemicals, bio-compounds, 3D printers, et cetera, that may cause fire, explosion, release of toxic materials or any kind of hazard to the residents are strictly prohibited". 
However, he insisted that he had done his research and taken the precautions to minimise the risk of a fire, claiming that crypto-mining does not constitute such an activity. 
"I selected the components... that have many safety features," he said. "I scrutinised it and bought the highest quality (materials) that I could find." 
He also bought a "fire extinguisher ball" and placed it near the rig. He said that the ball will explode in the event of a fire and extinguish the flames. 
CRYPTO-MINING 'NOT WIDESPREAD' AT DORMS
Crypto-mining is not a new phenomena, having been around for several years. TODAY reported in 2018 that fully assembled crypto mining kits were selling fast at Sim Lim Square. 
However, crypto-mining on campus did not appear to be a widespread phenomenon. 
The engineering student told TODAY that the cost of buying the rigging equipment was too high for many to stomach, and that it was not an endeavour that many people boasted about because they may not be sure if it is permitted on campus. 
Two residents at UTown residence, where the crypto-mining devices were discovered, told TODAY that they did not know about the mining activities until the university's email on Monday. 
One student Daniel, who preferred not to give his last name, said that his main concern is the fire hazard. 
However, he felt that the electrical cost of operating the device was also unjustified. 
"I think it's right that it's disallowed since NUS is paying for the electricity," the 25-year-old final-year engineering student said. 
UNPROFITABLE ACTIVITY WITHOUT 'FREE ENERGY SOURCE, RENT'
Mr Verdy Yong, a crypto and information technology enthusiast of more than 20 years who once owned his own crypto-mining facility, said that mining cryptocurrencies has become a more complex task now compared to five years ago, which makes it more difficult for miners to grab a profit. 
He explained that crypto-mining rigs use hardware to solve equations that validate cryptocurrency transactions, and solving these equations reaps rewards for the miners.
However, the equations "get more and more complex" as the network of people looking to mine cryptocurrencies increase, which has been the case over the past few years. 
"The more difficult (the equation), the more energy it takes to solve it, and the equipment needs to run for a longer time," he added. 
In doing so, it takes up a lot of energy and releases a lot of heat. 
Most crypto-mining facilities would thus be unprofitable now, given the electricity and rental costs.
For instance, a typical mining rig of six graphics processing units would consume about S$232 in electricity bills a month, Mr Yong revealed. This is the equivalent of how much energy 6.5 household fridges consume in the same period. 
Mr Yong also said that a university dormitory could be an attractive place for crypto-miners due to the amenities at the students' disposal. 
"It's profitable because (students) are not paying much for electricity and there is no rent (specifically) for the set-up of the mining rigs," he said. 
The NUS student who packed up his equipment on Tuesday said that despite his months of crypto-mining while dodging the hefty overhead costs, the cryptocurrency he attained from his venture would fetch him a profit of only about S$1,000.
"Recently, the market has been pretty bad... it hasn't been very lucrative given the effort."
He plans to sell all the equipment, because the venture would be even less lucrative if he mines at home and has to pay for the electricity consumed. 
Mr Allen Li, head of engineering at digital securities exchange ADDX, said that setting up crypto-mining rigs in "home settings" such as dormitories could be hazardous because it might be "difficult to ensure adequate ventilation measures in a small space". 
For example, home fixtures such as curtains can catch fire if they are too close to an overheated rig. 
"Mining rigs usually operate 24/7, which could lead to power outages if the residence is unable to support the elevated levels of power consumption," he added. 
TODAY has reached out to Nanyang Technological University and Singapore Management University, which both have dormitories and residences, on their respective rules regarding crypto-mining.