Job market recovery 'broadly on track' after temporary slowdown caused by heightened alert measures: MAS
SINGAPORE — Singapore's heightened alert measures for Covid-19 caused a temporary dampening of the labour market recovery, as total employment fell in the second quarter after a brief uptick earlier this year, the Monetary Authority of Singapore (MAS) said.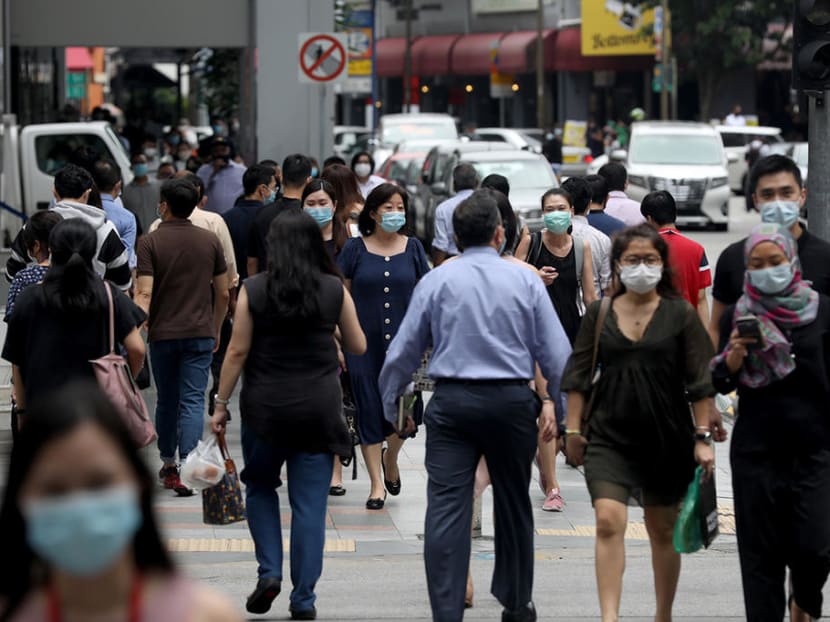 The heightened alert measures in the second quarter dampened the labour market recovery, the central bank said
Several labour market indicators had worsened or stopped recovering during this period
Nevertheless, the central bank pointed to signs that the labour market is expected to continue recovering in the coming quarters
Economists warned that the tight labour market has already caused signs of wage inflation to emerge, which could lead to higher business costs
SINGAPORE — Singapore's heightened alert measures for Covid-19 caused a temporary dampening of the labour market recovery, as total employment fell in the second quarter after a brief uptick earlier this year, the Monetary Authority of Singapore (MAS) said.
However, the labour market recovery "remains broadly on track" and is expected to continue in the coming quarters alongside the recovery of the domestic economy, the central bank said in its twice-yearly macroeconomic report released on Thursday (Oct 28).
The ratio of job vacancies to unemployed people surged to 1.63, the highest level since 1997, as job openings shot up to 92,100 in June from 68,400 in March, largely driven by "reduced inflows of non-resident workers", MAS said.
Labour market demand was weak in consumer-facing and travel sectors but "rose strongly in most other sectors", it added.
The heightened alert measures were first imposed from mid-May to curb the rising coronavirus infections, before Singapore moved in August to the "preparatory stage" of its four-step reopening plan and later to the current interim "stabilisation phase".
During the April-to-June period, the total employment fell by 19,900 compared to the previous quarter, which had expanded by 14,000 after four straight quarters of declines.
The Ministry of Manpower, when releasing its advance estimates for the second quarter, had said that this was due to a steep decline in the employment of foreign workers.
During the second quarter, resident employment continued to expand, albeit at a slower pace.
MAS noted on Thursday that several labour market indicators had worsened or stopped recovering during this period:
The total number of retrenchments edged up for the first time since the third quarter of last year
The total number of employees placed on short work-week or temporary layoff rose from the previous quarter
Residents' rate of re-entry into employment also weakened, suggesting that retrenched workers faced some difficulty in securing jobs during this period
Although overall recruitment and resignation rates held steady, it remained below the norm, indicating still relatively low levels of labour market confidence
Commenting on the MAS report, economist Song Seng Wun from CIMB Private Banking said that the bumpy recovery of the labour market illustrates how dire the pandemic's impact on the economy has been, especially with the emergence of the Delta coronavirus variant that disrupted reopening plans around the world.
"This start of a new growth cycle has been so different from previous cycles, where industries have recovered fairly consistently and lifted each other along," he said.
"This time, some industries recovered, then stopped, which is reflected in the shift in the labour market conditions this year."
DISPARITIES AMONG SECTORS
In the second quarter, employment fell in most domestic-oriented segments, particularly in the consumer-facing segments such as food and beverage (F&B), services and retail.
Strict border measures during this period also contributed to contractions in employment in the trade-related and construction sectors as inflows of non-resident workers from countries deemed as high risk were curtailed, the report noted.
The heightened alert measures have also weighed disproportionately on labour demand in several consumer-facing segments, MAS added.
In contrast, sectors less affected by the measures are faced with tightening labour supply due to fewer non-resident workers being available.
In construction and manufacturing, for instance, where manpower shortages are the most acute, residents generally do not favour or have experience to take on these jobs.
MAS said that this has caused a mismatch in labour supply and demand across sectors and as a result, led to an unusual rise in resident unemployment rate between June and July and a rise in job vacancy rates in the second quarter.
SIGNS OF RECOVERY
Yet, in a sign that the labour market is likely to continue its recovery from the pandemic, MAS noted that the resident unemployment rate declined in August after going up in July.
"The resident unemployment rate is projected to edge down further and come close to its pre-Covid level some time in 2022," the central bank wrote.
Resident wage growth also picked up in the second quarter and is likely to strengthen next year, when government policies such as the Local Qualifying Salary kick in to boost the minimum salaries of lower-wage workers.
Demand for labour will likely continue to rise at a "firm pace" in sectors such as information and communications, health and social services as well as financial and insurance services.
For sectors such as construction, manufacturing and domestic work, employers may also raise wages to retain their resident workers.
The central bank added that non-resident employment is also expected to stabilise and then rise gradually as Singapore shifts towards living with Covid-19 and as vaccination rates in the region improve, allowing more workers to enter.
"The overall level of employment, however, may not rise back to its pre-Covid level even by the end of 2022, in part because firms are expected to raise labour productivity, while demographic factors will continue to weigh on resident workforce growth."
WHAT ECONOMISTS SAY
Economists contacted by TODAY were generally in agreement that the labour market's recovery next year will be a slow one, in tandem with Singapore's gradual reopening and the global economic recovery.
Ms Selena Ling, head of treasury research and strategy at OCBC bank, said that the current stabilisation phase — which started on Sept 27 and has been extended to Nov 21 — has also dampened some initial hopes for a faster recovery in the consumer-oriented sectors.
"With vaccination rates continuing to rise and more vaccinated travel lanes being established, hopefully the effects on the labour market will be relatively short-lived," she said.
For the F&B and retail sectors that have been under pressure from community measures, economist Chua Hak Bin from Maybank Kim Eng expects their business to improve next year when employees are allowed to return to the offices.
The economists, however, sounded a note of caution about the limited supply of workers in Singapore caused in part by the border measures, the relatively tight foreign manpower policies, as well as the labour market mismatch.
"The tighter labour market is raising wage cost pressures that firms may have to pass on to consumers. Some firms may also have to shut down altogether," Mr Chua said.
"The worry is that the supply constraint of workers may hamper the recovery and many firms may not be able to capitalise in the upswing in demand."
Mr Song from CIMB said that as the economy recovers, workers may cheer because the strong labour demand could push up salaries.
But from a policy standpoint, wage growth should be sustainable and rise in tandem with productivity and economic growth, or it may risk impacting business costs and viability.
"If the labour slack continues to be taken up, we will have to import labour. To what extent we can import depends very much on the local market condition and how well the policymakers and politicians can explain the need of foreign workers to Singaporeans."