Older workers welcome rise in re-employment age, hope key benefits can be retained
SINGAPORE — The extension of the re-employment age to 67 was welcomed by mature workers here as a move that provided more job certainty, but some felt more could be done, such as ensuring workers retain key benefits such as healthcare.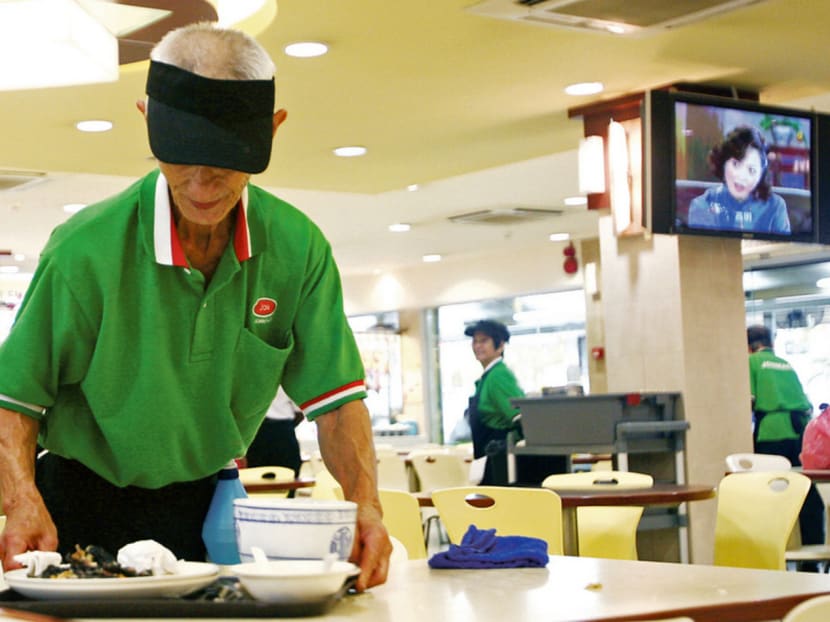 SINGAPORE — The extension of the re-employment age to 67 was welcomed by mature workers here as a move that provided more job certainty, but some felt more could be done, such as ensuring workers retain key benefits such as healthcare.
On Monday, changes to the Retirement and Re-employment Act were passed, which will see the re-employment age go up from 65 to 67, while employers will no longer have the option to cut employees' wages at the age of 60.
Employers will have more flexibility through the option of allowing consenting, eligible employees to be re-employed by another employer.
When his company asked him to stay on a one-year contract after he hit 65 years old, Mr Cheng, an engineer of 40 years, was happy to take it up.
"I'm still healthy, so I want to keep contributing ... To me, it's a good transition (before I reach) full retirement," said Mr Cheng, who did not want to reveal his full name.
When he starts his new contract next week, he will only work two-and-a-half days a week. But he will also no longer receive medical benefits, which he said was a pressing issue for workers like himself.
"You are getting older and if you don't have medical coverage by the company, it may be a (big) concern," said Mr Cheng, who plans to keep working for another two years or so.
Executive assistant Mdm Lee, 55, who has been with her company for six years, felt the amended laws recognise the needs of mature workers, but was worried that it might eventually mean higher Central Provident Fund contribution rates.
"Hopefully when they say they push back retirement, they don't say that they also want to increase CPF, so we take back less," she said.
Singapore Human Resources Institute president Erman Tan said the changes are progressive, but acknowledged that companies might take time to adjust. "(Some) might be worried about (higher) costs as (older workers) might not be as productive ... We need to educate the workforce to be more inclusive," he said.
Companies could look at offering flexible working arrangements such flexi-days or shorter work periods to ease costs, and "do a stock take" and look at innovative ways to redeploy older workers, he suggested.
Agreeing, Mr David Ang, director of capability and business development for Human Capital Singapore, said in preparing workers for continued employment, employers should see if they can retrain them in new skills or redesign jobs to accommodate them. HR would have to play an important role in forecasting the future business profile and skill sets needed, he added.
Businesses TODAY spoke to were in favour of the rise in the re-employment age, as it widens their pool of potential employees in a tight labour market.
"From a business perspective, as long as an employee can and is able to continue working, we're happy to have them. It's also not that easy to hire new people these days, so retaining older employees who have the experience can benefit the business," said Mr Wong, general manager of a manufacturing firm, who asked to keep his full name and company's name confidential. Out of his 120 employees, more than 30 per cent of them are aged 60 and above.
Another business owner, Mr Tang Siew Chuan of Jackson Bakery & Confectionery, also welcomed the move. Almost half of the 40 employees at the bakery are 60 years old and above.
"As long as they can and want to, we're happy to keep them and if physical strength is a concern, we'll try to assign them to simpler tasks," he said.
On the abolishment of the option to cut wages of employees who turn 60, businesses said they did not expect financial impact as they did not do so for their staff — in line with figures cited by Manpower Minister Lim Swee Say in Parliament on Monday that 98.5 per cent of companies with employees aged 60 and above did not reduce their wages in 2011.
National Trades Union Congress assistant secretary-general Patrick Tay said re-employment laws give workers the option to keep working.
"Some do so for a living, or are supporting young children, or still have financial commitments, or want to do so by choice to keep the mind active ... So in that sense, the re-employment law is (looking) at a mutual agreement between both parties. You can choose to retire or carry on, so it provides more flexibility and certainty for the worker," he said.
But given the "bumpy and uncertain" economic climate, employers who might not be able to re-hire the workers could turn to the Employment Assistance Payment scheme as an "exit route". The MediShield Life scheme will also provide some coverage for workers who lose medical benefits after being re-employed, he added.