One year after Covid-19 first detected in Singapore, business recovery still a mixed bag
SINGAPORE — Exactly 12 months after the first Covid-19 case was detected in Singapore, on Jan 23, 2020, the nation's businesses have navigated a year like no other, with the worst recession in the Republic's history, and unprecedented government support.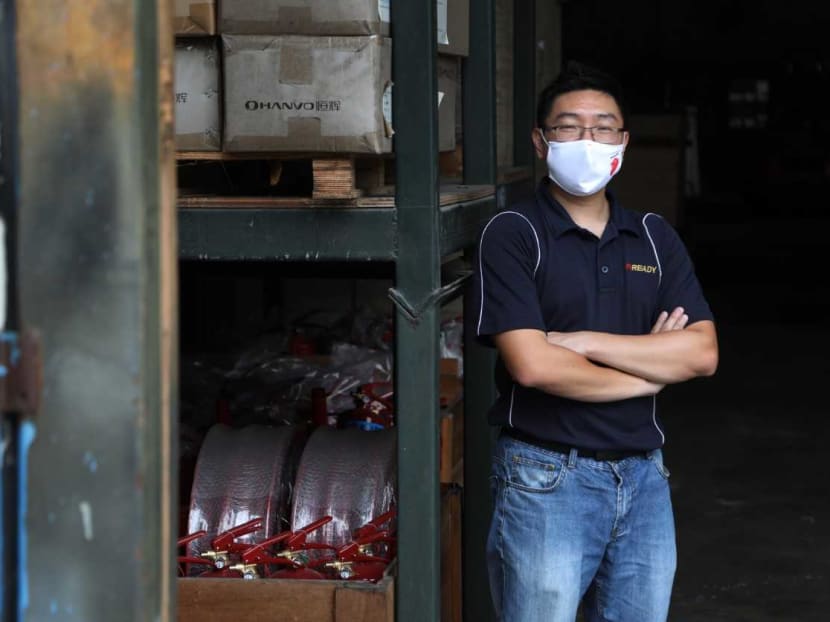 Some businesses have done better than before, while others are still struggling
Those that have emerged unscathed seized the opportunity to expand their product lines to products that suit pandemic times
Businesses that found it hard to pivot took heart that they were able to consolidate their businesses and wait it out
Some other businesses could only trudge along as their ability to grow is largely tied to the Government-mandated safe distancing requirements
SINGAPORE — Exactly 12 months after the first Covid-19 case was detected in Singapore, on Jan 23, 2020, the nation's businesses have navigated a year like no other, with the worst recession in the Republic's history, and unprecedented government support.
During the circuit breaker period in April and May, customer-facing businesses were virtually brought to a standstill as the authorities acted to bring the emerging health crisis under control.
Since then, most businesses, barring those in the aviation and tourism sectors, have been able to resume operations, at least to some extent, though things are hardly "normal" as some Covid-19 restrictions remain in place.
To get a sense of the impact of the pandemic on businesses here, TODAY spoke to 11 business owners and found that the unfolding recovery has been a mixed bag.
Some actually ended the year of Covid-19 doing better than before by pivoting their businesses. Others are not earning as much as they did in 2019, but are staying positive about their prospects in the year ahead. Then there are those which are still struggling.
CRISIS SEEN BY SOME AS A BLESSING IN DISGUISE
Among TODAY's sample, those doing better than before include Assemble, a men's tailoring and fashion store, and Fiready, which helps client firms address the risk of fire. Both say revenue has jumped about 20 per cent since pre-Covid days.
Remembering that he felt "concerned and paranoid" as news of Covid-19 emerged last January, Fiready's director, Mr Mak Ka Weng, 40, said the virus had forced him to think hard about what he would do if none of his clients could operate.
"Ideas were borne out of desperation. I just had to find a way. There was also luck, because we were already talking to a German manufacturer (which supplies disinfectant products)," he said.
So as early as February, Fiready diversified its business by offering disinfecting solutions and self-disinfecting coatings, and emerged unscathed when revenue and sales from its main business in fire servicing slumped 50 per cent in the April 7 to June 1 circuit breaker.
Mr Mak, whose four-year-old firm started the year with a headcount of five, could even hire two more employees, and attract its first clients from the "big boys" in the public sector and hospitality industry.
Covid-19 also gave Mr Mak renewed vision for his business as a "life saving company" that supplies "everything that saves lives'', instead of being just a fire safety firm, he said. That is why he also started distributing automated external defibrillators.
Another firm which acted nimbly as the crisis took hold, You Tiao Man, started three years ago as a manufacturer supplying frozen youtiao (dough fritters) to businesses such as caterers, hotels, airlines and restaurants.
As revenue plunged by 50 per cent when hotels stopped receiving tourists, its founder Audrey Chew, 37, quickly moved to modify its products so they could fit into common home appliances like air fryers, and launch an e-commerce platform to sell to consumers directly.
Ms Chew wondered if Singaporeans would buy frozen youtiao when they could get fresh ones at the market, but was surprised when they snapped up products such as its red-and-white beetroot youtiao, bade in conjunction with National Day, and otah charcoal youtiao.
Her clients include Madam Ho Ching, wife of Prime Minister Lee Hsien Loong, she added.
RECAPTURING THE DOMESTIC MARKET
Assemble's director Lyn Kua, 36, said that since October last year, her business started doing 20 to 30 per cent better than it did before Covid-19 after the firm took a huge risk by expanding the business at a time when brick-and-mortar stores were shutting by the dozens.
The expansion in August, from a smaller unit in Orchard Central to a bigger one to accommodate a new brand, Accent, that focuses on women's tailoring, rode on attractive rental rates offered by the landlord, given the bad Covid-19 times, said the 36-year-old.
She and her partner also felt that it was time to focus on growing its domestic clientele since Singaporeans who used to travel to places like Bangkok and Vietnam to tailor their clothes could now only look to local tailors instead.
Couples are also spending more on wedding-related clothing as they are not spending as much on wedding receptions, which under current Covid-19 rules can accommodate only up to 100 guests, she added.
Mr Khairul Amri Mohd Sidik, 34, co-founder of Picneeds, which provides logistics for picnics and special events, said the number of bookings has seen an uptick of 20 to 30 per cent compared to this time last year.
"People used to fly overseas to celebrate their anniversaries, going for a short holiday to Bali, for example. Now, everyone is here. So I look at it as our domestic market being fully utilised… We do have a lot more customers now. It is quite positive actually," he said.
SOME BUSINESSES ARE HARDER TO PIVOT
Businesses that found it hard to pivot and are still not out of the woods include travel and outdoor supplies store X-Boundaries, which experienced a "bungee jump" in sales.
From a "high" of achieving its best January sales results last year, it is still grappling with a drop in revenue of more than 50 per cent this month, said its cofounder, Mr Wong Yuen Lik, 49.
But the firm "hasn't hit the floor" as the past few good years have "helped to pull us back", he said. "I am fortunate enough that I can consolidate my business. Some companies couldn't."
Wedding photography firm A Merry Moment invested a few thousand dollars last September to provide live-streaming services for couples who had to downsize their weddings or wanted to invite their overseas guests to watch online.
A live-streaming service set up for a marriage solemnisation ceremony by wedding photography firm A Merry Moment, which added this to its offerings when the pandemic hit. Photo: A Merry Moment
Its co-founder Petrina Ng, 38, said her company is getting a healthy number of bookings for the service, but she had to deal with a backlog caused by couples who have paid their deposits but opted to postpone their weddings from last year to this year.
At the same time, she started receiving a lot of last-minute bookings coinciding with Phase Three of Singapore's gradual reopening of the economy on Dec 28, as couples got more comfortable making plans knowing that up to 100 guests can be allowed.
"Last year, the guidelines were all over the place. It was such a mess. Couples dared not plan ahead, so they just sat tight… The new bookings are making up for the past year, but there was a loss of course," she said.
For Smitten Ice Cream Bar, which opened one week before the circuit breaker kicked in and relies mainly on walk-in customers since it deals with a fast melting commodity, business was projected to do several fold better as the outlet is located near offices and schools.
Circumstance had forced them to think out of the box by coming up with ways to better preserve their ice cream desserts and making deliveries on their own, but the earnings were still "some way off", said one of its four owners who wanted to be known only as Mr Lim, 32.
"We put in about S$60,000 anticipating to turn over in the one-year mark, but we haven't broken even," he said, adding that Smitten had only managed to cover 50 per cent of the outlay so far.
"We do hope the Government can provide more subsidies or stimulants."
SAFE DISTANCING STILL A LIMITER
Some other businesses could only trudge along as their ability to grow is largely tied to the Government-mandated safe distancing requirements.
These include massage parlours like Refresh TCM Wellness and gyms like Boulder Movement, which are running at about 80 per cent of their former capacities.
Mr Jansen Ko, who co-founded Boulder Movement, said business declined 40 to 50 per cent last March after a Covid-19 case was reported at another climbing gym, then "dropped to zero" during the circuit breaker.
"Businesses that managed to pivot, they did well. For those who can't or wouldn't, it was two months of no income, plus a sea of red ink. Fixed costs we couldn't run away from," said the 33-year-old. "I had to look through our expenses line by line and try to cut costs."
After that, business "never got back to pre-Covid levels", he said.
Business was notably even slower for its OUE Downtown branch, located in the Central Business District, as many office workers were still working from home, he noted.
It helped that Boulder Movement opened its second branch in Tai Seng last September, which was closer to people's homes, he added, but its launch was four months overdue as renovation works had to halt when the Covid-19 situation worsened.
"Contractors had to deal with a lot of regulations… Workers were stuck behind borders. It is not as if we can snap our fingers and get things going," said Mr Ko.
Its new slot booking system to limit the number of climbers who can use its gyms at any time of the day, to 30 in Phase Two, which kicked in on June 19, and 38 in Phase Three, had also put off some members, he said.
"Customers complain, saying that there are always no available slots on certain evenings. (They say) 'I stayed on the waitlist, wait and wait and wait, but then the slots still weren't unavailable. I cancel my membership lah. I can't utilise my membership well'," he said.
Mr Hart Tan, 42, who owns family portrait studios Tomato and Bambini Photo, said his firms are fitting in fewer shoots a day to make time for proper sanitising after every shoot and create a "bubble" of one hour between shoots in case customers arrive late or early.
Due to a regulation that there can only be a maximum of 10 individuals per shoot, he had also lost business from big families that usually come in to get their family portraits done before Chinese New Year, he said. It used to account for 30 per cent of his year-end shoots.
But Mr Tan is glad to have walked away with a new lesson this year.
All along, he had applied the principle that companies should be able to withstand a zero-income stress test for at least nine months, but his Covid-19 experience has led him to think that nine months are still a little too short.
"I have to increase it to 12 months for a greater peace of mind," he said.