Opposition MPs press for details on Govt's error on use of TraceTogether data
SINGAPORE — Opposition Members of Parliament (MPs) pressed Foreign Affairs Minister Vivian Balakrishnan in Parliament on Tuesday (Feb 2) for details on how he made an error in not stating that data from the TraceTogether contact-tracing programme can be used in criminal investigations.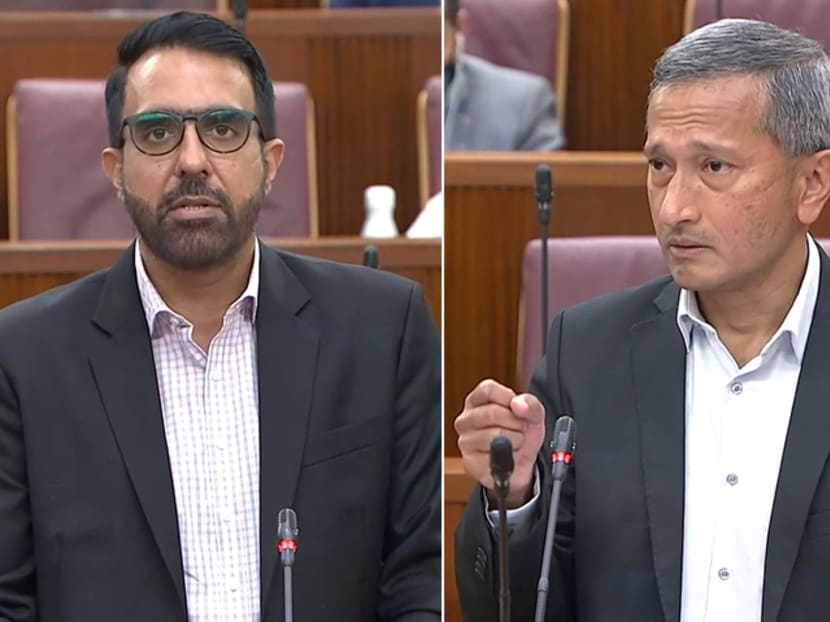 Opposition party members wanted details on why the Government took so long to disclose that TraceTogether data can be used in criminal investigations
Leader of the Opposition Pritam Singh said details were needed so the public would regain trust in the Government
Dr Vivian Balakrishnan said he was aware that he misspoke only in late October last year
Progress Singapore Party's Leong Mun Wai said the Government was making a bad tradeoff between public trust and public health and safety
Dr Balakrishnan said he should avoid false dichotomies such as choosing between saving a child's life and the public benefit of digital contact tracing
SINGAPORE — Opposition Members of Parliament (MPs) pressed Foreign Affairs Minister Vivian Balakrishnan in Parliament on Tuesday (Feb 2) for details on how he made an error in not stating that data from the TraceTogether contact-tracing programme can be used in criminal investigations.
They also asked Dr Balakrishnan, who is Minister-in-charge of the Smart Nation Initiative, why it took so long for the Government to come clean that such data can be used for purposes other than fighting the Covid-19 pandemic, given that blanket assurances were given from at least the middle of last year.
The opposition MPs noted that the police had even managed to access data from TraceTogether when investigating a murder that occurred in May last year.
They were speaking during the debate on the Covid-19 (Temporary Measures) (Amendment) Bill that would restrict the use of personal contact-tracing data to investigating seven types of serious crimes.
Among them was Leader of the Opposition Pritam Singh who said that the details were needed so that some Singaporeans would regain their trust in the Government.
He asked for the exact date when Dr Balakrishnan knew that Section 20 of the Criminal Procedure Code (CPC) — which empowers the police to access specific data necessary for the investigation of crime — would apply to TraceTogether.
He also questioned if Dr Balakrishnan had known that the CPC would apply to TraceTogether before Mr Christopher de Souza, MP for Holland-Bukit Timah Group Representation Constituency (GRC), filed a parliamentary question in late December that eventually brought the error to light on Jan 4 this year.
Mr Singh, the secretary-general of the Workers' Party (WP) and MP for Aljunied GRC, said that the answers would allow the public to pinpoint whether the Government could have corrected the position and updated the public on its own initiative.
His fellow Aljunied GRC MP Sylvia Lim, who is WP chairman, separately asked: "The bigger question is: For all these months, why did no one in the Government step forward to correct the misrepresentation that TraceTogether was fully ring-fenced for Covid-19 tracing?"
Mr Leong Mun Wai, Non-Constituency MP (NCMP) of the Progress Singapore Party (PSP), asked when the police first accessed the data, and whether they had considered that they would be breaking a promise that the Government had given to limit such data to contact tracing.
HE REALISED HIS MISTAKE IN LATE OCTOBER
In answering these queries, Dr Balakrishnan said he became aware that what he said was wrong at the end of October last year, after a member of the public had asked if he was sure that CPC would not apply, even for a murder case.
At that time, he got a staff member to check the legal provisions. That was when he was informed that CPC applied and that the police had already requested TraceTogether data on one occasion.
In the month that followed, he said that he had many sleepless nights, double-checked the legislation and engaged in several rounds of discussions with senior Cabinet members to deliberate on whether and how the use of TraceTogether data should be carved out from the CPC.
Aware that he had given an assurance in June last year, he also told a staff member then that "regardless of the outcome of this internal review... we will clarify". So he took the opportunity to do so when Mr de Souza filed a related parliamentary question last December.
Speaking in Parliament on Tuesday, Mr Desmond Tan, Minister of State for Home Affairs, said that the police first accessed TraceTogether data when investigating a murder that occurred in May last year, adding that it was in line with the police's powers under the CPC.
However, investigators were unable to get any useful data because the TraceTogether app was not installed on the suspect's phone, Mr Tan added.
Having tabled the Bill on behalf of Law and Home Affairs Minister K Shanmugam, Dr Balakrishnan said on Tuesday: "I am sharing this with you so that you'll understand that there is nothing to hide. The CPC is written law. But I should have been aware, and I should have made it clear right from the onset. I've reflected that if, in June, I had added four words, 'subject to prevailing legislation', perhaps we wouldn't be here this afternoon. Nevertheless, it has occurred."
AVOID FALSE DICHOTOMIES, MINISTER WARNS
During the debate, which lasted more than four hours, Mr Singh said that WP is prepared to support the Bill for the reason that the exceptional criminal cases identified in the Bill do not cover the wide ambit of Section 20 of the CPC.
Mr Leong, in stating that PSP objects to the Bill, went a step further to say that the Government would compromise public health and public trust for some benefit in public safety by passing the Bill in its current form.
"PSP is not objecting to this Bill for the sake of objecting," he said. "We have thought of supporting it with some changes. But to trade off public trust in public health measures, which must be of utmost priority in a pandemic crisis, for public safety is too much to give for us after much consideration."
Mr Leong's point drew a question from Leader of the House Indranee Rajah who wanted to know if PSP's position would be to leave TraceTogether data untapped in the scenario that a child was kidnapped and there were no other signs of evidence except for the data.
Replying in the affirmative, Mr Leong said: "Of course, in many of the decisions that we make, there is a tradeoff… What you say is that public trust plus the needs of public health, both of these benefits are less than the benefits that you draw, or you expect to draw, from public safety."
Ms Indranee, who is also Minister in the Prime Minister's Office, retorted: "He is right. There is a tradeoff, but we will not trade a child's life for something like that."
Dr Balakrishnan warned against false dichotomies along this line of reasoning, reiterating that it was better for the Government to be transparent and fix the error rather than double down on the mistake.
"False dichotomies I've heard today is that you have to choose between saving the life of a child and participation in digital contact tracing," he said.
"I believe, by being completely open, transparent, answering every question, explaining, and letting people see the purpose behind what we're doing and why we're doing it, I believe we can avoid this dichotomy."
He also said that one of the reasons that Singapore is better off than other countries when it comes to the Covid-19 situation is because the country's response had not been politicised.
"And I am grateful to Mr Singh and the Workers' Party that, unlike in other countries where wearing a mask or not wearing a mask is a badge of political identity, we have avoided that kind of political dichotomies," he added.
"So for people who are angry or disappointed in my mistake, you're entitled to do that. But don't deprive yourself and your loved ones of the protection from this system."
Before the debate closed, Mr Leong asked what was behind the minister's decision in making the tradeoff, saying again: "It is about one victim versus thousands of possible dropouts from the TraceTogether programme."
Dr Balakrishnan said: "That's why I referred to false dichotomies. In contrast to you, the Workers' Party, in my view, has taken a more responsible position that so long as you can envisage certain extreme, serious offences for which you need to make an exception, then this Bill, with its construction, is necessary."
He continued: "If you vote against the Bill, then the status quo applies. And the status quo is that the CPC has licence over this data as well. So, I would still appeal to your good sense and your sense of responsibility to the nation to do the right thing."
Dr Balakrishnan stressed that by making the admission of his own error, it was not politically expedient or convenient, but it was the right thing to do.
"I thank the Workers' Party for standing with us and doing the right thing in the midst of a crisis. I hope PSP can do likewise, but that's your decision," he added.
Mr Leong and fellow PSP member Hazel Poa, who is also an NCMP, still opposed the Bill and said "no" when the vote was taken, and the Bill was passed.