Being outdoors 2 hours a day keeps myopia away, but some Singapore parents say 'no way'
SINGAPORE — To save your children's eyesight, let them have at least two hours of outdoor time every day. That is the main message that eye experts from Singapore National Eye Centre (SNEC) want to drive home as a new Myopia Centre in Bedok opened on Friday (Aug 16) and SNEC launched a new children's book, titled Amanda the Panda: Outdoor Play Keeps Myopia Away.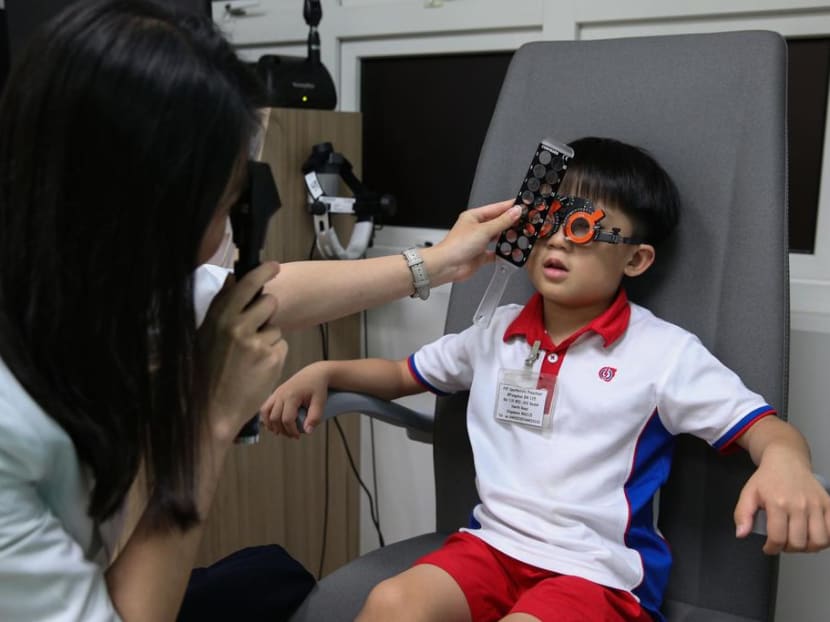 SINGAPORE — To save your children's eyesight, let them have at least two hours of outdoor time every day. 
That is the main message that eye experts from Singapore National Eye Centre (SNEC) want to drive home as a new Myopia Centre in Bedok opened on Friday (Aug 16) and SNEC launched a new children's book, titled Amanda the Panda: Outdoor Play Keeps Myopia Away.
However, squeezing time out for outdoor activities daily is easier said than done, parents interviewed by TODAY said.
A short-sighted perspective? It may well be, because eye doctors said that the long-term effects are worrying.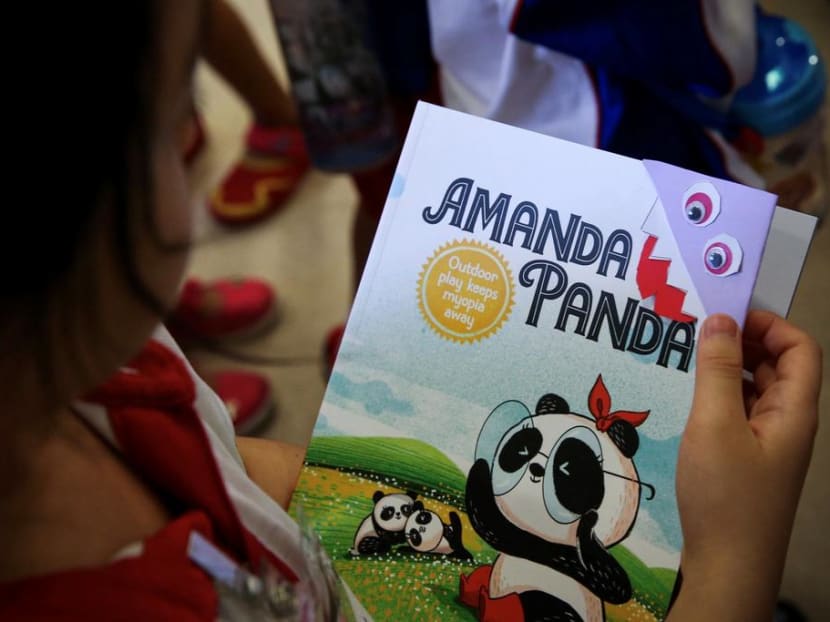 Childhood myopia is also on the rise and shows no signs of abating.
Singapore's myopia rate is among the highest in the world — with 65 per cent of children here being myopic, or short-sighted, by Primary 6.
Associate Professor Audrey Chia, a senior consultant ophthalmologist and the book's co-author, highlighted that while only 30 to 40 per cent of the resident population born in the 1930s to 1950s have myopia, more than four in five (83 per cent) of young adults now have the condition.
At the opening of the Myopia Centre — which provides clinical services for both children and adults — Dr Lam Pin Min, Senior Minister of State for Health, said that there is an urgent need for "synergistic" efforts to counter myopia.
"By 2050, it is projected that 80 to 90 per cent of all Singapore adults above 18 will be myopic, and about 15 to 25 per cent of these individuals may have high myopia (myopia of 500 degrees in each eye)," he stressed.
CHILDREN BORN AFTER THE 1970s
Assoc Prof Chia, who is also the head of SNEC's paediatric ophthalmology and strabismus department, said that myopia became increasingly prevalent in children born after the 1970s, most likely due to an increased focus on academic pursuits, decreased outdoor activity and increased near-distance work.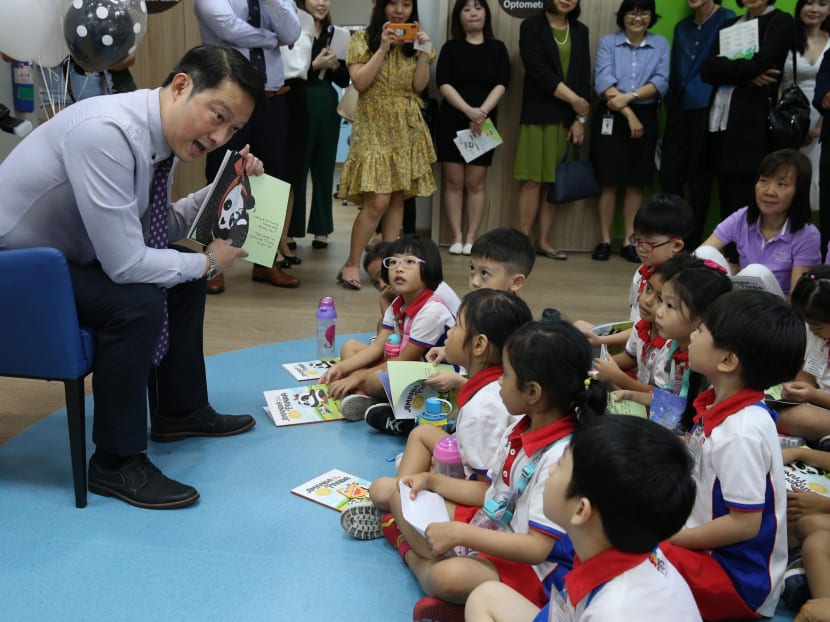 In Singapore, myopia generally sets in when a child is around seven to nine years old and progresses rapidly during their primary school years.
Children who get myopia at a younger age have a higher risk of developing high myopia, Assoc Prof Chia said.
A common — but dangerous — misconception is that myopia is a mere inconvenience, given that blurred vision can be corrected with optical aids such as spectacles, contact lens or even surgery such as Lasik later in life, eye doctors said.
Associate Professor Marcus Ang, consultant ophthalmologist at SNEC and clinical director of the Myopia Centre, explained that myopia develops as the eyeball gets longer and its complications are "related to the irreversible structural changes in the eye".
"Optical correction or surgery doesn't cure myopia or reduce the risk of developing complications," he said.
In higher magnitudes, myopia puts one at risk of many sight-threatening complications such as early cataracts, retinal detachment or macular degeneration.
Assoc Prof Chia said that most of these potentially blinding eye disorders tend to happen after the age of 40.
"Some parents may wonder, 'What's the problem with myopia? I have it, too. I can still see, so what's the issue?' But the main issue with myopia, particularly in high myopia, is what happens later on in life.
"And consider this: Very soon, all the high myopes born after the 1970s (when myopia became more prevalent) will be approaching their 40s and 50s. We fear that all these (high myopia-related) problems will increase for this group."
SUNLIGHT AFFECTS EYE DEVELOPMENT
Assoc Prof Chia noted that some children start getting myopia as young as around five years old, and they may experience very rapid progression of myopia of around 150 degrees a year.
Studies, however, suggest that regular outdoor time of two hours of day in young children prevents myopia and its progression by around 10 to 20 per cent, she said.
Exactly how outdoor time combats myopia is not confirmed, but there are several theories on why it works.
Myopia is caused by an eyeball that is too long. This causes light rays to focus in front of the retina, instead of on it, leading to blurred vision when viewing distant objects.
Factors such as increased light exposure outdoors and depth of field, and the release of dopamine (one of the brain's neurotransmitters), are thought to affect the way eyes develop as the child ages.
Children with myopic parents are more likely to become myopic, but experts said that it is not a simple matter of genes.
The genetic component of myopia is about 30 per cent; the rest could be due to a combination of factors including more time being spent indoors, on studies and working near screens, Assoc Prof Chia said.
Assoc Prof Ang, who co-authored the children's book with Assoc Prof Chia, said that myopia prevention and control has to start from a young age.
"Good eye habits, or spending more time outdoors, is key to preventing myopia development in children as young as three to six years old, based on clinical studies," he added.
Besides that, the two eye doctors hope that parents may help children learn about good eye care in a fun and engaging way through their newly published illustrated children's book, which is suitable for those aged three to eight.
The story tells how a panda cub's blurred vision improved after spending two hours a day outdoors — a number recommended by the World Health Organization for children to maintain good eyesight.
"We chose a cute character (a panda cub) that young children can relate to, as we know that anything that requires behavioural change is always challenging," Assoc Prof Ang said.
WHAT PARENTS SAY
Despite evidence that outdoor time is crucial for children, eight out of 10 parents who spoke to TODAY said that their long work hours and their children's school routine make it difficult for them to schedule regular outdoor outings.
Assoc Prof Chia said that there are cultural and lifestyle constraints that may make it challenging for eye experts to sell the "outdoor" message to Singapore parents.
"The parents we see at our clinics are usually quite concerned about their children's myopia. But when we ask them if they can take their kids outdoors for two hours a day, they go, 'no way'," she said.
"While some schools encourage outdoor play, not all schools do. Some (teachers) may not want the kids to go back to their lesson after recess, all smelly and sweaty. Again, it's a cultural issue."
Mr Marcus Gan, 35, an operations officer, whose nine-year-old son has myopia of around 360 degrees in each eye, said: "Where got time to do that every day? My son might fail his exams if he doesn't complete his homework or revision."
Ms Easwari Selliah, 40, a director of an IT company, said that it is tough for parents to schedule two hours of outdoor time on weekdays. 
"Once a week might be possible but not every day. Usually, both parents work to survive in Singapore, and then they will be tired after work. Even when the school cuts down on homework, parents may still send their kids for extra tuition," she added.
That said, Ms Easwari's 12-year-old daughter has perfect vision, which she attributes to ample time spent outdoors at playgrounds in her early childhood.
Even Assoc Prof Ang, 39, who has a three-year-old son, admitted that he finds it "extremely difficult" to keep to an outdoor schedule, but he tries to make sure his son picks up good eye-care habits.
Unlike Assoc Prof Ang's early childhood years in the United States, where he spent a majority of his preschool hours outdoors, his son Avery gets fewer opportunities to go outdoors.
WAYS TO SNEAK IN MORE OUTDOOR TIME
There are parents who have succeeded somewhat in letting their children get two hours of outdoor time.
On weekdays, Ms Pearlyn Chionh, 46, gives her three children two hours of free play from 5pm to 7pm, during which they may choose to play outdoors, such as going to the playground, playing badminton, cycling or riding on their kick scooters with their friends.
Her children, aged seven, 11 and 12 years, have perfect vision.
"I think it's about making a conscious effort to do something outdoors. Families can find an activity to do together — there are many playgrounds and beaches to explore in Singapore," Ms Chionh, a realtor, said.
Dr Juliana Chan, chief executive officer of Wildtype Media Group and editor-in-chief of Asian Scientist Magazine, said that another way to bump up outdoor time is to choose a preschool that favours play-based learning and outdoor activities.
Her children, aged three and six, spend around 30 minutes outdoors in their kindergarten. After school, they get 60 to 90 minutes of outdoor time swimming and spending time at the playground with neighbours.
Dr Chan, 36, enlists her helper and her mother — who used to run an optical shop and is well aware of good eye-care habits — to arrange for outdoor play dates and activities on weekdays.
"As long as there is a group of kids around, the children always seem to find something to do and never seem to want to go home," Dr Chan added.  
On weekends, the family spend time at parks.
For their son's preschool, Assoc Prof Ang and his wife, who is also an ophthalmologist, intentionally chose an open-air concept school that focuses on outdoor time for most part of the school day.
At home, Avery gets virtually no screen-time and he has a well-lit bedroom with large windows, which lets in natural sunlight.
"I try to spend 30 to 60 minutes with Avery outdoors — to the playground, cycling for instance — every day after work. Over the weekends, we take longer outdoor trips. For me, it's also a time for me to bond with him," Assoc Prof Ang said.
For children who are already in school, consider choosing a sport or outdoor-based activity, such as track and field, for their co-curricular activity, Dr Chan said.
Assoc Prof Chia said that parents of primary school children may also encourage them to play in the sun after having their meals during recess instead of, say, cooping themselves up in the library.
Increasing indoor lighting may help, since it is believed that higher intensities of light may retard myopia progression.
However, Assoc Prof Ang said it is important to note that nothing beats a good dose of sunshine: Some studies show that even when all the lights are switched on indoors, the light intensity is nowhere compared to that of natural sunlight.
"It's not enough to just have your child sit by the window in a well-lit room — it's not like putting a plant by the window," he said.
He reminded parents that outdoor time is not just good for the eyes, but also good for the child's emotional and physical well-being.
"Improving physical activity and reducing sedentary time may help reduce childhood obesity, for example, and interactions during outdoor time is key for child development."
Amanda the Panda: Outdoor Play Keeps Myopia Away, published by Wildtype Books in collaboration with SNEC and the Myopia Centre, will be available at primary schools and libraries across Singapore. It is sold at bookstores such as Kinokuniya and Huggs Epigram at a recommended retail price of S$12.90 each.