Over 285,000 Singaporeans benefitted from SkillsFuture Credit since its launch
SINGAPORE — Three years after its launch, over 285,000 working adult Singaporeans have benefited from SkillsFuture Credit, with more of them using it for the first time last year.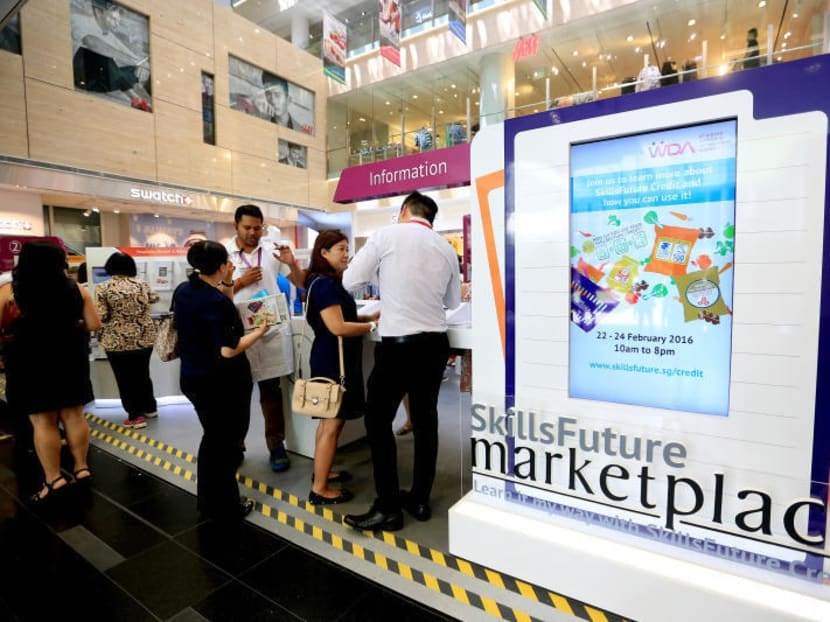 SINGAPORE — Three years after its launch, over 285,000 working adult Singaporeans have benefited from SkillsFuture Credit, with more of them using it for the first time last year.
At a media briefing on Thursday (Feb 1), SkillsFuture Singapore's (SSG) chief executive Ng Cher Pong said a total of 160,000 people had utilised their credits last year. Infocomm technology courses were among the most popular.
The 2017 take-up rate was higher than the 2016 figure, when 126,000 had used their credits.
"It is a good, positive sign that Singaporeans are heeding the call that they're taking ownership, and they're charting their own learning and their own career paths," said Mr Ng.
The SkillsFuture Credit scheme provides Singaporeans aged 25 and above with a S$500 credit to take up training courses to upgrade their skills and promote lifelong learning.
Mr Ng also touched on the progress of other initiatives that have been implemented since the push for a nationwide SkillsFuture movement was introduced in 2015.
The chief executive said that some 120,000 have signed up for the SkillsFuture Mid-Career Enhanced Subsidy scheme, which was launched in October 2015 and provides a 90 per cent cut in training course fees for mid-career workers aged 40 and above.
In addition, four months after it was launched last October, more than 4,600 Singaporeans have come onboard the SkillsFuture for Digital Workplace programme, which aims to prepare workers for the digital economy. The programme aims to reach out to 100,000 people over the next three years.
More than 4,600 Singaporeans have also tapped on the SkillsFuture Advice for Individuals since its launch last October. Under the programme, workshops are conducted at venues such as community centres to help Singaporeans understand how to utilise the various SkillsFuture schemes.
While these figures showed that Singaporeans are "charting their own learning and career paths", Mr Ng said there is no single indicator that can determine the progress of the SkillsFuture initiative as a whole.
But what SSG can do is assess the various programmes based on the goals that have been set to better understand whether they are moving in the right direction, said Mr Ng. He also noted that the agency is conducting various studies to assess the effectiveness of ongoing courses.
These include studying how the skills learnt are utilised in the workforce and whether undergoing training programmes translate to salary increments.
Since the SkillsFuture initiative was introduced, there have been cases of members of the public as well as training providers abusing the system.
For instance, in January last year, 4,400 individuals were found to have submitted false claims and encashing their SkillsFuture Credit without attending any courses.
Most recently in December, a 41-year-old Singaporean – believed to be part of a crime syndicate – was charged in court for allegedly making S$40 million bogus SkillsFuture claims in what is the largest defraudment of a public institution to date.
With such scams taking place, a Process Review Committee – comprising SSG board members – has been formed to review policies and procedures related to training grants.
Last month, Education Minister (Higher Education and Skills) Ong Ye Kung said that a "good and effective" data analytics system will be in place from the third quarter this year to bolster SSG's fraud detection system.
When asked for updates on the processes review, Mr Ng said that more information will be shared at a later date. But he added that any changes "should not detract from the objective of the scheme which is to benefit a lot of people".
"We should not make Singaporeans suffer because of a few black sheep," he added.