PA launches S$1,000 grant for cause-based volunteers as part of new efforts to spur civic participation
SINGAPORE — The People's Association (PA) on Saturday (Oct 29) announced two new initiatives, including a S$1,000 seed grant for ground-up projects, to enable diverse segments of society to contribute to the community in their own ways.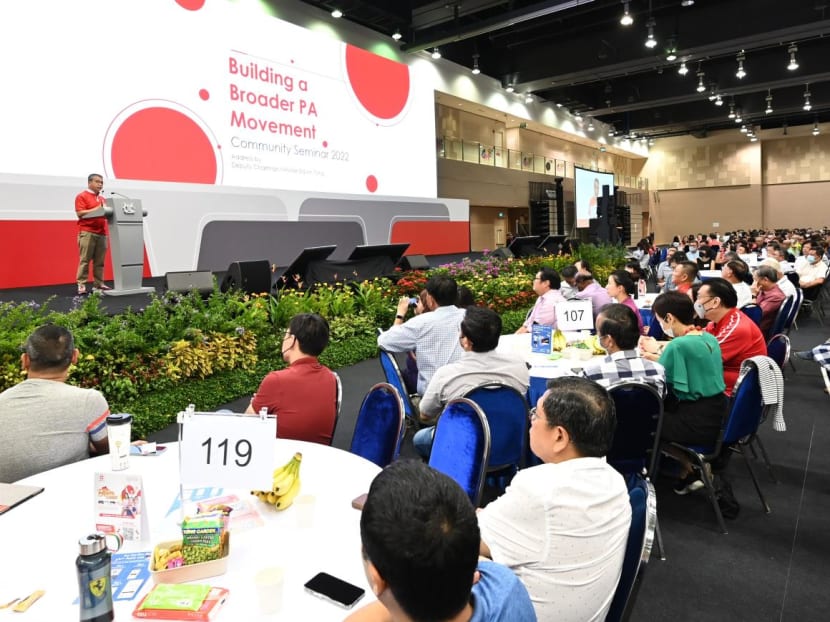 The People's Association (PA) on Saturday (Oct 29) launched two initiatives to encourage civic participation among members of the community 
These initiatives include a S$1,000 seed grant to kick-start cause-based projects based on individuals' interest
PA will also support neighbourhood-based projects by linking up individuals to relevant networks and resources
Meanwhile, Minister for Culture, Community and Youth Edwin Tong announced that PA's constituency offices will be given more manpower to better support their work
SINGAPORE — The People's Association (PA) on Saturday (Oct 29) announced two new initiatives, including a S$1,000 seed grant for ground-up projects, to enable diverse segments of society to contribute to the community in their own ways.
The initiatives will be focused on two broad areas, namely cause-based volunteering opportunities and neighbourhood-based ones.
The move was in response to a greater diversity of community involvement on the ground and the public being more inclined towards informal forms of civic participation, said PA .
"This was evident during the Covid-19 pandemic, which saw individuals and groups come together, form cause-based networks and drive ground-up initiatives to help those in need," it said in a media statement.
S$1,000 GRANT UNDER COMMUNITY VOLUNTEER SCHEME
To support community involvement based on residents' varying interests, the PA will roll out a Community Volunteer (CV) scheme from November, following the success of several pilot projects in recent months. 
"With the CV scheme, PA aims to grow and develop more avenues for participation, enable more to serve their communities in ways that they want," said PA, adding that the scheme will offer residents more flexibility in selecting the causes they wish to contribute towards and determining their level of commitment.
Besides offering a grant of up to S$1,000 per project to help kick start such ground-up efforts, PA will also lend support by matching interested parties with available volunteering opportunities or helping them identify needs in the community.
PA will also link volunteers to networks and resources and work with partners and other agencies such as SG Cares to cross-share volunteering opportunities.
Applications for grant amounts more than S$1,000 will be assessed on a case-by-case basis, said Minister for Culture, Community and Youth Edwin Tong at PA's Community Seminar 2022 held at Our Tampines Hub on Saturday.
Speaking later to reporters, Mr Tong, who is also deputy chairman of the PA, said that the scheme will support a wide spectrum of causes.
"As long as this moves the needle and serves the ground in some way, we will support," he added.
Asked whether the grant will be tied to any key performance indicators to ensure that the money is spent properly, he said: "We obviously cannot disperse (the grant) without any financial governance, but at the same time it is meant to kick start — it's a small sum to kickstart project, to defray operational expenses, and the range of activities can be varied." 
Responding to TODAY's query on the qualifying criteria and if there are any particular causes that will not be supported by the scheme, Mr Tong added: "Well anything that, as I said, supports our ground, improves people's lives, fosters a stronger sense of cohesion and harmony in the community — we will support."
He did not disclose the overall budget set aside for the scheme, but said that it would be money well spent as long as people benefit from the scheme.
"And in some ways, blowing the budget in this case, would be a good problem to have," he said.
On ensuring the continuity of the projects under the scheme, Mr Tong said that not all projects need to be repeated.
"But I think the people behind the projects, we can harness that talent and the goodwill and bring them into community-building efforts as well," he said.
In his speech earlier addressed to 1,800 PA volunteers, grassroot leaders and community partners, Mr Tong said that since the cause-based volunteering scheme was announced in last year's seminar, PA had supported several pilot projects on furniture recycling and free haircuts to seniors.
Other resident-led causes that have been supported include reducing food wastage and enhancing digital literacy, said PA in its statement.
Besides cause-based projects, PA also wants to encourage civic participation in neighbourhoods.
"This initiative will support residents interested in caring for their immediate neighborhoods, to do so," said PA, citing how for instance, it could support residents who feel strongly about encouraging others to recycle.
In his speech, Mr Tong had also cited an example of how a housewife and part-time home-based entrepreneur had set up a shared library under her void deck, which helped to build a stronger sense of community among neighbours.
He added that these projects underscore how PA's community efforts can be broadened.
PA will lend support for such initiatives by linking individuals with relevant government agencies or identifying potential partners.
"Through this initiative, the Residents' Commitees, Neighbourhood Committees and Rseidents' Networks will also be able to better meet the needs and aspirations of residents in improving their neighbourhoods," said PA.
Interested individuals or groups who wish to find out more about the CV scheme can approach any Community Centres/Clubs to explore volunteering opportunities.
BEEFING UP PA'S CAPACITY
Mr Tong also announced on Saturday that more support will be given to PA staff on the ground.
He said that during his visits to constituency offices, he heard directly from staff members and grassroots leaders about the demands on workload and the resourcing challenges they face.
Stressing that PA's work involves building relationships and requires "boots on the ground", he announced that each constituency office will be provided with one to two additional staff to support their work.
He said that recruitment was already underway, with some additional staff already deployed to some offices.
On top of beefing up manpower, Mr Tong said that efforts are being made to reduce workload of staff members by tapping technology and streamlining back-office functions.
When asked by the media on specific timelines on the roll-out of additional manpower, he said that the process has started and is expected to be completed in a couple of months.
"People on the ground must have a passion to be in the neighbourhood, be in the community. I think it's easy to find, it's not difficult, but we also want to ensure that there's a right match," he said.