Pair of 11-year-old boys found dead at Greenridge Crescent playground after call from father for assistance: Police
SINGAPORE — Two 11-year-old brothers were found dead on Friday (Jan 21) night at a playground along Greenridge Crescent in Upper Bukit Timah, the police said.
The police said that they received a call on Jan 21 for assistance at a playground along Greenridge Crescent in Upper Bukit Timah 
When officers arrived at the scene, the male caller's two 11-year-old sons were found motionless and later pronounced dead
The police are probing the two unnatural deaths
Residents in the area described to TODAY what they saw and heard that evening 
SINGAPORE — Two 11-year-old brothers were found dead on Friday (Jan 21) night at a playground along Greenridge Crescent in Upper Bukit Timah, the police said.
In response to TODAY's queries on Saturday, the police said that they had received a call for assistance at 6.25 pm on Friday by a man.
"When police officers arrived at the scene, the man's two 11-year-old sons were found lying motionless in the vicinity of the playground and were pronounced dead at scene by a paramedic," they added. 
"Police investigations into the case of unnatural death of the two boys are ongoing."
The small playground is located at the edge of a quiet and hilly residential neighbourhood. A 2m-wide drain cuts through the playground and leads into a forested plot of land behind it.
TODAY understands that the bodies of the boys were found in the drain. 
At the scene on Saturday afternoon, dozens of what appeared to be pillows were strewn along the drain at various points where water was flowing through.
Several residents stood around the playground discussing the case.
Occasionally, a police car would drive by and pick up a few men dressed in plain clothes.
At about 4pm, two women and a man — later identified to be relatives and friends of the boys — arrived to perform prayer rituals.
They placed two packets of food, two canned drinks and lit four candles next to a drain beside the playground.
They were accompanied by a man who said that he runs Singapore Yin Feng Shui Funeral Services. 
Giving his name as only Mr Fong, he told reporters that he was engaged by the boys' parent to perform prayers.
He declined to reveal more information, saying that the boys' family members "just want some closure and, if possible, (to be left) alone in peace".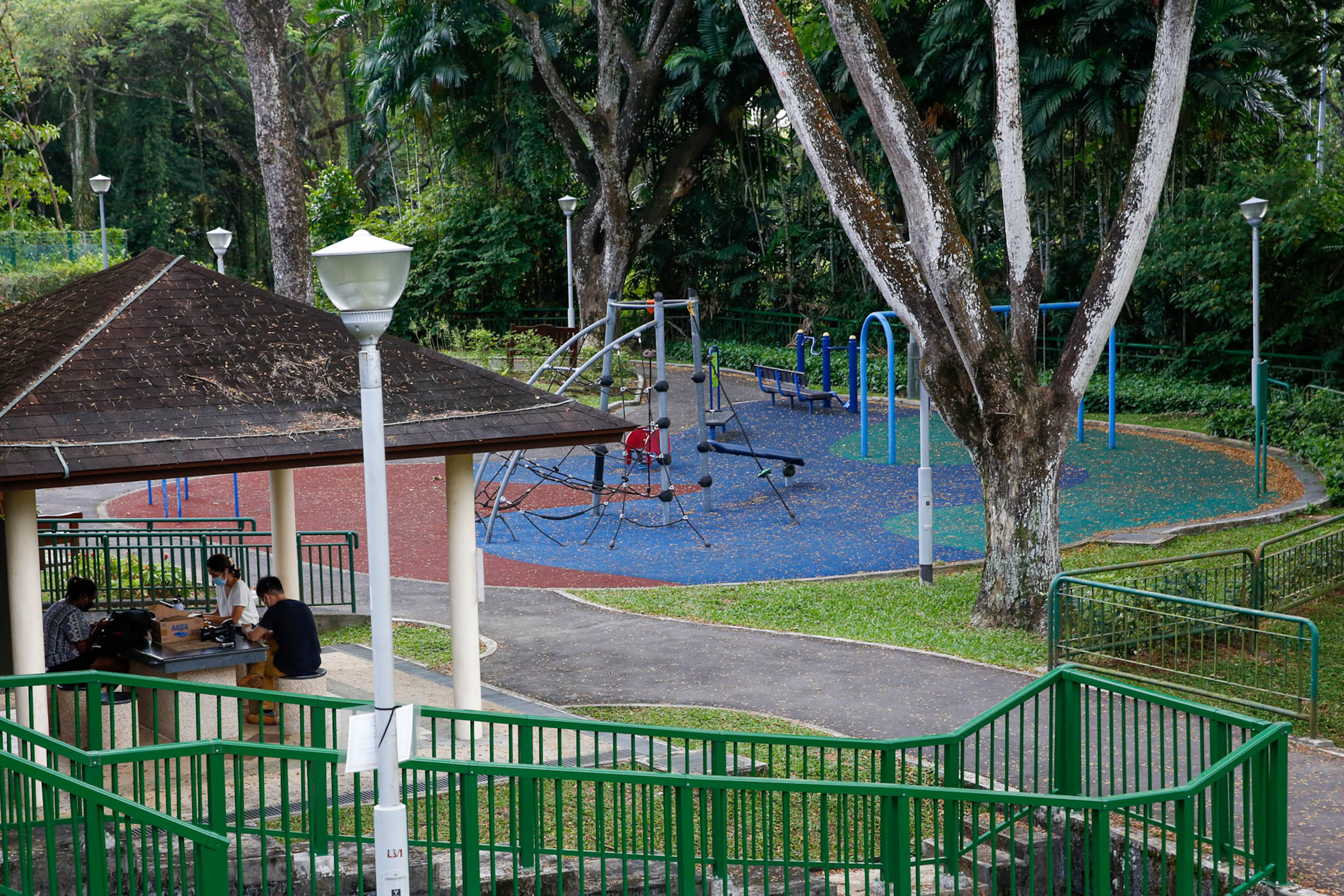 WHAT RESIDENTS SAW
Residents told TODAY that from around 7pm on Friday, the entire playground and the surrounding forested area was cordoned off by the police.
A resident, who wanted to be known only as Madam Soh, said that she saw more than a dozen police vehicles and ambulances and many officers combing through the area.
She said that the officers were equipped with searchlights and had search dogs with them.
"There were so many police officers, you would think there was a terrorist," she said.
"They would not say what had happened. They just told us to stay at home."
Another resident, who identified herself only as Mrs Goh, 69, said that around that time, police officers visited her at home to ask if she had any surveillance cameras installed in her home. She did not have any. 
The back of her landed property faces the forested area.
Another resident, who gave his name as just Mr Wong, 68, said that he saw a woman near the playground on Friday night sobbing, saying that her friend's twins had died.
A resident who lives near the playground and who wanted to be known only as Mr Yim said that his domestic worker had heard screams on Friday evening coming from the playground but did not think much of it then.
He added that he does not know any children around the boys' age living in the neighbourhood.
Mdm Soh said that the playground is usually quite deserted.
"Very few people go there. Very often, they will visit the other, bigger parks that are nearby."
Ms Sim Ann, a Member of Parliament for Holland-Bukit Timah Group Representation Constituency, urged the public not to speculate on the case.
"This is a grave tragedy, and unthinkable especially to anyone who is a parent. I know the news is deeply shocking and upsetting to our community," she wrote on Facebook.
Ms Sim, who is also Senior Minister of State for Foreign Affairs and National Development, added: "Our thoughts and prayers are with the family of the children who have lost their lives so tragically."
CORRECTION:
The headline in an earlier version of the article wrongly stated that the playground is in Greenwood Crescent. It should be Greenridge Crescent. We are sorry for the error.