Parents play IT role as system glitches mar first day of home-based learning for primary schools
SINGAPORE — The first day of home-based learning for primary school pupils got off to a glitchy start on Wednesday (April 1), with some parents spending most of their morning playing the role of IT specialists.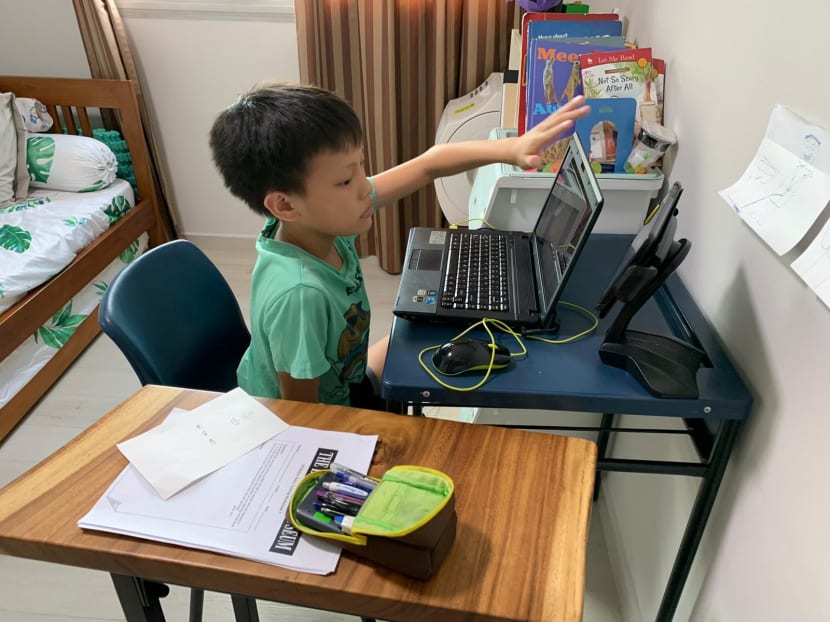 SINGAPORE — The first day of home-based learning for primary school pupils got off to a glitchy start on Wednesday (April 1), with some parents spending most of their morning playing the role of IT specialists.
Some parents told TODAY that they had difficulties logging on to the Student Learning Space (SLS) — an online learning portal by the Ministry of Education (MOE) which contains learning resources — as the system experienced periodic hiccups before noon.
Others had problems logging on to the other online platforms used by teachers including Zoom, a video conferencing app, and Google Classroom, an online learning platform.
Mr Winston Tay, 43, who works in digital marketing, said his 12-year-old son missed all his classes in the morning as a result of technical issues.
His son successfully logged on at around 3.20pm and by then had missed his science and English classes. While waiting for technical issues to be resolved, his son joined his six-year-old daughter in watching cartoons.
The MOE had announced earlier that from April, all schools will adopt one day of home-based learning a week where pupils will learn remotely from home through a mixture of e-learning and physical learning resources.
The move follows a recent spike in imported cases of Covid-19 and new safe-distancing measures that kicked in on Friday. It comes amid calls by some to shut schools after the discovery of two new clusters of Covid-19 cases occurring in education institutions — the PCF Sparkletots preschool in Fengshan and Dover Court International School.
Primary schools took the lead in trying out home-based learning first on Wednesday. Secondary schools will follow suit on Thursday, and junior colleges and centralised institutes, such as Millennia Institute, will do so on Friday.
Some schools chose to structure the home-based learning lessons around the pupils' usual timetable while others had specially tailored new lesson plans for Wednesday.
For some pupils, not all of the assignments took place online — some were given a mixture of e-learning and hard copy worksheets, which were given out beforehand, to complete.
In addition to the academic subjects, some pupils also attended physical education lessons online and were tasked to do jumping jacks and running.
'THERE ARE SO MANY WEBSITES'
Aside from troubles logging on to the SLS system, some parents described confusion over having to toggle between different websites and online applications that their children had been asked to sign up for.
"There's Google Classroom, Zoom, SLS, eZhishi for Chinese… There are so many websites it was driving me crazy," said Ms Georgina Thang, whose two children are aged nine and 12.
The 51-year-old added that the stress multiplied when her children started asking her for homework help.
"You have to be the teacher as well because they don't always know all the answers. So it will be a challenge for working parents because someone will have to monitor and guide them," said Ms Thang, who works part-time as an administrative staff.
Agreeing, Ms Carrie Ng, 41, whose two sons are in Radin Mas Primary School, said having her children at home has made her more unproductive with her work.
"When they're at home my husband and I cannot start work on time because we have to help them… and now one of us has to be home every Wednesday to supervise them," said Ms Ng, who works in the logistic sector.
Ms Ng said that while she has the flexibility to work from either home or office, she would not want to be at home every Wednesday as it was too noisy with so many people at home at the same time.
'TEETHING ISSUES' EXPECTED
Acknowledging the technical glitches experienced by some pupils, Education Minister Ong Ye Kung asked parents to be patient as MOE worked to iron out the kinks, which he described as "teething issues".
"There is a lot of adjustments to be done. Hence, it is important to get this started, involving every student, for one day a week.
"It is not easy and it's not perfect, but we are tapping our collective efforts to get this to work during such exceptional times," he wrote in a Facebook post on Wednesday.
In responses to queries by TODAY, MOE acknowledged that while most students were able to access the SLS, some users experienced intermittent problems between 8am and 9.50am. 
It said that this was a result of the higher volume of traffic to the platform. 
"These issues were resolved by a series of technical measures to better manage the increased user numbers. MOE will continue to ensure that the system remains accessible to users," said MOE. 
It added that while home-based learning has been practised by schools for a while, this is the first time it is being done nationwide.
"We seek the understanding of students and parents as we iron out these teething issues," said the ministry in an e-mail. 
Teachers, it said, have been provided with a guide for home-based learning, as well as resources and strategies to aid effective teaching and learning from home.
Meanwhile, students are encouraged to exercise self-discipline in video lessons and in following the instructions from their teachers.
Anticipating that some issues may surface as pupils get used to home-based learning, Mr Eric Wong, 46, said his son's form teacher had chosen to conduct a trial run on the first day to iron out the logistical kinks.
Mr Wong said that was a good idea because the lesson started out a "little messy" at first with 25 chatty Primary 1 pupils speaking over each other as they excitedly said "hello" to their friends on the screen.
His son's school, Concord Primary, had also made preparations a month prior to Wednesday by getting pupils to log on to the SLS platform every weekend so that they could handle the remote learning on their own.
Despite the initial hiccups, some parents said they are relieved that MOE has made the move to transition pupils to do more remote learning.
A housewife, who wanted to be known only as Latha, 36, said since the outbreak started she has been worried that her two children, who are aged seven and 10, would get infected in school.
"It is better to have more days of home-based learning. Even if they fall behind on school work they can still catch up next year. Safety is my main concern," she said.