Parliament in brief: School sexual misconduct cases on the rise? More complaints about noisy HDB neighbours? Ministers answer
SINGAPORE — Numerous sexual misconduct cases involving university students or staff members had made headlines lately, but there has been "no discernible" trend in the number of cases in recent years, Education Minister Lawrence Wong said.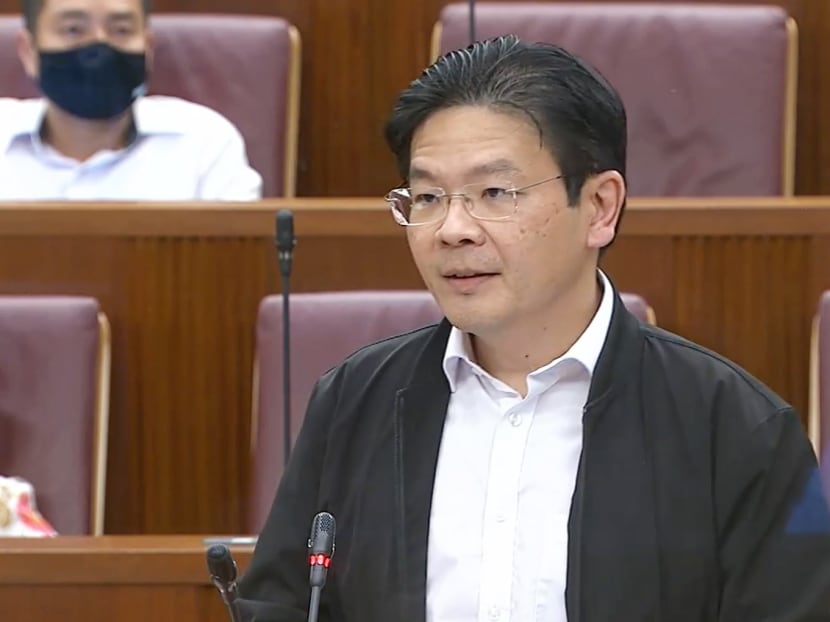 MOE sees no discernible trend in the incidence rate for sexual misconduct cases in pre-university institutions and institutes of higher learning
HDB received 11,400 complaints relating to noise from neighbours from January to September 2020
About 600,000 Singaporeans have utilised their first tranche of S$500 SkillsFuture credits as of August 2020
SINGAPORE — Numerous sexual misconduct cases involving university students or staff members had made headlines lately, but there has been "no discernible" trend in the number of cases in recent years, Education Minister Lawrence Wong said.
Between 2015 and 2019, there were a total of 205 disciplinary cases related to sexual misconduct involving staff members or student perpetrators in pre-university institutions and institutes of higher learning, he added.
These cases had occurred both within and outside schools and campuses. This translates to 0.13 cases for every 1,000 staff members and students a year on average. 
Mr Wong was giving the figures on Tuesday (Jan 5) in a written reply to Mr Seah Kian Peng, Member of Parliament (MP) for Marine Parade Group Representation Constituency (GRC). Mr Seah had filed a question for an oral answer in Parliament on whether there has been a discernible increase in the number of sexual misconduct cases in post-secondary and tertiary institutions in the last five years.
The written answer was issued because the question was not answered by the end of question time during Tuesday's parliamentary sitting.
There were other questions that were meant to be answered in written form.
Here are some of them.
1. Sexual misconduct and assault cases
Responding to Mr Seah, Mr Wong said that the Ministry of Education (MOE) and the educational institutions take a "strong stance" against all cases of sexual misconduct and are committed to providing a safe teaching and learning environment for staff members and students.
"We will continue to work closely with schools and the institutes of higher learning to tackle the issue of sexual misconduct holistically, including through enhancing education on respect and appropriate behaviour, strengthening support for victims, tougher disciplinary frameworks and enhancing infrastructure where appropriate."
In the same vein, Ms Raeesah Khan, MP for Sengkang GRC, had asked Home Affairs Minister K Shanmugam for a written reply on the number of sexual assault cases involving teachers and students, including at private education institutes and tuition, in each of the past three years.
Mr Shanmugam said that from 2017 to 2019, there were 6,988 reports of sexual assault, including rape, sexual assault by penetration, outrage of modesty, and sexual offences involving children and vulnerable victims.
"Of these 6,988 cases, 109 were between teacher and student, with 'teacher' including private tutor, coach, and related roles," Mr Shanmugam said.
This accounts for a minority across the types of sexual assault cases seen, which mostly happened between strangers (2,957 cases), friends (2,243 cases), colleagues (619 cases) and relatives (599).
2. Noisy neighbours
The Housing and Development Board (HDB) saw a spike in the number of complaints relating to noise from neighbours in public housing estates in 2019.
HDB received about 11,400 cases of feedback relating to noise from residents' daily activities from January to September last year, about three times more than the 3,600 or so cases for the same period in 2019, National Development Minister Desmond Lee said.
Mr Lee was replying to a question by Mr Vikram Nair, MP for Sembawang GRC, who had also asked if HDB will consider expressly setting out acceptable levels of household noise, educating the public on these levels and taking enforcement measures.
Mr Lee said that HDB received about 500 cases a month from January to March, and this shot up to some 1,800 cases a month from April to July, when the circuit breaker to restrict activites kicked in and people had to stay home.
Even as Singapore progressively reopened its economy, leading to the return of students to school and more employees to their workplaces, HDB still received about 1,300 such cases a month from August onwards.
"In a high-density living environment, some amount of noise is inevitable," Mr Lee said.
"It is important that residents do their part by showing consideration for their neighbours, such as by keeping the noise level down, especially late at night, in order to ensure a pleasant living environment for all."
He said that in most cases, residents cooperate when informed about the noise they were causing.
"We should not resort to excessive enforcement, as doing so is not only intrusive, but also destroys the social fabric of HDB living," Mr Lee said.
In case of disputes, parties can seek mediation at the Community Mediation Centre, or in more intractable cases, refer the matter to the Community Disputes Resolution Tribunal, he added.
3. More people using SkillsFuture Credits
In a year where the Covid-19 pandemic wreaked havoc on the economy, more Singaporeans made use of their SkillsFuture Credits to pick up new skills and develop new interests.
It was previously reported that 500,000 people or so had used their first tranche of S$500 SkillsFuture Credits as of the end of 2019.
In an update on Tuesday, Mr Wong said that about 600,000, or 23.5 per cent of eligible Singaporeans, had utilised their opening SkillsFuture Credit of S$500 as of August last year.
About 9 per cent of Singaporeans had fully utilised the credits or almost fully utilised them, while the other 14.5 per cent had partially utilised their credits, with remaining balances of more than S$50.
Mr Wong was responding to an oral question by Mr Melvin Yong, MP for Radin Mas.
Giving more details, Mr Wong said that the authorities have seen an increase in the use of the credits over the past six months in particular, from 22.2 per cent in May 2020 to 24.9 per cent in Nov 2020.
"The increase could be due to improved awareness of upskilling opportunities and stronger personal interest in upskilling to enhance one's employability amid the volatile jobs situation last year," Mr Wong said.
4. Help for the homeless
Since May 2019, the authorities have engaged with 1,200 homeless individuals via outreach and through referrals made to the Partners Engaging and Empowering Rough Sleepers (Peers) office uner the Ministry of Social and Family Development (MSF).
Mr Masagos Zulkifli, Minister for Social and Family Development, said that all 1,200 persons are assisted by appropriate help agencies, which include Family Service Centres for social work support and Social Service Offices for financial assistance.
Of these, 251 have moved on to longer-term housing, and the rest are housed in safe, sound sleeping places (S3Ps) or other forms of shelter arrangement such as transitional shelters.
He noted that MSF, the Ministry of National Development and HDB have been partnering many community groups under the Peers network, which aims to engage, befriend and assist rough-sleepers.
Mr Masagos gave these details in response to oral questions from Mr Faisal Manap, MP for Aljunied GRC, who had also asked for the number of unsuccessful applications for this group under HDB's Public Rental Scheme, and why they did not succeed.
Mr Masagos said that 142 of the 251 individuals who have moved on to longer-term housing have shifted into a rental flat under the HDB scheme.
As for the remaining 109, they have either returned home, moved into family members' homes or to alternative accommodation arranged by their employers.
He added that some of the individuals may not be eligible for public rental homes at the outset because they may own a property, have family members who can house them, or do not meet the citizenship criterion. HDB's website stated that applicants must be Singapore citizens.
"HDB works with partners of the Peers network to assess the circumstances of each case and will exercise flexibility if the individual has no other housing options."