Part of Orchard Road to go car-free once a month
SINGAPORE — After two years, plans to make a part of Orchard Road pedestrian-only are finally coming to fruition.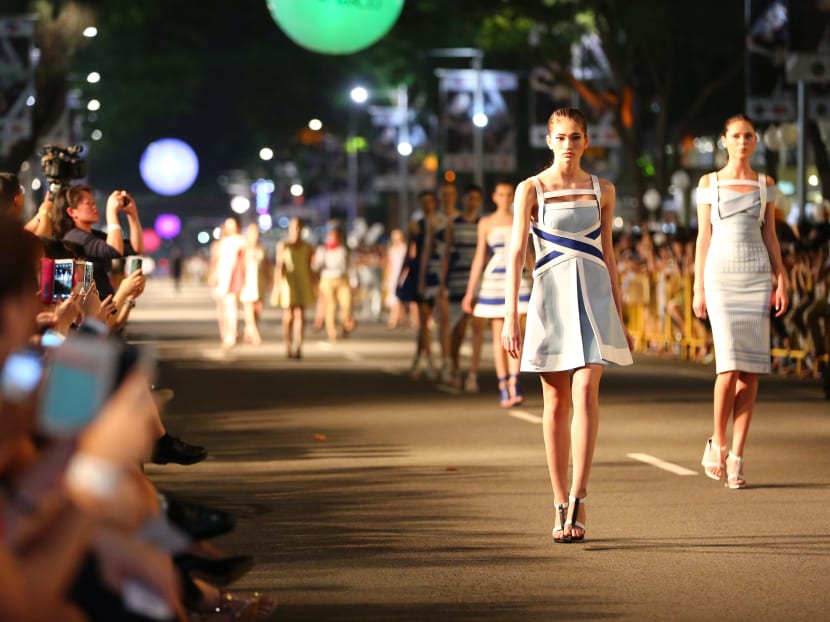 SINGAPORE — After two years, plans to make a part of Orchard Road pedestrian-only are finally coming to fruition.
Starting next month, a 660m stretch of the road — running from ION Orchard to Ngee Ann City — will turn into a pedestrian-only street on the first Saturday of every month from 6pm to 11pm.
This six-month pilot of Pedestrian Night on Orchard Road, led by the Orchard Road Business Association (ORBA) and supported by the Singapore Tourism Board, will create a space for community activities. Kicking off the line-up is Tennis Pops Up @ Orchard Road on Oct 4, held in conjunction with the upcoming Women's Tennis Association Finals, where the public will get to try their hand at playing tennis on the streets and watch demonstrations by pro players.
Said ORBA chairman May Sng: "Pedestrianising Orchard Road adds another dimension to our iconic precinct. Orchard Road will no longer just be a shopping belt, but a vibrant lifestyle destination with an array of exciting activities for all to enjoy."
In November, yoga enthusiasts can look forward to a mass yoga event with a renowned instructor, while a Christmas-themed carnival will take to the roads in December.
Orchard Road is no stranger to going car-free. Back in 1989, the thoroughfare from Paterson Road to Grange Road was closed to traffic once a month. This stopped after several months when fewer events were held and public interest subsided.
The idea was revived in 2012 as part of ORBA's proposal to enhance public spaces on the shopping belt. Tourism and architecture experts then lauded major cities such as London, Tokyo and Beijing, where main shopping streets are permanently pedestrian-only, but also advised organisers to study road usage patterns before undertaking the project.
The ORBA said "intensive discussions" with businesses and government agencies started six months ago, and they identified the five-hour window on Saturday evenings as the least disruptive.
However, some retailers were concerned that diverting traffic would cause business to suffer. "(They) are concerned that visitors (who drive) might be put off visiting Orchard Road because they think the precinct is inaccessible," said ORBA executive director Steven Goh.
Mr Allan Chia, head of the Marketing Programme at SIM University's School of Business, said the initiative would be a draw for shoppers and tourists, but managing the fallout from the event would be critical.
"For example, how will the congestion be dealt with in terms of pedestrian and vehicular traffic and also car parking? Other issues include security and safety, and maintaining cleanliness of the area," he said.
Mr Goh said they have communicated to retailers that car parks of the malls along this stretch will remain fully accessible despite making it pedestrian-only, while those taking the buses can alight before or after the pedestrian-only zone.
Based on the Land Transport Authority's traffic monitoring data, the stretch sees about 2,000 vehicles hourly during this time period. Signage has been put up around the precinct to advise motorists of road closures and route diversions. Announcements will also be made through social media before each Pedestrian Night.
Retailers TODAY spoke to were not confident that the initiative will boost business. Mr Jimmy Tan, who owns a souvenir shop at Lucky Plaza, said visitors to the street events are unlikely to come by his shop. "No one comes to Lucky Plaza these days. And if the road is blocked, drivers will have to drive one round to the car park at the back. Who will do that?" said Mr Tan, whose shop has been around for 18 years.
Mr Raj, who helps out at Dollars & Scent Duty Free Perfume store at Lucky Plaza said: "There's both good and bad. Good because it might bring more people to our shop. Bad because if they cannot drive here, people say 'I might go other places, why come here?'."
Others like Ms Carol Liu, store supervisor of The Wright Gift at ION Orchard, felt it was too early to tell if business would be affected. "It depends on the type of activities (Pedestrian Night) offers. If they can draw a crowd to Orchard Road, it might bring more people to our shop," she said.
Mr Goh agreed that "creative programming" is key to making the pilot successful. "We are, therefore, very excited to see the different suggestions or proposals from the community," he said.
Individuals and community groups can email pedestriannight [at] orchardroad.org with their ideas and feedback.