Plans for Paya Lebar Air Base to be 'new generation town', Springleaf estate to retain rich biodiversity
SINGAPORE — As part of a future master plan for the space freed up from Paya Lebar Air Base, the area may be transformed into a "new generation town with homes, jobs and lifestyle options" for the community, along with a network of parks, nature corridors and waterways.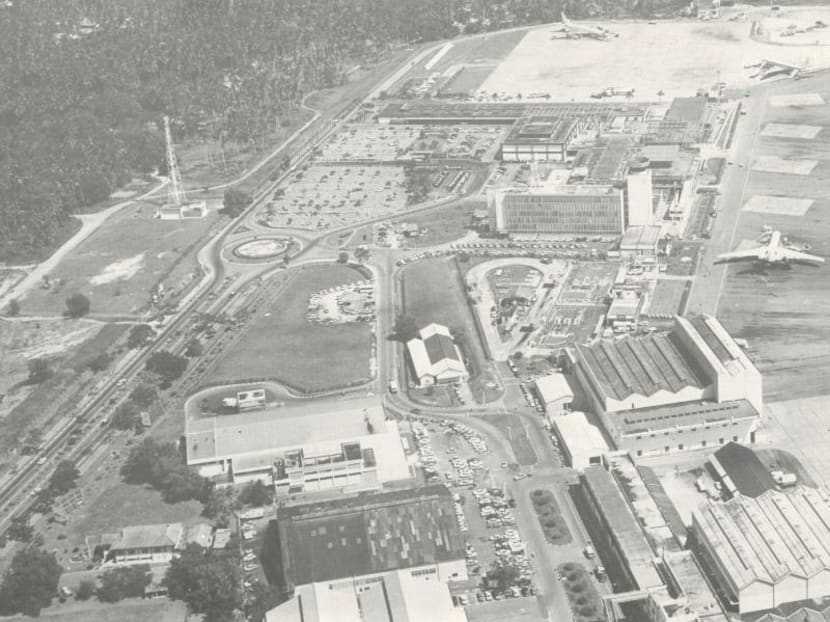 The planned relocation of Paya Lebar Air Base will free up about 800ha of land for redevelopment
URA is looking at ideas and planned concepts to transform it into a place for housing needs and recreation
In one proposal, the facilities and infrastructure of the air base such as its historic buildings will be retained through adaptive reuse
An exhibition of URA's plans over the next 50 years is being held and the public is invited to give feedback
For Springleaf new town, which is located near Springleaf MRT Station along Upper Thomson Road, there are plans to conserve biodiversity-sensitive areas there
SINGAPORE — As part of a future master plan for the space freed up from Paya Lebar Air Base, the area may be transformed into a "new generation town with homes, jobs and lifestyle options" for the community, along with a network of parks, nature corridors and waterways.
The Urban Redevelopment Authority (URA) said on Monday (June 6) that it is exploring ideas and concepts for the redevelopment of the airport area and its surroundings — which together is about five times the size of Toa Payoh town — with a view to keeping its heritage elements intact.
For instance, the airport's 3.8km-long runway could be used as a community space to host events.
Over in the northern part of the island, URA is still reviewing the development of the future Springleaf new town along Upper Thomson Road to meet housing demands while ensuring that the biodiversity in the area will be protected.
These updates were made at the launch of a public exhibition for its long-term plan review after a year-long public engagement. 
The exhibition, titled Space For Our Dreams, was officially opened by Mr Desmond Lee, Minister for National Development and Minister-in-charge of Social Services Integration. 
It showcases strategies and planning concepts that will guide the country's development plans over the next 50 years.
PAYA LEBAR AIR BASE
The planned relocation of Paya Lebar Air Base will free up about 800ha of land in the eastern part of Singapore.
"It presents an exciting opportunity to improve connectivity between the north-east and eastern parts of our island," URA said.
"The lifting of height restrictions around the air base will also allow us to better optimise land and rejuvenate the surrounding areas," it added.
The authority said that it engaged the Singapore Institute of Architects and Singapore Institute of Planners to work with it on the developments. 
Apart from the possibility of building homes for the population there, the area could become a "distinctive job node" that may help bring employment closer to residents — with connections to surrounding towns and extensions of existing networks into the site. 
Paya Lebar Air Base was originally Paya Lebar Airport, which opened in 1955. It was converted to be used as a military air base in 1981, after Changi Airport began operations that same year to handle increased passenger volume and air services as Singapore's new civil airport.
One proposal is to develop a heritage district anchored on the site's history as a former international airport, where existing infrastructure such as the old airport runway, terminal building and other historic buildings form the foundation of its transformation through adaptive reuse, URA said. 
For example, the new districts could be based off a key heritage feature such as a hangar or a runway. 
Each neighbourhood or cluster of buildings may also have unique civic facilities or public spaces that are aimed at becoming destinations of interest for residents in the area. 
Within each neighbourhood, smaller, flexible spaces may be used to pilot temporary community programmes such as pop-up events and facilities, which can be changed whenever necessary.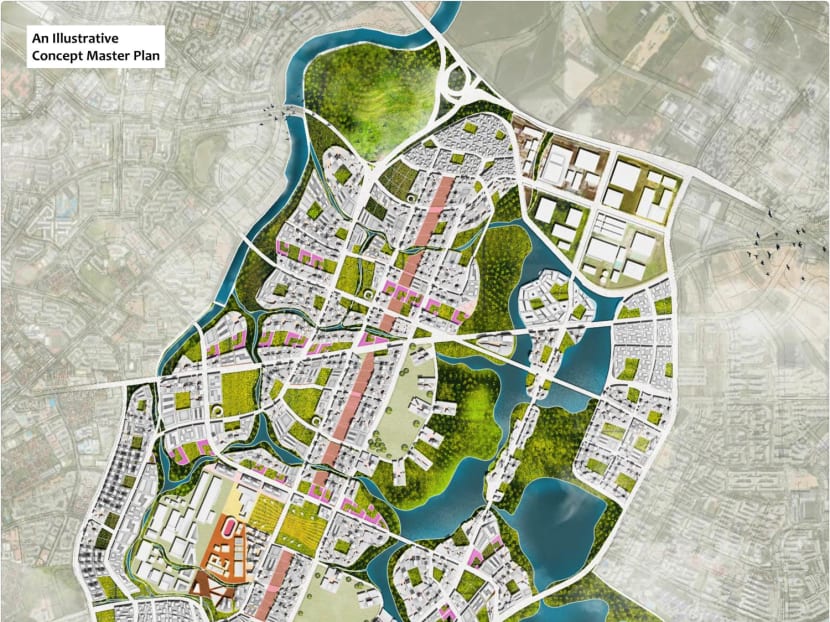 A network of signature parks and waterways has also been proposed to embed nature with future redevelopments.
There will be the addition of the still-in-construction Cross Island Line running through the area, as well as cycling and park connector networks from neighbouring estates. 
The redeveloped site may also have integrated live-work areas that could make use of technology to improve residents and visitors' access to related services and data. 
A network of parks, nature corridors and waterways will be woven into the new town to support biodiversity and offer recreational options close to nature at the same time. 
As part of environmental sustainability efforts, the amenities to be built in the air base area could derive half of its energy needs from renewable resources such as solar farms and waste-to-energy plants. 
SPRINGLEAF

NEW TOWN
As for its plans for Springleaf estate in the north, URA said that with the opening of Springleaf MRT Station last year, the addition of housing units in the precinct will help to leverage the improved accessibility in the area and meet housing demands.
It announced plans to build more homes at Springleaf as part of its master plan in earlier years. 
In response to TODAY's queries on Monday, a URA spokesperson said: "The residential areas to be developed within the site are planned for private housing."
The forested areas at Springleaf, home to a variety of native flora and fauna, sit at the southern end of the Khatib Nature Corridor.
Bounded by Seletar Expressway, Mandai Road and Upper Thomson Road, the precinct has been partially zoned under the categories of mixed commercial and residential, park and reserve site in URA's master plan since 2014.
URA said that it conducted an environmental baseline study in 2018 that was led by a multidisciplinary team including ecologists and landscape architects. 
The study was aimed at exploring ideas for sensitive urban development that would protect the biodiversity in the precinct.
Over the last three years, it also conducted several engagement sessions to get inputs from industry experts, academics, as well as nature and heritage groups.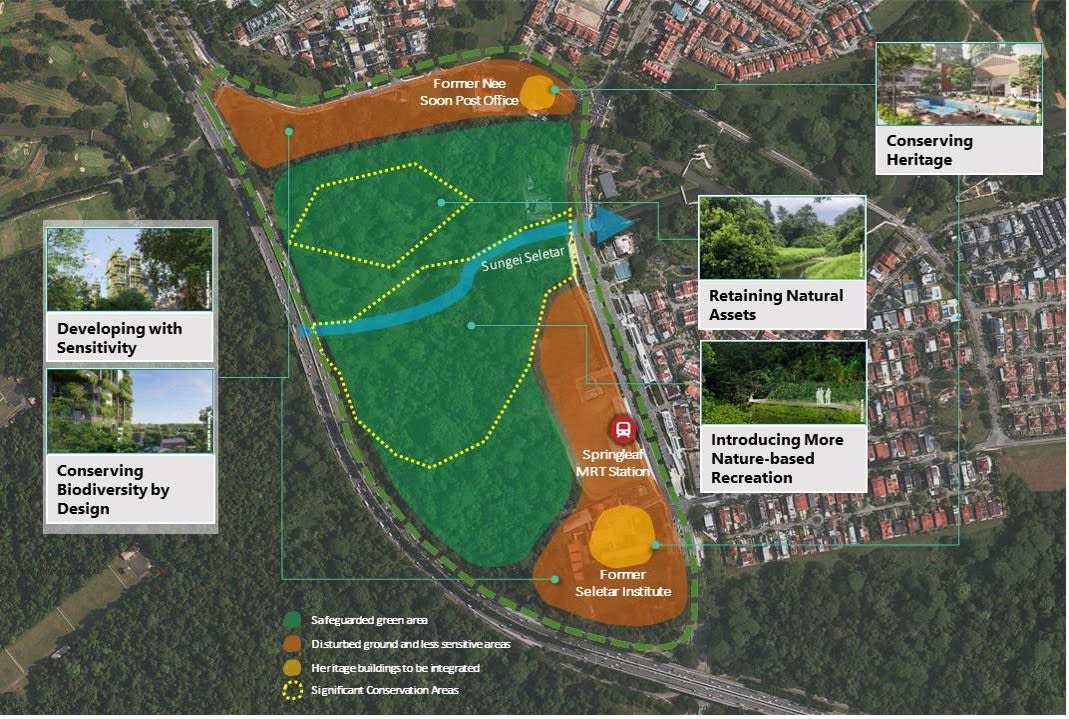 Following that, URA listed several key planning and development strategies.
They include the conservation of significant biodiversity-sensitive areas in the forest at Springleaf estate, while the immediate surroundings will be retained. 
Some developments are expected to be done around the already disturbed ground movements due to the construction of Springleaf MRT Station.
Parts of the former Seletar Institute and Nee Soon Post Office buildings will be conserved and later integrated into future developments. 
Seletar Institute was a pre-university centre for students taking GCE A-Level examinations up until 1997 when it was closed by the Ministry of Education.
The developments will be carried out in phases in order to monitor the environmental impact and to strengthen the ecological resilience of the area.