Petition calling for removal of 'discretionary' right turn gets huge support
SINGAPORE — Following two recent fatal traffic accidents, a petition urging the authorities to do away with "discretionary" right turns at traffic junctions has been gathering steam, with more than 13,000 people signing it in the past three days.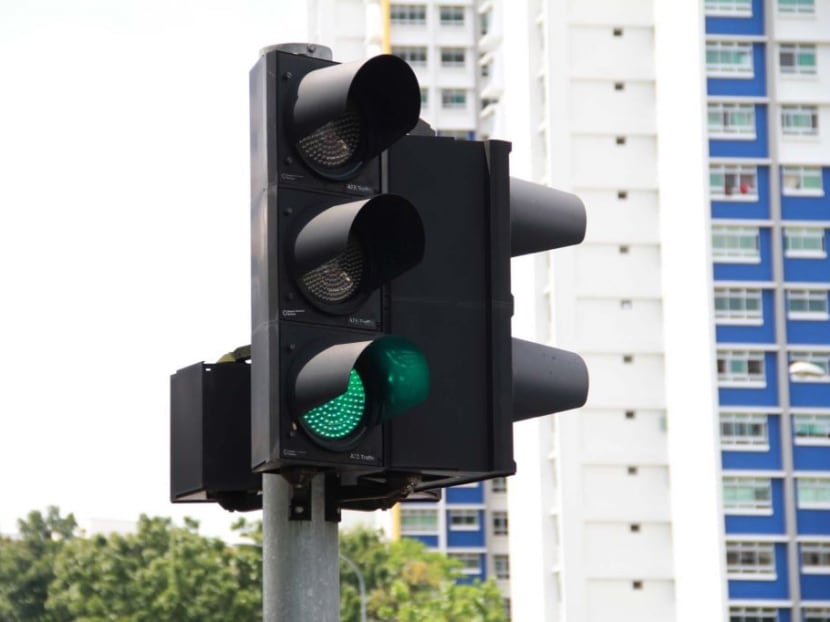 SINGAPORE — Following two recent fatal traffic accidents, a petition urging the authorities to do away with "discretionary" right turns at traffic junctions has been gathering steam, with more than 13,000 people signing it in the past three days.
Titled "Change traffic light rules to prevent further casualties", the petition asks the Land Transport Authority (LTA) to review whether it is still safe for drivers to use their own discretion and judgement to turn when the traffic light is green, "given the growth in sizes of junctions".
"Roads have widened significantly in recent years, with new lanes added and, as such, it is difficult to have field of vision of so many lanes, pedestrians, mobility devices, and fast-moving oncoming cars all at once to make an informed and safe judgement," the petition stated.
It highlighted as examples the intersection of Commonwealth Avenue West and Clementi Road, as well as Upper Bukit Timah Road and Jalan Anak Bukit.
Two people were killed after collisions occurred at those junctions last week. In both cases, one of the vehicles involved in each accident made a discretionary right turn.
In Singapore, there are junctions where drivers can make discretionary right turns at a time they deem safe when the green light is on. These areas are usually those which have less traffic flow. There are also places which allow discretionary left turns during a red light.
At busier junctions, there are traffic lights that have a green turning arrow that comes on to signal that drivers can safely turn when traffic in the opposite direction comes to a stop.
TODAY has approached LTA for comments on the petition.
NOT JUST ABOUT THE SIGNALLING SYSTEM
Transport experts said that road users cannot be completely reliant on traffic signals in instances when human behaviour is unpredictable, and they have to make the correct call.
Dr Park Byung Joon from the Singapore University of Social Sciences commented that while disallowing discretionary right turns could make the roads safer, it could lead to inefficient traffic management and congestion.
Questioning whether more regulation, "which takes away drivers' right to make judgement", is a sustainable solution, Dr Park is of the view that drivers' behaviour play a fundamental role in making roads safer.
"It is not just about the signalling system. We also have to look at the 'kiasu' (competitive) behaviour of drivers, and their attitude towards safety has to change," he added.
Associate Professor Gopinath Menon, a transport analyst from Nanyang Technological University, said that discretionary right turns cannot be "termed dangerous if drivers follow traffic rules", and that the red-amber-green turning signal cannot be imposed on a "blanket basis" at all junctions.
"Drivers have to exercise proper judgement," he said.
Motorists who spoke to TODAY were divided over the call to disallow discretionary right turns.
Supporting the petition, Mr Richard Yap, who is 58 and self-employed, said that there are instances where the driver's view is blocked by large vehicles in the opposite direction that are waiting to turn right.
"Some drivers will take the risk and make a turn," he said of when accidents might happen.
Taxi driver Kirsty Foo, 58, noted that having standardised traffic light signals across all junctions could benefit drivers, especially seniors, who might be slow in reacting to oncoming vehicles.
On the other hand, motorists such as housewife Liza Craft, 36, say it is "baffling" that discretionary right turns are suddenly being seen as a cause of accidents when it has been part of traffic rules for years. "It boils down to drivers, and them being more patient on the roads," she added.
SELECTIVE PLACEMENTS
Concerns over discretionary right turns are not new and have cropped up from time to time.
Responding to a reader's letter on the issue — which was published in TODAY in January 2012 — LTA explained that traffic light junctions generally allow motorists to make a right turn if there is a gap in traffic flow, and this reduces delays and optimises the traffic timing allocated.
It also noted that traffic lights with a red-amber-green turning arrow signal are selectively put up at junctions where safety is a concern, such as at locations where motorists' view is obstructed, at intersections near road bends or at major intersections where right-turning traffic does not have a good view of oncoming traffic.
The concept of discretionary turns, also known as "turn on red", exists in other countries.
However, in Spain and Taiwan, discretionary turns are allowed only when a green arrow sign appears in the traffic lights.
In the United States, for example, New York and Virginia prohibit discretionary turns when the traffic light is red.
TWO LIVES CLAIMED
Last Thursday (April 19), 19-year-old Kathy Ong — an undergraduate at the National University of Singapore — died after a car crash at the junction of Clementi Road and Commonwealth Avenue West. The taxi she was in was making a right turn when the car coming from the opposite direction slammed into it.
Then, in the early hours of Sunday morning, a 23-year-old woman died from her injuries sustained in another vehicular collision at the Upper Bukit Timah Road and Jalan Anak Bukit intersection. She was a passenger in a car that was making a right turn from Jalan Anak Bukit to the Pan-Island Expressway when it was hit by an SMRT bus.