A physiotherapist, an LTA engineer and a shared SEA Games dream
SINGAPORE — One started running during his National Service (NS) just to slim down. The other picked up running simply because he had followed his friends to the gym and discovered he preferred the treadmill to bicep curls.
SINGAPORE — One started running during his National Service (NS) just to slim down. The other picked up running simply because he had followed his friends to the gym and discovered he preferred the treadmill to bicep curls.
Neither expected to end up representing Singapore as marathon runners and yet, here they are.
Gordon Lim, who started out on the treadmill, and Alvin Loh, who began running in NS, will be representing Singapore in the marathon for the South-east Asian (SEA) Games in December.
Both are still in mild shock over this development in their nascent sporting careers.
'ALWAYS FAILED AT THE MARATHON'
When TODAY met Lim recently to talk about his hopes for the SEA Games, he looked sheepish.
"I wasn't gunning for it," the 26-year-old said. "I didn't expect myself to be this good. I don't think I'm good to begin with."
Lim had run his qualifying race in August at the Sunshine Coast Marathon near Brisbane, Australia — all athletes have to meet a qualifying timing through a sanctioned marathon.
His only aim then was to qualify for the Boston Marathon and to do so, he had to run under three hours.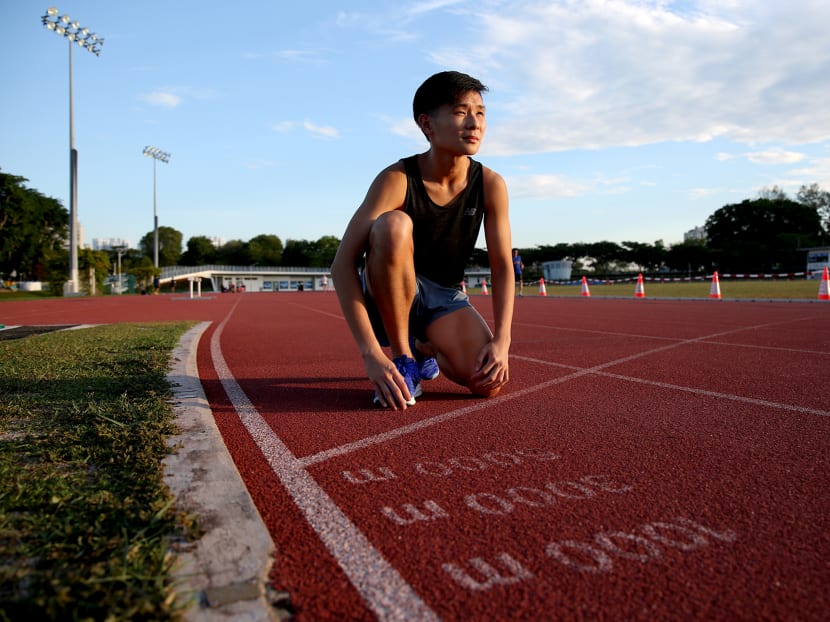 He ended up completing the Sunshine Coast Marathon in a stellar 2hr 37min. He submitted his timing to Singapore Athletics (SA), the organisation that nominates athletes for the SEA Games, and it then put up his name to the Singapore National Olympic Council to appeal for his inclusion in the SEA Games. He was accepted.
Lim, who works as a physiotherapist, said that during the race in Australia, he was more focused on not running out of steam, rather than chasing a SEA Games spot.
"I have always failed at the marathon," he said. "I would always 'die' In the last 7km to 10km. I just didn't want to have to face that again."
Lim picked up running almost by chance. It began in secondary school, when he would follow his friends to the gym. He found he did not enjoy pumping iron, so he spent much more time on the treadmill.
He grew to love running, and got better at it. In junior college, when he had to complete 2.4km runs for physical fitness tests, he began to realise he might be "above average". 
"I love running because I like to eat," he said, adding that he has a sweet tooth. "Running helps me keep in shape."
Running also gives him the time and space to clear his mind, he added. "I think (running) is very essential for me. I like to reflect, or just think about things, or think about nothing. I bask in those endorphins."
In 2013, he entered his first marathon, the Singapore Marathon, and finished fourth in the category for Singaporean runners — an impressive feat for someone who was just 20.
But despite showing this early potential, Lim spent the next few years nursing injuries and underperforming in a series of marathons.
His running improved again after he started dating a fellow runner in May last year. His girlfriend Verna provides him with support that puts him in a "better mental state", he said.
"We run together, and she's also very understanding of how, if you are going to train for a marathon, it's going to be quite time-consuming," he said.
Since qualifying for the SEA Games, time management has been of utmost importance, as training now takes up much more of his days.
"I prioritise training; I know that if I end work late, then it's not going to happen. So I'll try to start my day in as efficient a manner as possible," Lim said.
He had never had a regimented training plan or a coach until now. About a month ago, former SEA Games marathon champion Soh Rui Yong took Lim under his wing and added some structure to his training.
Soh was omitted from the line-up of athletes for the SEA Games approved by SNOC in August.
SNOC said then that it "deliberated carefully" on all nominations put forward by the national sports associations for their athletes and decided to reject Soh, who had been nominated by SA.
It added then that since the 2017 SEA Games, Soh has "displayed conduct that falls short of the standards of attitude and behaviour that the SNOC expects of and holds its athletes to". SNOC did not specify the instances of improper conduct but Soh was embroiled in a dispute with the council earlier this year over an act of sportsmanship by marathoner Ashley Liew at the SEA Games men's marathon final in 2015.
It was Soh's omission from the list that opened up an extra spot for someone else — someone like Lim.
Soh told TODAY: "Between the time when I first saw Gordon and now, I think he has made a lot of progress. Now I'm seeing him a bit more often and I'm optimistic for more improvement."
However, this coach is brutally honest about his protege's prospects. "The reality is that I don't think Gordon will get a medal this year, unless eight people take the wrong turn," he said with a laugh.
"But at the moment, it is just about Gordon trying to improve, and this SEA Games will give him a lot of good exposure that will set him up for the future." 
Soh is looking at a top seven placing for Lim in the SEA Games marathon. There had been about a dozen runners in the past two SEA Games marathons.
Lim, too, is just as grimly realistic about his hopes for the SEA Games. "I just hope I don't finish last," he said.
THE LTA ENGINEER WHO RUNS UP TO 140KM A WEEK
For Alvin Loh, 30, the idea of possibly representing Singapore in the SEA games struck him only in February this year, when he achieved a personal best for a half-marathon.
He then did some research about the minimum qualifying time and had a discussion about how to reach that goal with his coach Dave Ross, who is based in the United States.
Even then, during his qualifying race — also the Sunshine Coast Marathon — he felt "pretty relaxed", he said.
"On my mind throughout the whole race was to just hit a personal best," he said. His 2hr 37min completion time bettered his previous personal best by 11 minutes.
Like Lim, Loh submitted his timing to SA, who then nominated him for the SEA Games marathon, and SNOC approved.
SA's website stated that the nomination standard for the men's marathon is 2hr 34min. Although both Loh and Lim fell short of the standard, SA "reserves the right to interpret this document and to exercise its discretion in the resolution of the matter in conflict or dispute". 
Loh and Lim received confirmation of their spots on Team Singapore in August.
That marked a turning point in what has so far been an 11-year journey for Loh, who picked up running simply because he needed to lose weight.
"I was considered quite plump at that time," he said. He weighed 75kg when he first entered NS.
"I started running to lose weight and pass my IPPT (Individual Physical Proficiency Test)."
His 2.4km timing back then? "About 16 minutes," he said with some embarrassment.
Nowadays, he can complete 5km in that duration and is 15kg lighter.
Loh began to take up running more seriously during his undergraduate years at the Nanyang Technological University, joining the varsity biathlon team.
In 2016, he started a running group with five friends called the Coney Runners. "We are working adults with a common goal in mind, to improve our running." 
It was with the Coney Runners that he moved from strength to strength, training hard and gradually improving his marathon timings.
Loh said that his fiance Catherine has been a big source of support through the years.
"She's very understanding (and) will try to fit into my schedule," he said. "We tend to go out on dates after my training, for even a couple of hours or a short meal."
Juggling work and training has been a challenge. As an electrical engineer at the Land Transport Authority (LTA), Loh has irregular working hours and he often has to work weekends or night shifts.
"(My coach and I) have to work around it. We try to squeeze in the important workouts when I'm freer or when I have a more fixed schedule."
During June and July, he decided to prioritise his training, finding the time to run every single day in those two months, covering 120km to 140km a week.
He said that running has led him to believe that "everything is possible as long as you put in the hard work".
Heading into the SEA Games, he does not know how well he will end up performing, but he is vowing to give it his all.
"I don't know what the results will turn out to be, but I will definitely try to run my best."