Plans to cut daily waste sent to landfill feasible, but some gaps remain in implementation: Experts
SINGAPORE — Environment experts believe that the 2030 target to reduce the amount of waste sent daily to the Semakau Landfill by 30 per cent is within reach, but how the plans are executed will determine whether the goals are ultimately achieved.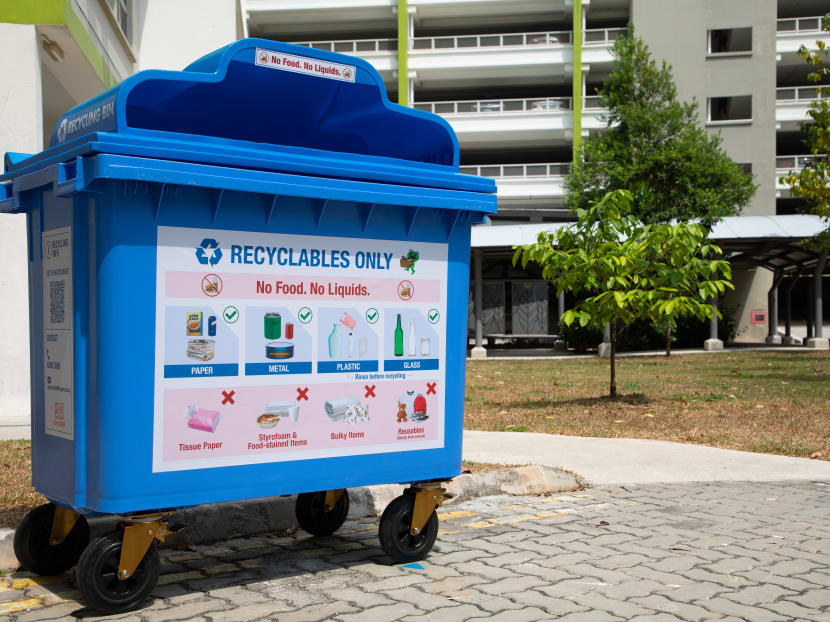 SINGAPORE — Environment experts believe that the 2030 target to reduce the amount of waste sent daily to the Semakau Landfill by 30 per cent is within reach, but how the plans are executed will determine whether the goals are ultimately achieved.
The waste reduction target was announced by the Ministry of the Environment and Water Resources (MEWR) on Friday (Aug 30) as part of its larger Zero Waste Masterplan, which aims to extend the landfill's lifespan beyond 2035.
Ms Renee Mison, spokesperson for Eco-Wiz, said that she has already seen some of the initiatives recommended for tackling food waste in practice. The company, which specialises in food waste and general waste management technology, has worked with several restaurants, hotels and malls to adopt food waste segregation measures.
Ms Mison has also observed that, increasingly, more companies are introducing food waste segregation measures into their waste management practices.
As such, she believes that the Government's plan to make food waste segregation treatment mandatory by 2024 is a realistic goal.
EDUCATION, AWARENESS STILL LACKING
Ms Pek Hai Lin, a manager at Zero Waste Singapore, a non-governmental green organisation, said that for recycling rates to improve, the public should be taught more explicitly on how to recycle.
Statistics show that domestic recycling is at a lowly 22 per cent last year. This includes households, shophouses, schools, army camps, petrol kiosks and places of worship, a spokesperson for MEWR said.
Ms Pek believes that more can be done to inculcate good recycling practices among Singaporeans, and this can start at the grassroots level.
"There should be stronger touch points at the grassroots (level) in terms of education. If leaders at the grassroots level are not clear on what should and should not be recycled, it will be hard to instruct the residents to follow suit," she said, adding that the Government could consider creating tool kits or booklets, or even conduct workshops to disseminate information on recycling.
Agreeing, Mr Ashwin Subramaniam, chief executive officer of GA Circular — which describes itself as research and strategy experts in packaging and food waste — said that awareness of the recycling process, from collection to the processing of materials, can help motivate the public to do their part.
"Many of my friends are sceptical and cynical about the recycling process because they don't know what happens to the items after they deposit them. It will be helpful if the Government can share successful recycling efforts and what the process looks like, so that people can see the value in recycling," he said.
When it comes to reducing consumption, Ms Nichol Ng, chief food officer of Food Bank Singapore, said that corporations can be incentivised by the Government to make food donations through tax breaks, just like how they are offered for monetary donations. Food Bank Singapore redistributes food donations to the needy through charitable groups.
Ms Ng said: "Of course, there are corporations that will do it out of the good of their heart, but small incentives here and there can help to motivate more companies to donate rather than get rid of food they cannot sell."
MORE SPECIFIC TARGETS NEEDED
Mr Subramaniam noted that while there have been a spate of regulatory measures announced to tackle food, packaging and electronic waste, there should be more specific targets.
Creating 2030 targets for these areas can help provide a clearer picture as to how the main objective of extending the landfill's lifespan is met, he said.
"It's hard to set national targets for specific materials, of course. But a clear indication in the future, maybe in two years or so, can help to ensure that things are moving along," he said.
In the same vein, Professor Seeram Ramakrishna of the Department of Mechanical Engineering at the National University of Singapore said that he had hoped for "more innovative and customised" plans with regard to plastic and textile waste. This is given that the masterplan shows that 29.6 per cent and 6.7 per cent of the waste disposed last year were plastic and textiles respectively.
WASTE MANAGEMENT NOT THE ONLY SOLUTION
Assistant Professor Fei Xunchang of the School of Civil and Environmental Engineering at the Nanyang Technological University is optimistic about reaching the targets because there is "more than one way" to reach the goal of reducing the waste sent to Semakau Landfill.
He pointed to the Government's plans to promote NEWSand — which turns incineration ash into construction material — as a key way in which waste can be diverted away from the landfill.
"We are currently working with the National Environment Agency on some projects, for example, reusing IBA (incinerated bottom ash) in road construction. If the project is proven successful, I think it will be very promising as there is a big market in Singapore," he said.